Orchha is located in Niwari district of the state of Madhya Pradesh. This town was established by the Bundela Rajput kings in 15th century and near the beautiful river Betwa. A beautiful string of palaces, cenotaph and temples are located on the bank of river Betwa make the view of this town awesome. This place is located between the dense forests and famous as the best touristic site of the state of Madhya Pradesh which attracts thousands of tourists every year from all around the world.
What is the History behind Orchha?
The origin of Orchha word comes from the very old language of India called Sanskrit. In Sanskrit language orchha means 'Hidden'. This place is such a beautiful hidden place between the dense forests during the Bundelkhand dynasty which is the most powerful kingdom of 16th century in central Asia. The chief of Bundela Rajput named Rudra Pratap was the founder of this place. This small town houses beautiful temples, cenotaphs, royal palaces influenced by Mughal architecture and they make Orchha the capital of Bundelkhand dynasty. Tughlaqs was ruling in Delhi in 15th century they also pushed the Bundelkhand king to come out of the Garkhundar fort located in Madhya Pradesh. So the Bundel rajput found Orchha to hide them from their enemies and later they make Orchha as capital.
How to reach Orchha?
Orchha is easily reachable by train and by road from different directions. The nearest railway station is Jhansi which is located on the Delhi-Mumbai rail route and only 15 km from Orchha. By reaching Jhansi you will easily get taxis, auto-rickshaw to get there passing through a narrow winding roads. This place is also connected with Agra, Gwalior, Bhopal and Delhi so it's easily reachable from all places. The nearest airport to reach Orchha is Gwalior which is 120 far from Orchha. Most of the tourists visit this site while driving between Jhansi to Khajuraho.
Orchha Tour Guide Charges
Orchha Local Tour Guide Cost @1200 INR
No. of  Person
English Speaking Tour Guide
Other foreign Languages Tour Guide
01 – 05 Persons
Half Day:- INR 1800/-

Full-Day:- INR 2200/-

 Half Day:- INR 2400/-

Full-Day:- INR 3000/-

06 – 14 Persons
Half Day:- INR 2200/-

Full-Day:- INR 2850/-

Half Day:- INR 2800/-

Full-Day:- INR 3650/-
Suggested Tour Plan:- Golden Triangle Tour Packages
What is the best time to visit Orchha?
The climate of Orchha in summers between (April-June) is little hot around 40 degrees so most of the tourists prefer to visit this place between Octobers to February in winters. But I prefer to visit this place during monsoon between june to August when you will enjoy the beauty lush green dense forest looking washed with the droplets of water and river Betwa is also full of water which can offer the best pictures of Orchha town.
Orchha Fort-
This fort is built on the bank of the river between and one of the most visited forts of Madhya Pradesh.  This fort is having so many places to visit inside like Jahangir Mahal, Raj Mahal, and Rai Praveen mahal. The Jahangir Mahal is the best palace of this fort constructed in the 16th century for the welcome of the Mughal emperor Jahangir. This palace is a multi-storied building having beautiful arches and balconies with the spectacular view Raja Ram temple in front of this. This palace is also decorated with colorful glasses and with beautiful carving on the walls.
Read More Related Blog:- Why Delhi Agra Jaipur Tour is the best India tour?
Laxminarayan Temple-
This temple was built by Vir Singh Deo around 1622 and again it was reconstructed in 1793 by Prithvi Singh who bring this beauty back. This is an interesting place to visit in Orchha as it's a fusion of Temple and fort architecture and this temple is dedicated to Goddess Laxmi (The goddess of wealth) whereas no idle of goddess Laxmi was kept inside the temple. There are frescos and paintings printed on the walls of the temple as a mixture of Mughal and Bundel architecture.
Raja Ram Temple
This is the only place in all over the India where the Hindu God Lord Rama worshipped as the divine King instead of Lord .The wife of king Madhukar shah who was the ruler of Orchha was a great dbeleiver of Lord Rama and always wanted to the idol to be installed in her palace. Once she was gone to visit Ayodhya the birth place of lord Rama and then Lord Rama happy with her sacrifice and prayer and ready to move for orchha with one condition that he would not move from one temple to another and would always remain in the place where she would initially house the idol.  The same palace was turned in to a temple in present. The devotees are coming every year to pay homage to Lord rama. The special morning and evening prayers are organized everyday and one police official appointed by the government as a body guard of the King Rama. The police official gave guard of honor at the time of evening and morning prayers at the temple.
Chaturbhuj Temple
The Chaturbhuj temple is situated close to the Raja Ram temple and one of the well known places to visit in orchha. This temple was built by the king of Orchha Madhulkar  in year 1558 and was complete by his son Vir Singh Deo in 16th Century. This temple consider as one of the oldest architecture of this town during Bundela kingdom. The temple is dedicated to Lord Vishnu and houses an idol of the Lord with four arms in the form of Rama avtar of Vishnu. This temple refers as 'Chatur' means four and 'Bhuj' means arms which mean the Lord who has four arms. The story behind the construction of this temple is very interesting, once the lady queen of orchha went to bring Lord Rama in his town then Lord Rama told that he was ready to movy but conditioned is that he doesn't want to move his idol from one palace to another. so the queen was agreed on that and bring the idol of lord Rama to his town and put him in his own queens palace as the Chaturbhuj temple was under construction during that time but after the completed of the construction they try to shifted the idol of Lord Rama in to this temple but it was to denied by the Idol of Lord Rama to left his original place where he was fixed already. So till that time the chaturbhuj temple remained without an idol of Lord Rama.
Sports and activities to do in Orchha
River rafting in Orchha
River rafting is one of the best adventure sports you will enjoy in Orchha. This activity was organized in Betwa River and one of the best things to thrill you during your orchha visit.  This activity settled in the lap of green forest, historical cenotaphs and the majestic view of temples and the fresh water of Betwa River. The rafting will be started from scenic kanchan ghat and culminates at shiv ghat with refreshments. The charges are 1000-2000 per person for 8 km river rafting. The rafting is divided in two different levels grade 1 and grade 2 which depend upon the choice of people. This activity will be closed during monsoon.
Orchha Tour Package Cost
| | | |
| --- | --- | --- |
| Tour Name |   Tour Cost without  Entry Fees |  Transportation &  Budget Hotels |
| Orchha tour from Khauraho | INR 7000/- Up to 3 Persons |  Sedan Car (Swift Dzire/Toyota Etios) |
| Local Orchha tour | INR 3500/- Up to 3 Persons | Sedan Car (Swift Dzire/Toyota Etios) |
| Orchha & Khajuraho tour from Jhansi 2 days | INR18300 /- Up to 3 Persons | Sedan Car & Hotel |
| Orchha & Khajuraho tour from Delhi 3 days | INR 34300/- Up to 3 Persons | Sedan Car, Train Fare & Hotel |
| Orchha & Khajuraho tour from Agra 2 days | INR 32100/- Up to 3 persons | Sedan Car (Swift Dzire/Toyota Etios) |
Suggested Tour Plan:- Agra Tour Packages
Wildlife Sanctuary- Orchha
Orchha wildlife sanctuary lies on the banks of river Betwa and one the most interesting thing to enjoy in Orchha. It was started in the year 1994 and  spread over the area of 46 sq km. The animals found here are deers, blue bull, jackal, wild pig, sloth bear and some other. Here you will also find more than 200 species of domestic and migratory birds such as Kingfisher, Owls, Jungle bush quail, black swan and geese. This place is located only 2 km away from the orchha fort and can easily reachable by walk as well, This sanctuary is closed on every sunday for tourists.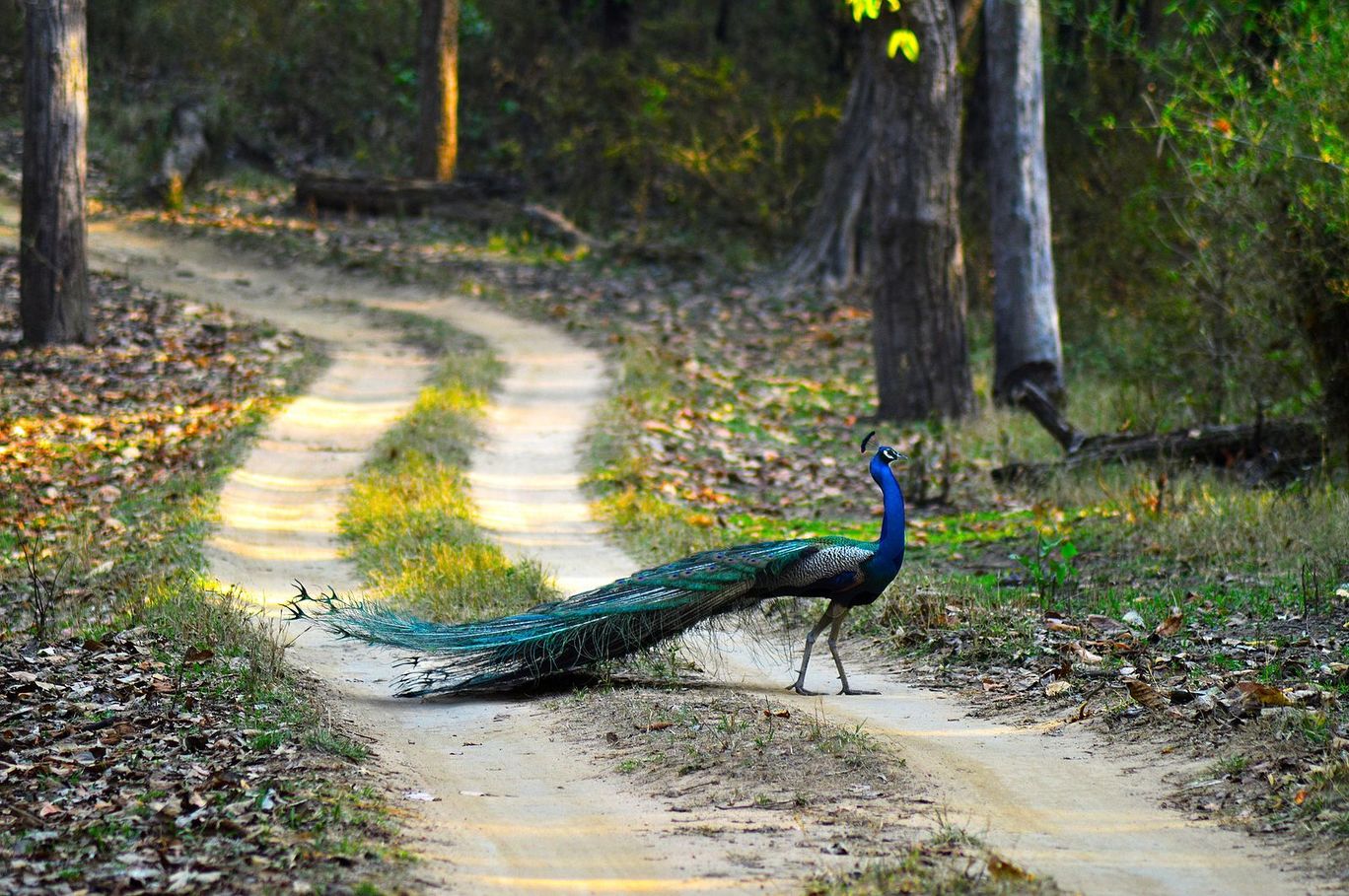 Kayaking in Betwa River- Orchha
Kayaking is the best way to admire the natural beauty of           orchha. This activity happened at betwa river and this 3 to 4 km of journey will take you on a breathless experience of wildlife and nature during your kayaking you will enjoy the best pictures of wild animals such as deer, neelgai etc you may also catch the pictures of migratory birds moving around the river. The best time to enjoy this ride is between 7 to 9 am in the morning to skip the heat of sun. kayaking in the calm water of river Betwa is such an experience which actually gives immense pleasure to every tourists. The prices are between 800 to 200 per person for kayaking.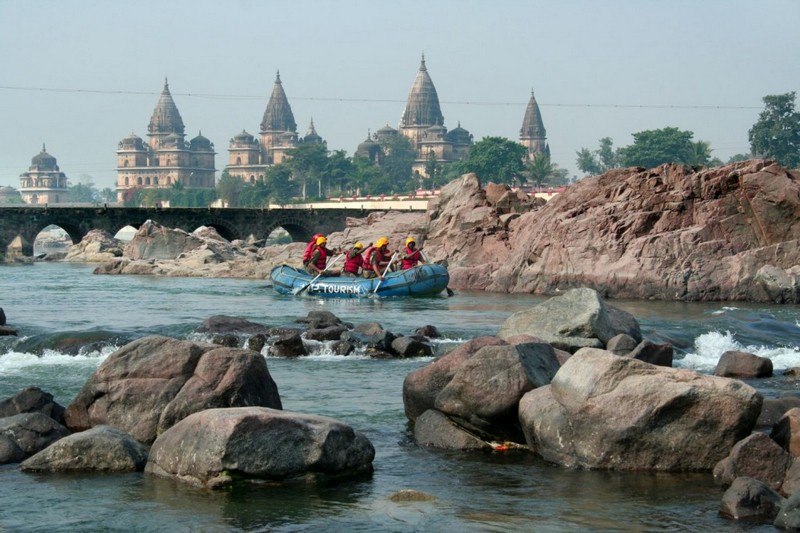 Enjoy the best best food at Orchha
Orchha is a very quiet tourist destination where the fottfalls of the tourist are seasonable besides that you will find the best hotels and resorts which offer the best hygienic place to stay in the lap of nature and best ever food. The main thing of the orchha is food the farmers are always using the fresh water of Betwa river for farming and irrigation so the vegetables comes from the farms are fresh and tasty to eta. This town is also the believer of Lord Rama so most of the localities eat vegetarian food here but for foreign tourist non vegetarian good are also available at hotels and resorts. And some sea food lovers can try fish curries which is prepared by the same fishes bring from the Betwa River.
Light and Sound Show at Orchha Fort
To entertain your evening at Orchha with a blend of history and art through a show than what can be the other best option to live watching a Sound and Light show at the Orchha fort organized every evening in two languages Hindi and English. This show took place in Raj mahal inside the complex of Orchha fort and the show consist with the stories of rise and fall of kingdoms, their royalties, sound of lions and elephant and battle stories. This is the best things to do know the reality of  this historical town and the medieval Indian architecture. The show is a beautiful mix of music and colored laser lights reciting the history of the Bundela dynasty. The show timings are 7:30 PM and Hindi and 6:30 pm English. The duration of the show is one hour and the price is 100 Rs for Indians and Rs. 250 for foreigners.
Read More Related blog :- Agra Fort History, Timings FAQ'S