Facts about Taj Mahal in Night 
Fifty years ago Taj Mahal was the center of day-to-day activity in and around the "Mohallas "of the Taj Mahal. Security was unheard off and so were the common threats of these days. The forecourt of the Taj Mahal was open to common traffic. The cycle wallahs and the Tongas used to criss-cross the forecourt of the Taj Mahal in Night Chronicles. The local people used to gather for a live chat underneath the trees of the forecourt. There was a bazaar inside the forecourt which was ultimately removed from the Taj Mahal in the 1990s and the shopkeepers relocated. For Taj Mahal Tickets 
Agra Local festivals provided options for Chamki
The festival of Eid was celebrated with the namaaz offered at the mosque of the Taj Mahal by the devotees numbering in thousands. Even the ticket for entering the Taj Mahal mausoleum was minimal. The tourism was also not in vogue. Few tourists came to see the Taj Mahal Moon Light Viewing Chronicles.
The Hotels were few and were a domain of the wealthy and the privileged class. The full moon night of the Indian month of "Aswin" (falls usually in October) signifies the beginning of winter season in north India. Since time immemorial the sun has been equated with fire and moon with placid. After the retreat of the monsoon express, the sky is clear and the moon is known to be the brightest on this full moon night.
Get to Know :- Golden Triangle Tour Packages
The cool moon rays are also known for the medicinal value in Ayurveda. Even today Indians cook rice pudding in milk and let it soak in the moon rays overnight on the rooftop. This sweet dish is known to cure many ailments. The party goes on for the whole night as people gather on their rooftops and stay awake the whole night soaking in the moonlight known for its therapeutic qualities.
Suggested Tours:-  
Moon Light is popularly known as Chamki by the locals
Agra and its adjoining population used to enjoy this moonlight in the precincts of the Taj Mahal. A mela was organized by the local authorities and the locals gathered in large numbers inside the Taj Mahal. The mood was festive and loud chants of "Woh Chamki" could be heard from long. The subtle and vibrant moonlight as it kissed the semi-precious stones inlaid in the façade of the Taj Mahal created a glitter known as "Chamki".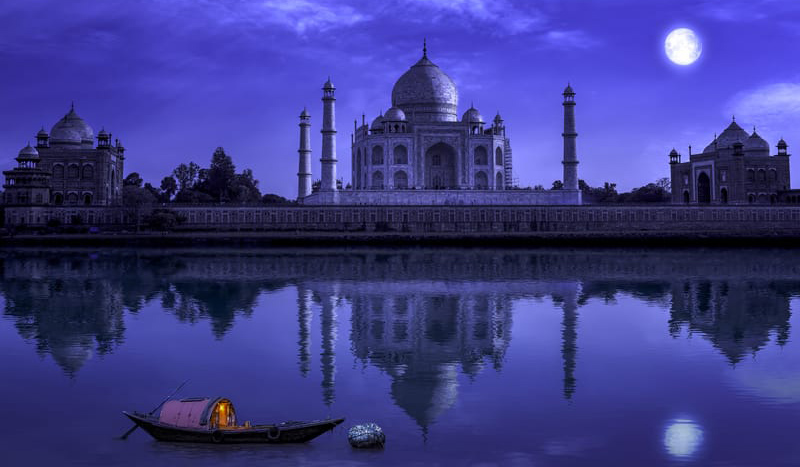 When and why Taj Mahal night Viewing stopped?
In 1984 after the threats of terrorism finally this grand meal come to halt, now even locals have forgotten the "Chamki" a few years back the ASI (Archaeological Society of India) started the full moon visits of the Taj mahal which is restrictive but you can at least enjoy to visit the Taj mahal lit by moonlight and can recreate the sounds of "Wo Chamki" in your memories.