Ideal duration of Fatehpur Sikri Tour
Why to limit your tour of Fatehpur Sikri Just for visiting it in one and half hour and leaving many prime attractions. Most of the conventional tour programs are confined to the visit of Royal Palaces and the tomb of Salim Chisti in Fatehpur Sikri.
If you are a pragmatic vacationer and want to enjoy the complete tour of Fatehpur Sikri, you should plan the Fatehpur Sikri tour of at least 5 hours which gives you ample time to explore the less known prime attractions of this World Heritage sites.
What is Fatehpur Sikri Architectural style?
This erstwhile capital of Mughal emperor Akbar lies deserted and is evidence of the power and pelf of the Mughal dynasty in its heyday. This is a fine example of the Mughal style of architecture based on the blend of Indo Saracenic style.
How to reach Fatehpur Sikri?
This isolated place is located at a distance of 40 km from Agra and can be approached easily by both trains or by road.
If falls on National Highway from Agra to Bikaner and is a railway station on the Agra Kota rail line. You can use the public Transport from Agra Idgah Bus stand or hire a cab from any tour operator in Agra. You can also book the conducted tour of U.P Tourism. for Agra and Fatehpur Sikri Tour. It takes nearly one hour to reach there.
Best Time to Visit Fatehpur Sikri?
You can visit this place the whole year except the month of May & June while it remains very hot. If you have no problem with coping with the weather conditions then you can visit it the whole year. The monument is open from sunrise to sunset. In the winter season it is advisable to visit it between 10 -4 P.M and in the summertime from 8-11 A.M In the monsoons you are advised to carry an umbrella or raincoat as this is an open area.
Fatehpur Sikri Tour Guide Charges
Fatehpur Sikri Local Tour Guide @ 1000/-
No. of  Person
English Speaking Tour Guide
Other foreign Languages Tour Guide
01 – 05 Persons
Half Day:- INR 1800/-

Full-Day:- INR 2200/-

 Half Day:- INR 2400/-

Full-Day:- INR 3000/-

06 – 14 Persons
Half Day:- INR 2200/-

Full-Day:- INR 2850/-

Half Day:- INR 2800/-

Full-Day:- INR 3650/-

15 – 40 Persons
Half Day:- INR 2900/-

Full-Day:- INR 3800/-

Half Day:- INR 3600/-
Full-Day:- INR 4800/-
How Fatehpur Sikri was named?
The legends say that Fatehpur Sikri before the Mughals was the capital of Sikarwar Rajput clan so some believe that the name came after the Sikarwar name. While others believe that Babur fought a battle of Khanwa close to this place against Rana Sanga and after becoming victorious he became thankful to God.
Thus he said "Shukriya" to God and thus from "Shukriya" the name Sikri emerged. The others opine that Akbar got the heir apparent in Salim by the blessing of the renowned Sufi Saint Salim Chisti who used to dwell in Sikri village, so Akbar built the Fatehpur castle in the reverence of this Sufi saint and shifted his capital city to Fatehpur Sikri from Agra.
Major Attractions of Fatehpur Sikri?
There is a series of monuments and palaces in Fatehpur Sikri which draw the attention of the vacationers. These monuments are made out of red sandstone barring the tomb of Salim Chisti which is out of white marble.
A-Diwan-i-Am- This is the hall of the private audiences to discuss official issues with the elder men and Navratras.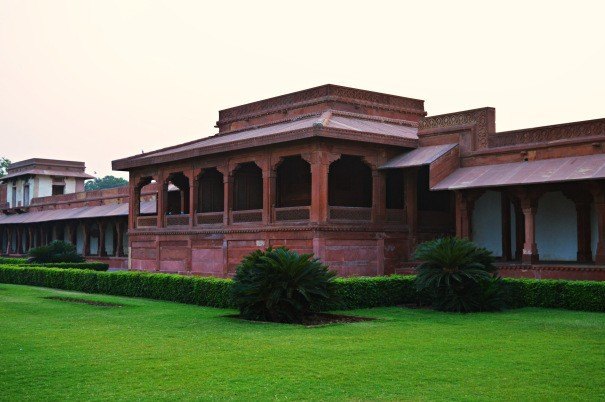 B-Diwan I-Khas This is the hall of a private audience to discuss to official issues with the elderman and Navratnas
C-Turkish Sultan's Palace- This is the palace for the first wife of emperor Akbar called Pukayya Begum.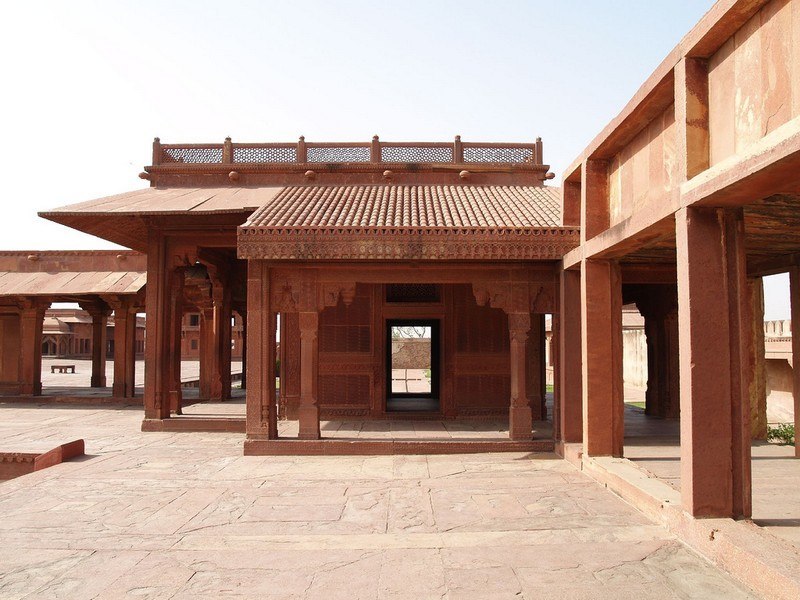 D-Anoop Talao- This pond and the platform was used for the sitar performance by the mastereo Tansen.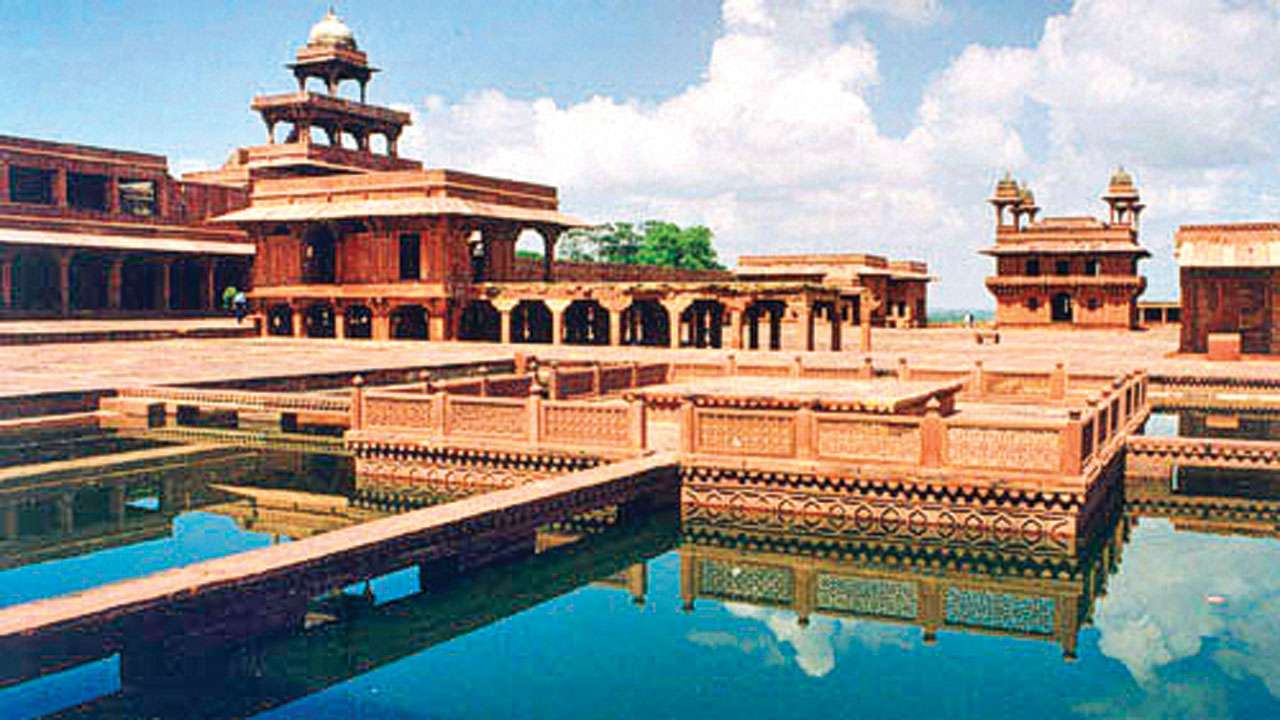 E-Jodhabai Palace- This is the large palace dedicated to the Hindu wife Jodhabai.
F-Beerbal Palace- It was dedicated to Birbal who was one among the nine jewels and was renowned for his will and sagacity.
G-Dargah of Seikh Salim Chisti
 This lies in another section on the other mound. This is built in white marble. The ritual with the people is to tie the strings in the unique marble filigree work and make the wish.
H-Buland Darwaza – This is the impressive Gate to enter the religious section and was this Mughal gateway of the world was erected by the emperor to commemorate his victory over Gujarat.

Other Attractions of the ghost city-
 There are several other attractions scattering in a large area of this haunted city which do not find a place in the normal tour programs. Such places include Hiran Minar, Rang Mahal, Mint, Grand baolies, Moti Lake, Goonga Mahal, Samosa Mahal, Caravan Saria Markets, etc.
In case you are desirous and have some extra time you can select visiting these places beyond the routine. You are advised to book a local guide telling him the condition to make a tour of the unknown monuments of Fatehpur Sikri in your Delhi Agra Jaipur Tour. Do not miss a chance to enjoy a flavored masala tea in Kulah either close to the mosque or at Moti Lake.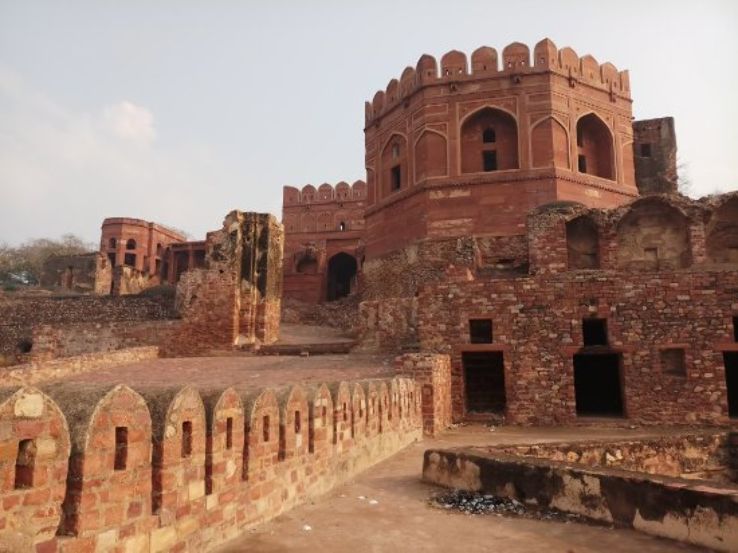 Where is the Car Parking in Fatehpur Sikri?
Car parking lays nearly one and a half km before the monuments at the foothills, from this place you have two option two reach the monuments. You can take the service of C.N.G Bus/ Golf cart or you can prefer walking uphill for 20 minutes. This parking also gives you the privilege to involve in street shopping experience. There is a charge of Rs 10 per person to use the services of C.N.G Bus.
What to decide reaching the car parking of Fatehpur Sikri-
From the parking, you have to choose which place to visit first- The palace part of the Religious part. If you are interested to visit the palaces first, you choose going to the Diwan-i-AM side first. For the religious part, you have to choose the Jodha bai part first.
How much the Entry Tickets of Fatehpur Sikri cost?
 Entry tickets for the Indian Nationals are INR-50 for the National of SAARC is 50 INR and for the other nationals, it is 610 INR. The children below fifteen years are free. You can also book the tickets online.
What to avoid- You have to be careful with the persuasions of the tours. While enjoying a walking tour of the isolated sites you have to be careful with the honey bees.
Fatehpur Sikri Trip cost
| | | |
| --- | --- | --- |
| Tour Name  |  Tour Package Inclusions  | Tour Cost  |
| Full day Fatehpur Sikri Tour from Agra |  Cab with driver & Local Tour Guide |  INR 3500/- Up to 3 Persons |
| 1 day Fatehpur Sikri & Mathura tour from Agra | Cab with driver | INR 3000/- Up to 3 Persons |
| Fatehpur Sikri & Bharatpur tour from Agra | Car with driver, rickshaw ride & Tour Guide | INR 5500/- Up to 3 Persons |
| Fatehpur Sikri & Deeg one day tour from Agra | Cab with driver | INR 4500/- Up to 3 Persons |
| 1 day Fatehpur Sikri & Taj Mahal tour from Agra | Cab with driver & Local Tour Guide | INR 5500/- Up to 3 Persons |
| 1 day Fatehpur Sikri & Agra tour from Delhi | Car with driver & Local Tour Guide | INR 9000/- Up to 3 Persons |
What to shop in Fatehpur Sikri street Bazar-
This place is famous for making cotton durries and during your visit you can look at the process of making and can also buy. Besides this, you can buy the artifacts our of alabaster like the elephant within the elephant, lamps and other souvenirs.