Golf tourism is developing as a new global trend of tourism like the wine tourism or adventure form tourism or film tourism traditions of golfing are deep-rooted in India. India is the first country in the world after the U.K to have a golf course. The Royal Calcutta Golf club was established in 1829 while in the U.S.A the first major course was opened in 1888. The Golf Course tourism in North India is increasing every year with the finest golf course spreading from the fifty rays of Kashmir to the deserts of Rajasthan and the plans to Delhi, Agra, and Punjab.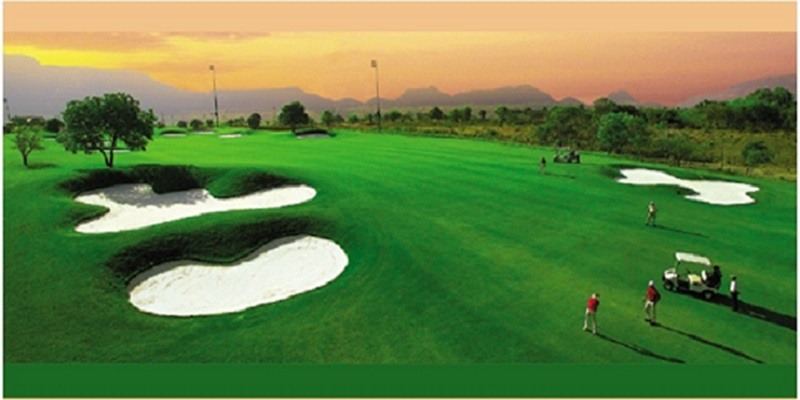 Best Golf Tourism in North India
In North India, the first golf course was made during the imperialism in Srinagar in the year 1880. Today India boasts of having more than 250 Golf courses across the country and most of these are equipped with clubhouse facilities. Golf tourism in India is growing at a pace of 9.4 percent every year. India becomes a part of the International golfing circuit in 1964.
Read More Blog :- Why Delhi Agra Jaipur Tour is best India tour?
Why Golfers are attracted to Indian Golf Courses?
The Indian Golf courses especially those in India are set in very ideal surroundings and they cater to devise needs thus those crazy for Golf lot forwards to visit India on Holidays. In the country, they have a plethora of options to choose the destinations- Whether they want to play in the valley of Kashmir at an altitude of 300 meters and thus enjoy the heaven on Earth or they can decide playing it with the view of the magnificent Taj Mahal.
They also have the choice to play in the plans of Chandigarh or Gurugram or enjoy it near the Yamuna expressway in Noida. The best thing behind Indian golfing is that the country has given birth to the best golfers of the world in the view years who have played and practiced in these native golf course.
In Europe and U.S.A the golf courses are not in the reach of every individual as it is expensive to entire the course. This is a major factor that lots of Golfers like to come on Indian Holidays and play golf in North India and enjoy tourism. They avail of this facility at economical rates. Thus nearly 1.5 million tourists travel for golf tourism every year and out of it a large check travel to North Indian golf course. The normal gree fee for Indian citizens is 700 for the weekends white it is USD 30 for the foreigners. The fee for the caddie can differ from 80 to 200 INR.
Suggested Tour Plan:-
Famous North Indian Golf courses
The North Indian lands spreads from the valley of the Himalayan ranges to the extreme dunes of desert in Rajasthan incorporating the plans of Delhi, Hariyana, Punjab and Uttar Pradesh states. All these states with their prominent cities are dotted with the old and modern golf courses.
Srinagar – Srinagar is the capital of India state of Kashmir and is famous by the epithet as the Switzerland of India for it is scenic beauties. The nature's beauty lies in the floating houseboat on the Dal Lake, snowcapped mountains, and alpine trees. The Royal srings Golf located in Srinagar is onerously one of the best in India. This was designed by Robert trend Jones junior and measures more than 7000 years. The most famous hole is par-3 fifth which offers a ground view of the Dal Lake.
Gulmarg – This 18 holes golf course with asymmetrical contours is considered the largest golf course of India. Gulmarg abounds in the pleasure of nature and being a fantasy place it is famous tourist destination also. This golf course of Gulmarg sprawls in a huge area brining with greenery from here you can view the A pharvart range and sunset peak and take Instagram picture also. The best views you can have from tee no.18.
Read  More blog :- Get To Know Before Visiting Taj Mahal
Naldehra Golf course Shimla
The summer capital of British Shimla is a favorite tourist spot for it's amazing location, green meadows, spectacular hills and the colonial buildings. Besides the scenic beauties it also allures the Indian and overseas tourists for Golf tourism in North India.
Naldehra Golf course is at a distance of 22 km from Shimla and this is considered the oldest Golf club in India. it was the time of Lord Curzon, the viceroy of India when he decided to build this golf course in 1905 outside the summer capital. It is based at an altitude of 2200 meters. This 18 holes Golf course has 68 pars with 16 greens and 18 tees. It is surrounded by Declar trees all around.
Chandigarh – This is the combined capital of Punjab and Hariyana and itself a union territory. This is the first planned city of India and named after the Goddess Chandi Devi whose temple is located on the hill. Chandigarh has a famous Golf club by its name which is more than 7000 yards and 72 pars. This golf course is linked with Charajeev Milkha Singh.
Another famous course is the forest Hills Golf Resort and this is close to Sukhana Lake. This is one of the toughest courses in the country.
Read More blogs :- 
Delhi – Delhi the national capital of India boasts of its vast heritage of culture and heritage this city with 3 world heritage sites and a sizable number of other important forts, palaces, tombs, and temples attracts tourists from far and wide. If you have a passion for Golfing what can be the other popular destination in North India these to choose Delhi NCR. It has number of sprawling Golf course. Some of these are as follows-
The Delhi Golf club – This DGC is 18 holes par 72 championship size golf course and has the view of the ancient monuments. Delhi golf course has a unique location- just a stone's throw from the India Gate and it arranges many professional tournaments.
The Army Golf course – This course is located in Dhaula Kuan and is 18 holes golf course.
Qutab Golf course – This is the only golf course of the country which is for the public. It is 18 holes and located in Lado Sarai. It is maintained by Delhi Development Authority.
Suggested Tour Plan:- 
Other famous Golf Course of Delhi NCR –
Close   to Delhi in Gurugram you can tee of the DLF Golf & country club which is designed Arnold Palimer. This measures more than 7000 yards and is 18 holes par 72 golf courses. This offers the facility of night golfing equipped golf Academy and club attached for it.
As you take a drive from Delhi towards Jaipur nearly half an hour, you come across the classic golf resort which is based at the foothill of Aravali ranges and spreads in 3000 acres. The CGR is an avalgam of Indian and western theme. This has two courses – one 18 holes championship course and another holes carryon course.
If you freak out of Delhi towards Agra, you find Jaypee Green 18 holes golf course in Greater Noida. It is designed by Greg Norman and with more than 7000 yards it is the longest course of India.
Another is Noida golf club in sector 38 Noida. This is a championship size 18 holes course and gaining much popularity. Thus has included excellent fairways and greens in it.
Agra Golf Course – Agra golf course was founded in 1904 by the members of the Agra club. Though this is a-holes course, it provides spectacular views of the iconic Taj Mahal from few holes. Touring Agra can avail you the opportunity of playing golf in the backdrop of the Taj. You can elucidate the utmost charm of your holidays and involve in golfing on the well-manicured greens. Though Agra Golf course is compaitavaely  small and the putting greens are not as smooth like that the case of Delhi, Gurugram or Kolkata, even this is composited by the gorgeous view of the Taj Mahal from the clubhouse also.
The clubhouse has modern facilities for the golfers and provides awesome view of the Taj Mahal.
Ram Bagh Golf club, Jaipur – Rambagh golf club Jaipur is 18 holes challenging course which overlooks the Moti Doongri Palace and the Nahargarh fort. The fairway passes through the Rambagh Polo grounds. This is made on a sandy loam soil and abounds in scenic beauty. This is playable all the year-round and can easily be reached as it is located in the heart of the city. Like some other golf clubs it is also affiliated to Indian Golf Union.
Suggested Tour Plan:- Jaipur Tour Packages
Things to reindeer playing Golf in India –
You are supposed to keep a handicap certificate issued by your club. This handicap certificate is a proof that you can play golf to a certain level. Most of the Golf courses do not demand it but same can ask you to produce it.
While coming to India for golf tourism, you can ask your hotels or the tour operators to help you getting a tee time without hassle. You should try to book tee-time in advance if you plan for weekend round.     
You are suggested keep cotton T-Shirts and trousers in the bag and keep sum blocks and umbrella as in the summer month it get quite high temperature.
4. You should keep some mineral water bottles before your round.