Despite my trivial knowledge and the ocean like  gravity of the theme of Sri Ram Mandir, By the divine grace I am prompted to pen down . Though I often write on social and travel-related subjects, this is a herculean task for me to ponder over. A couple of days back while. I was discussing the farmers' agitation with my friends and colleagues in whom find a true critic and seer, I was suggested by Mr. Singh & Sunny to write on Ram Mandir Ayodhya.
The History of Ram Mandir
Lord Ram for Hindus is not only a king or character but He is God and has a great reverence among the Hindus. He is so popular that in normal greetings in North India people say "Ram Ram". Ram is one of the top searched word on the Google and other search engines.
Sri Ram Mandir has a long history. The Hindus believe that on the birthplace of Lord Sri Ram there was a magnificent temple surpassing other temples. During the invasion of Babur and his rule, many old temples were demolished. On his behest, his commander Mir Baki demolished the old Ram temple and erected a mosque on the site.
After the collapse of Mughal rule in free India, the Hindus had been clamoring for long a grand Ram temple on the Mosque site. There were many cases filed in the local court and the high court's time to time. It was the regime of former congress Prime Minister Rajeev Gandhi when the locks of the temple were opened for prayers.
The time came when top B.J.P leaders under the leadership of Lal Krishna Advani led a mass movement known as Car Seva. This move was supported by different Hindu groups such as Vishwa Hindu Parishad, Bajrang Dal, Rashtriya Swayam Sevak Sangh (RSS), and Millions of Sadhus of different Akharas.
It was the year 1992 and the day was 6th December when VHP and B.J.P held a combined rally with more than 2 lac volunteers. The Car Sevaks became uncontrolled and under the rage, they tore the disputed structure to pieces. The demolition of the structure resulted in communal and sectarian violence and nearly  2000 people lost their lives.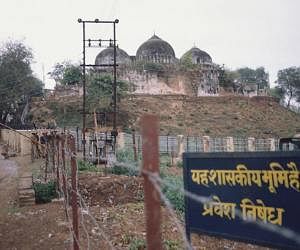 Who is the chief architect of Ram Mandir?
The chief architect of Ram Mandir is Chandrakant Sompura. This renowned architect will be assisted by his two sons – Nikhil and Ashish who are equally celebrated architects. Sompura family has a long history and since the generations, they are involved in the projects of more than 100 temples all over the world. The architecture of the divine temple will be in Nagar style and there will be no use of Iron on account of rusting factor.
Suggested Tour package:- LUCKNOW AYODHYA VARANASI TOUR ITINERARY
Construction Cost & Timings of Ram Mandir Ayodhya  
According to the supreme court, the local Administration handed over a total land of 67.07 acres to the trust. Out of this land patch, 10 acres will be used for the construction of the temple of Prabhu Sri Ram and the rest 57 acres will be used for the other amenities such as the prayer hall, guest houses, and the facilitation center.
This project will cost nearly 1100 Crores of which 300 to 400 crores used for temple construction and the rest 700 crores used for other construction and expected to be finished in a stipulated time period of 3-4 years. The Ram Mandir is proposed to be 161 feet high and 360 feet long. The width of the temple will be 235 feet under the main sanction Ram Lala Vigrah will be present.
Bhoomi Poojan of Ram Mandir
It was the auspicious day of 5 August 2020 when the Bhoomi Poojan ceremony of the Ram temple was held. On 4th August Ramcharan Puja was performed in which major Gods and goddesses were invoked. On the Bhoomi Puja ceremony, the soil and holy waters from Ganga, Yamuna, Saraswati, Kaveri, and many other famous Indian rivers were brought. P.M Narender Modi officially did Bhoomi Pujan by laying 40 Kg silver brick in the foundation.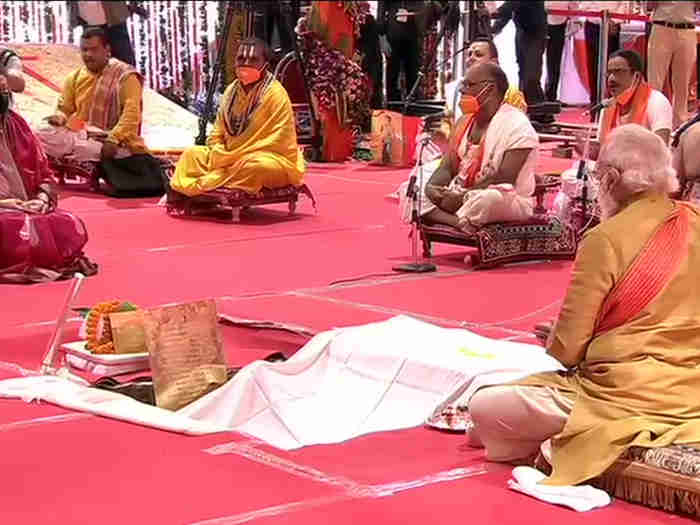 Supreme Court Verdict on Ram Mandir
There were so many judgments by the local courts and the Allahabad High court, but there was no unanimous decision. Finally, the supreme court of India had all the pleas. After a long hearing process, the honorable court gave a landmark judgment posing the way for the construction of Ram Mandir at the disputed site. Under the historic verdict, it was ordered to the center to set up a trust in 3 months for the construction of the temple. It also ordered the government to allot 5 acres of separate land to the Muslims to build a Mosque.
Suggested Tour Package:- Mathura Vrindavan Tour Package
Sri Ram Janambhoomi Teerth Kshetra
The government of India following the orders of the Apex court formed this trust known as Sri Ram Janambhoomi Teerth kshetra. Thus trust was set up for the construction of the temple and comprises of 15 members including one Dalit Hindu. The Chairman of this committee is Mahant Nrityagopal Das and General Secretary is Champat Rai. Other members include Jagatguru Shankaracharya Jyothidpetha, Dr. Anil Mishra, Kameshwar Chaupal, etc.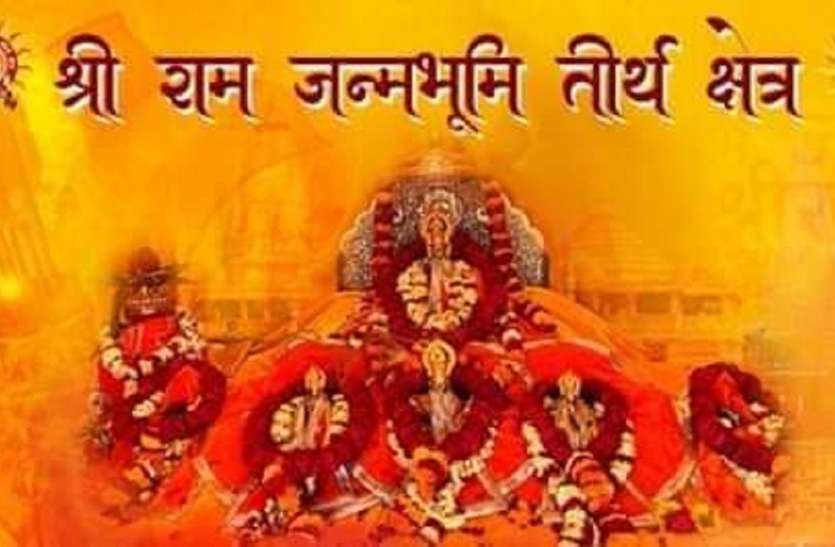 Sri Ram Mandir Nidhi Samaparan Abhiyan.
This is a massive donation campaign start for the construction of the Ram Mandir. Mr. Champat Rai, the general secretary of the Mandir trust announced to launch this program from 15th January and it will end on 27th Feb next year. The basic idea is to make it a Rashtra Mandir (National Temple) by getting support from the different segments of society without any difference of caste, creed, language, or religion. Just to make transparency the trust made coupon receipts of INR 10, 100, and 1000. This program is not only confined to India but also gaining popularity in neighboring countries like Nepal, Bhutan, Sri Lanka, etc.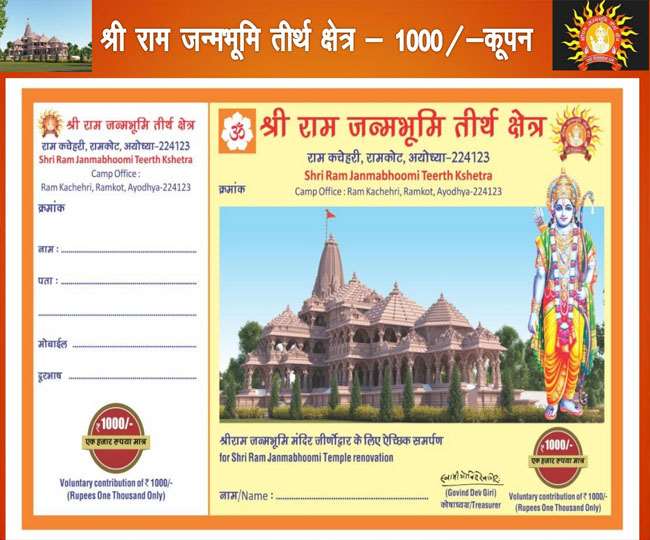 How to Donate for Ram Mandir Ayodhya?
Under Nidhi Samaparan the volunteers are going door to door to collect money. The president of India donated Rs. 500000 for this cause. Similarly, various businessmen, politicians, students, ladies, service class people, daily wage earners, and religious heads contribute money to the temple.
The trust also made the provision for online donations. The payment can be done on the payment portal of the website of the trust. Three banks namely SBI, P.N.B, and Bank of Baroda are also involved. You can easily transfer money by NEFT or R.T.G.S  and various other modes.
Ayodhya Tour packages cost
| | | |
| --- | --- | --- |
| Tour Name | Inclusions | Tour Cost |
| Ayodhya Tour from Lucknow | Car and drive | INR 5000/- up to 3 persons |
| Ayodhya Tour from Varanasi | Car and driver | INR 6500/- up to 3 persons |
| 2 days Ayodhya Tour from Agra | Car, driver and budget hotel | INR 15000/- up to 3 persons |
| 2 days Ayodhya Tour from Delhi | Car, driver and budget hotel | INR 22000/- up to 3 persons |
Lucknow to Ayodhya tour itinerary
 07:00 Am In the morning after a healthy breakfast you will be driven to the mystical city Ayodhya. You enjoy the countryside in your private luxury car.
9:30 Am Upon reaching Ayodhya you can spare half an hour for tea or coffee and thus refresh yourself.
 10:00 Am Visit Hanuman Gadi Mandir- This temple is dedicated to Lord Hanuman (Monkey God) who is supreme devoted to Lord Ram. In this temple, Lord Hanuman is depicted sitting in the lap of his mother Anjani. The legends say that sitting in his mother's lap is considered the strongest position. The other legend says that Hanuman lived in a cave over here guarding Ram court or Janam Bhoomi. This temple is open from 6 am to 9 pm every day. You can make any wish for any region and later proceed to visit another highlight of the Ayodhya Tour.
11:00 Am Kanak Bhawan – This place is located at a stones throw from Hanuman Gadi. People believe that Lord Ram with his consort Maa Sita appeared here the first time and this place was gifted by his stepmother Kaikeyi to Sita as Mukh Dikhai. Thus Kaikeyi wanted to show that see also have the same motherly feeling to Ram as his real mother Koshaliya. This place is also open every day from 6 am to 9 pm.
12:30 pm Lunchtime – Now it is time for delicious lunch at a pure vegetarian restaurant.
02:00 pm Ram Janam Bhoomi Temple – This is a major highlight of the Ayodhya one-day tour. Here you get to have divine experience by Darshan of Ram Lala (Ram as a child). This temple is open in the morning 7 am to 11 am and from 2 pm to 6 pm.
03:15 pm Balmiki Ramayan Bhawan – Now walk to a closer place known as Balmiki Ramayan Bhawan. At this place, the couplets from the Balmiki Ramayan are engraved on the marble.
04:15 pm Guptar Ghat – If the time permits and you desire make a visit to the famed Ghat of Saryu river. It is believed that Lord Ram took Jal Samadi here.                  
05:30 pm Departure to Lucknow- After enjoying your sightseeing of Ayodhya and you are driven back to Lucknow. Our driver will drop you at your hotel/Airport.