Built in 1532 Ajmer Sharif Dargah is a prominent place of Sufism in India. There are other notable sufi shrines in India such as Nizamuddin Aulia Dargah in Delhi, Salim Chisti Dargah in fatehpur sikri etc.
Dargah Sharif in Ajmer is dedicated to the famous Sufi Saint Khwaja Moinuddin Chisti who is given the epithet as the Garib Nawaj. This famous shrine is frequented by people from all the sects for any sort of wishes. This place besides being an architectural wonder is a great place for spiritualism . Moinuddin chisti was born in Sanyon in Iran and arrived at Delhi during sultanate period from Delhi he paved his way towards Ajmer and dwelled there until his death in 1236 AD. He had a great veneration among the masses and the rulers. This sacred place was visited by the slave dynasty ruler Iltutmish and prominent Mughal rulers such as Akbar, Jahangeer, and time to time they reconstructed the Dargah Sharif presently this site is one of the most frequented place in Rajasthan.
This sufi shrine is located at the foothills of Taragarh hill and is nearly 2 kms away from Ajmer railway station.

 How to reach Ajmer Dargah –
अजमेर दरगाह
If you want to travel by train you can book a train ticket to Ajmer. The Ajmer railway station has direct trains to Delhi, Jaipur Kolkatta, Mumbai etc. You can also travel by road to Ajmer from Jaipur or other cities of Rajasthan. You can travel by bus to Ajmer there are very good private buses connecting Ajmer with all major cities of Rajasthan ,the Govt buses are also available from the Govt bus stand you can alight here and then hire a local bus or auto rickshaw to approach Dargah Sharif.

Suggested Tours 
Read More Blogs
Architecture of Dargah Sharif
This huge complex of Dargah has several magnificent structures and has 8 entry gates. Presently only 3 gates are operational. The principal gate is called the Nizam Gate which is in yellow color and was made by the 7th Nizam Mir Osman Ali khan of Hyedrabad in 1911 AD. Another famous gate of Dargah sharif is known as Shahjahani gate. Some other gates are called as Madar Gate, Delhi gate, Bhisti gate, etc.
Inside the complex there are 8 tombs of other family members besides the main tomb of Moinuddin Chisti. The major tomb was erected during Humayun's period. The famous tomb include Bibi hafiza (Chisti's Daughter) and Nizam sikka the water carrier who saved the the life of Humayun from drowning in the Ganges after his defeat by Shershah Suri. While Akbar paid his visit to the tomb he donated a chandelier –Ahaat-e-Noor. Close to the Nizam Get there is a drum house where the drumb used to be played to welcome. Both Akabar and Shahjahan made mosques inside the complex. Similarly Jahan Ara added a mosque The mughal emperor Aurangjeb made sandal masjid and Shahjahan donated a water tank Jhalara for the pilgrims. The main mosque is the Jami mosque built by Shahjahan and similar to Fatehpur Sikri Dargah there are nearly 45 graves. Behind Jami masjid.
The prominent structures of the complex include Buland Darwaza, Jama Masjid, Dargah Shrine, Mehfil Kabana you also notice the massive cauldrons in the courtyard which are used during the festivities to prepare sweet dish Kheer.
The grave of the Sufi saint lies in domed chamber which you can enter through Buland gate. This grave has well decorated silver railing and marble screen. You can buy offerings from outside and pay a reverence to the saint
Things to keep in Mind
You should be modestly dressed up according to the Indian Norms. Avoid the shorts and cover your legs and arms properly. As a mark of respect you should cover your head.
You should be careful about your belongings, do not carry expensive Jewellery or modern gadgets during the visit.
 Best time to visit Ajmer Sharif
Best time to visit the Khwaja garib nawaj dargah is from October to April as it is very pleasant weather. In may & June it gets very hot. If you desire to visit the shrine during the Urs of Ajmer sharif You should plan for first six day of the month of Rajab. During the winters the gates of Khwaja garib Nawz Dargah are open from 5 am to 9 pm, while during summer they are open from 4 am to 10 pm.
Top facts About Ajmer Dargah
During Khwaja garib nawaj epoch this shrine was the main source of water to the people of vicinity. This source is called Jahlra. Even now for the rituals water from this source is used inside the shrine.
After the Namaj session is over, the famed devotional singers sing qawallis in the praise of the Almighty.
In the dargah premises huge amount of food is prepared during the night and distributed among the poor in the form of tabarruk.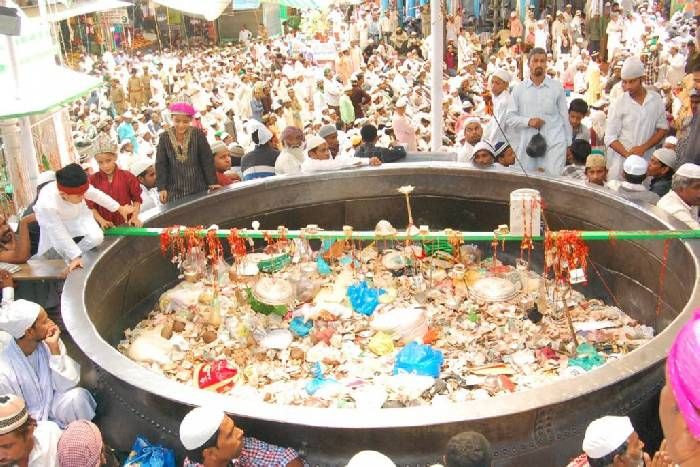 You must try degh ka khana which is the soul of Langar service. Here is the langar khana with a big cauldron donated by mughal emperor Akbar. Another choti Degh or small cauldron is gifted by Jahangir. Hazarat preached for the serving of food to the hungry and thus tradition can be witnessed till now, over here the food served in langar is purely veg food and comprises of the ingredients such as rice, ghee, cashewnuts, almonds etc.