What is Kund?
Kund is a large tank built to hold the water. The Kunds in India were made for different reasons such as to cope with the paucity of water in the arid zones. Some Kunds are built in the hills which look very ancient and have large deposition of Sulphur in water. Many such Kunds are said to have mysterious powers. Folklores say about the residing deity around the Kund. Many other Kunds built in the draught prone areas of Rajasthan and Gujarat have steps and are known as baoli.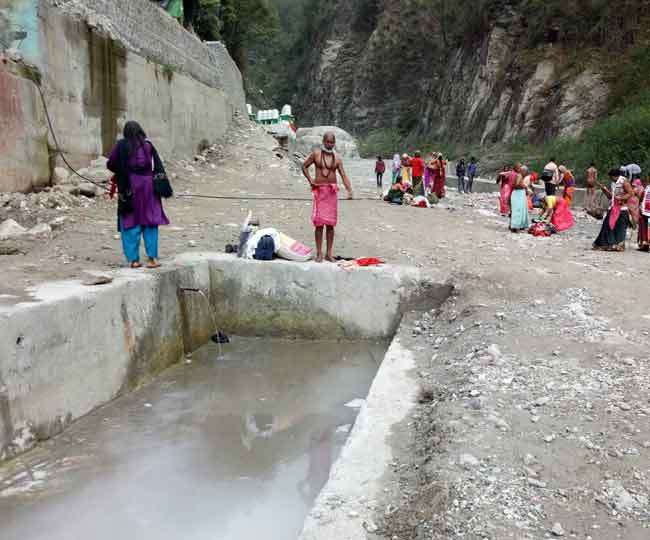 Badrinath Tapt Kund             
How to reach Badrinath Tapt Kund?
Tourists can easily reach Badrinath Tapt Kund via NH-58 from Rishikesh to Badrinath. The Badrinath temple is just 10 minutes away from the bus stand.
Badrinath Tapt Kund is the sacred Kund located near the holy shrine of Badrinath temple. Badrinath temple is also famous for the Char Dham Yatra which attracts thousands of Hindu pilgrims every year. The Badrinath Tapt Kund lies between Badrinath temple and Alaknanda River. This is famous for its hot water spring where devotees take a holy dip before Darshan of Shri Badrinath.
It is believed that the water of Tapt Kund cures all body ailments as it possesses healing qualities. The devotees take bath in this natural hot spring to purify their body and soul.
This is the only place where you will see the natural hot spring in spite of the cool weather and snowfall. The water of Tapt Kund comes in the form of an eaves trough from the Garun Shila and flows into a concrete stone tank.
Retas Kund Kedarnath
How to reach Retas Kund?
Retas Kund is located near Kedarnath temple which is well connected by road both from Haridwar and Dehradun. Tourists can easily reach the Retas Kund by taking a bus or taxi from Dehradun/ Haridwar.
Suggested Reading: – Mathura Vrindavan Temples Facts and Timings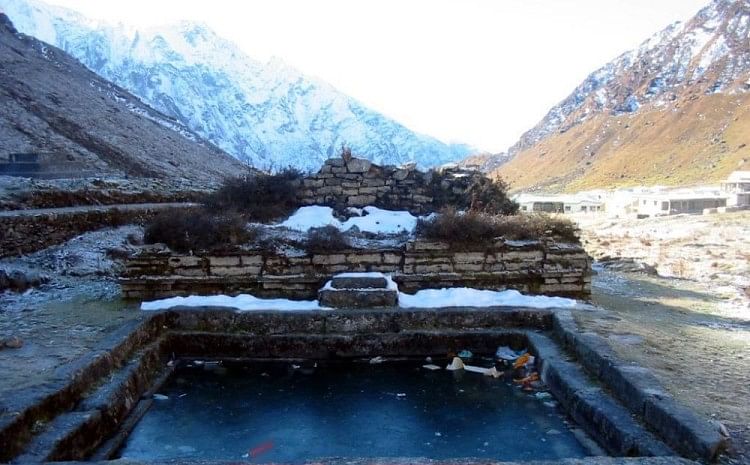 Why Retas Kund is Famous?
Kedarnath is one of the four points of Char Dham yatra performed every year by Hindu devotees in the month of summers. This Retas Kund lies just 500 meters away from the Kedarnath temple near the Savitri river. According to the mythology God cupid (Kamdev), God perished by the fury of Lord Shiva, his consort Rati had an incessant cry on the bereavement. She emitted a fountain of tears at the same place which formed this Kund. The magical thing about this Kund is that when you chant Om Namah Shivay under this water, the water of this Kund starts bubbling naturally. One more story goes like this that at this place one of the Pandavas- Bheem did worship lord Shiva and if a human being drinks the pious water of this Kund he gets the divine grace of Lord Shiva.
Manikaran Kund
How to reach Manikaran Kund?
The nearest airport to reach Manikaran Kund is Kullu airport and from there you can take a taxi to cover the distance of around 40 km. If you are traveling by road you can easily reach by road to Manikaran located on the foothills of Parvati valley.
Why Manikaran is famous?
Manikaran lies in the district of Kullu belongs to the state of Himachal Pradesh. This famous Gurudwara of Manikaran is the famous Sikh and Hindu temple where lots of devotees and tourists come every year to visit this beautiful Sikh temple. This famous Gurudwara is also famous for its sacred Kund where you will see the natural hot water spring. The river flowing here carries hot water which is used to prepare the food of Langar for the devotees. This hot water spring is believed to be as pious as the Well of Kashi. According to the legends, Lord Shiva and Parvati spent almost thousands of years in this holy place during that time Parvati lost his gems called Mani. Lord Shiva sent his Ganas (attendance) to find that celebrated Mani. In this pursuit, they failed. Under the raise, Lord Shiva opened his third eye which created havoc and everything started destroying. Suddenly Sheshnaag appeared from the river with lots of gems and jewelry to make the god and god happy. So the coming of Sheshnaag in this cold water made this water hot so until this time this water is hot and a special attraction for the tourists.
Brathala Kund
How to reach Brathala Kund?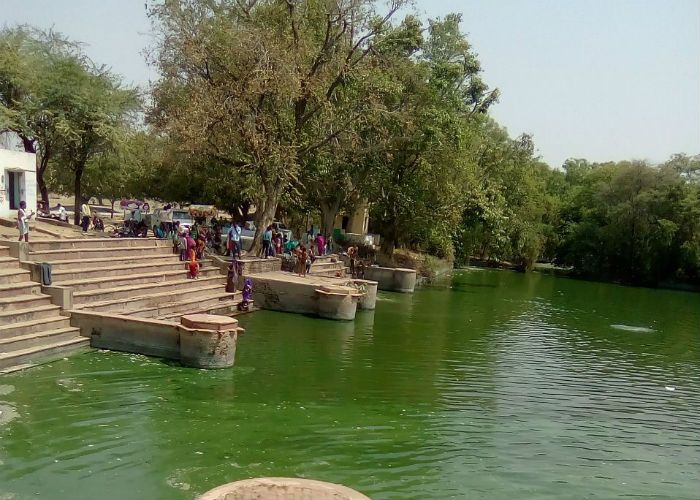 The distance from Agra to Brithala Kund is 25 km. You have to travel through the Shamshabad road up to Iradatnagar which is about 20 km from Agra and then you have to travel on the narrow roads up to Brithala Kund which is nearly 5 km from Iradatnagar.
Why Brithala Kund is famous?
Brithala Kund is famous for its holiness for ages as the locals believed that this Kund was created by the gods by his own hands. The legends say that there was a devil named Vratasur who was in a mood to conquer the divine seat of Lord Indra and thus posed a threat to the authority of Indra. The Gods and Goddesses under the threat had a meeting and devised a plan to kill this demon. Under the plan, they urged Rishi Dadhichi to provide his bones for the sake of making a divine bow.
After killing this demon Devtas performed a Yagna at Vrithala Kund to absolve from the sins of killing Brahmin in the form of the devil. This Kund is having special powers to heal skin diseases. Still, a large number of people flock to this place to take a holy dip in the water of this holy Kund. Here you will also see Vrathala Mata temple, ram temple here near the Kund.
Machkund Dholpur
How to reach Mach Kund?
Machkund or Muchkund is a well-known Hindu and Sikh pilgrim center located in Dholpur place of Dholpur (Rajasthan). It is situated just 4 km from the main city and can be approached easily with a local transport facility from Dholpur city. Auto rickshaws are easily available at a fixed price. The nearest airport to reach Teerthraj Machkund. are Gwalior, Agra, or Jaipur. If you want to travel by train you have to book your train tickets for the Dholpur railway station.
History and Importance of Machkund
If you trace back in mythological accounts, you can find the story of the inception of Machkund with the demon called Kaal Yamana. This demon unknowingly woke up the Raja Machhkund who was sleeping at this place. Due to divine gift from a lord, the king had the power to destroy any person. Therefore, for disturbing his sleep, Raja Machhkund burnt the demon Kaal Yamaan at this place. It is significantly surrounded by small to medium temples built from 775 to 915 BC. These temples were constructed by numerous kings who ruled over this place during that phase of time. This lake is reckoned as sacred by Hinduism and it is the firm belief that tanks are very pious for people taking the plunge in its water. It is considered an important teerth, a holy pilgrimage of Indians. Every year, a huge fair is organized on this venue during the Bhado month of the Hindu calendar. A holy festival of Dev Chat is celebrated in the form of a fair at Teerthraj Machkund in Dholpur.
Guru Hargobind Sahib the sixth Sikh Guru killed a Lion at this place so a Gurudwara is also present at the Machkund ghat.
Pushkar Kund
How to reach Pushkar Kund?
Pushkar city is approximately 125 km from Jaipur. If you are traveling by train the nearest railway station is Ajmer which is only 25 km from Pushkar. If you want to travel by road, you can hire a taxi or bus from Jaipur as well Ajmer to reach up to Pushkar. The nearest airport is Jaipur which has good connectivity of flights from all metro cities in India.
Significance of Pushkar Kund
Pushkar Kund or Pushkar Sarovar is located in the town of Pushkar in Ajmer district of the Rajasthan Pushkar Lake is a sacred lake according to the Hindu mythology of the Hindus. … A dip in the sacred lake is believed to cleanse sins and cure skin diseases. People believe that Lord Brahma created this Kund by his own hand and here you will see the one and only Brahma temple in all over the world. Lord Brahma the creator of this universe has a temple at Pushkar nowhere else will you find a temple dedicated to Lord Brahma.
The mythology of Pushkar Kund
Pushkar Lake is surrounded by 52 bathing ghats, where pilgrims throng in large numbers to take a sacred bath. Hindu mythology believes that Lord Brahma saw the demon Vajranabha trying to kill his children and harassing people. He immediately slew the demon with his weapon, the lotus-flower. In this process, the lotus petals fell on the ground at three places, where springs emerged creating three lakes: the Pushkar Lake or Jyeshta Pushkar (greatest or first Pushkar), the Madya Pushkar (middle Pushkar) Lake, and Kanishka Pushkar (lowest or youngest Pushkar) lake. When Brahma came down to the earth, he named the place where the flower ("pushpa") fell from Brahma's hand ("kar") as "Pushkar". This teerth is also popular as this is the Nephew of all the teerth.
Galtaji Kund
How to reach Galtaji Kund?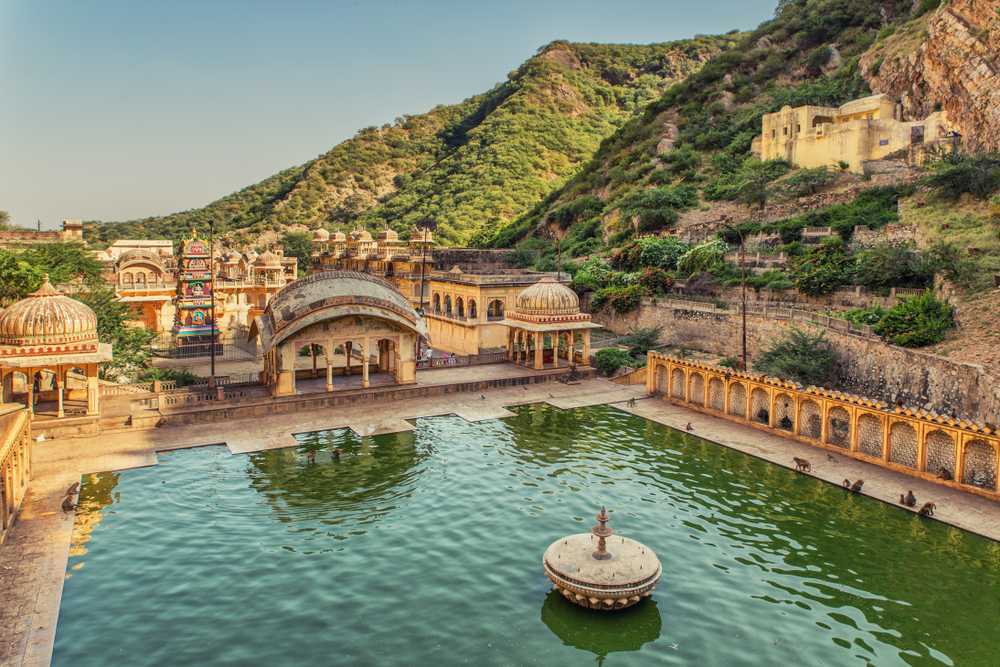 This Kund is located at a distance of 10 km away from the Jaipur main city. You can reach Jaipur by train, road or by air. The best way to approach this place is to hire a taxi or jeep to reach up to reach  Galtaji Kund.
History of Galtaji Kund
Galta Ji is the famous tourist destination of Jaipur in Rajasthan. Earlier this place was known as 'Galva Ashram' because of the holy saint Galva who did penance for more than 5000 years and is supposed to bring River Ganges to Shri Galtaji. According to the legends on every full moon day of the Hindi month 'Karthik', Brahmaa, Vishnu, and Shiva the Trinity of Gods visit this holy place. The people believe that taking bath in this Kund provides the divine blessing of the Trinity. Here you will visit series of temples, mandaps, and sacred ponds which make this place appear made like heaven. The amazing fact about this kund is that the kund never faces drought. Every year on the occasion of Maha Sankranti a big fair is organized at Galta Ji Temple.
Indradyuman Kund Jagganath Puri
How to reach Indradyuman Kund?
Puri is well connected with other major Indian cities by road and rail network. The nearest airport is Bhubaneshwar which is only 53 km from Jagannath Puri which is well connected to all metro cities of India.
Location significance of Indradyuman Kund
There are so many sacred places to visit in Jagannath Puri. Indradyuman Kund is one among them. People believe without taking the holy bath in this water kund your yatra of Jagannath Puri is incomplete. IndradyumanaKund is located near the Gundicha Temple. The Mahabharat describes King Indradyumna's performing Ashvamedha Yagna and the advent of the four deities of the Jagannath cult. It describes how the holy Indradyumna Kund was formed by the trodding of the ground by thousands of cows donated by Indradyumna to Brahmins. To this day the Indradyumna Kund is considered holy by pilgrims.
Radha Kund Mathura
How to reach Radha Kund Mathura?
Mathura the birthplace of Lord Krishna is well connected by road and rail network You can easily reach Radha Kund from Mathura railway station by taking an autorickshaw or cab. Radha Kund is only 15 km from Mathura. This place is also connected by road from Vrindavan.
History and significance of Radha Kund
Radha Kund is a sacred pond situated in the holy town of Mathura. Close by in the birthplace of Lord Krishna you can visit one more kund called Shyama Kund.  These two kunds are considered the holiest places as both Radha and Krishna have performed their divine Leela's on the banks of these Kunds. It's believed that both Radha Kund and Shyam Kund were the confidential bathing places of Radha and Krishna. They used to meet on the bank of Radha Kund and also performed the celebrated pastime of Rasalila here at this Kund..Thus both of these are most revered among the Vaishnavas. In the era of the Bhakti movement in the 16th century, Sri Chaitanya Mahaprabhu along with his disciples during his visit to Vrindavan excavated these kunds. In the anticipation of the attack by the tyrant ruler Aurangzeb on Vrindavan, all the important deities of the temples of Vrindavan were secretly hidden in the Radha Kund for many days. It's a belief that one who takes bath in both these Kunds with complete devotion and faith will achieve the grace of Lord Krishna and Radha.
Damodar Kund Gujarat
How to reach Damodar Kund?
Damodar Kund is located in the Junagarh district and the nearest railway station is Junagarh to reach Damodar Kund.
Significance of Damodar Kund
This Kund is located near Damodar Temple Gujarat It is one of the sacred lakes as per Hindu mythology, This is located at the foothills of Girnar hills, near Junagadh in Gujarat, India.
It is considered holy, as per Hindu mythology and many Hindus prefer to bathe and immerse the ashes and the bones left after the cremation of dead bodies, here at Damodar Kund due to a belief that the departed souls would get moksha here.[
The water of the lake has properties of dissolving the bones.] The lake is 257 ft long and 50 ft broad and only 5 feet deep. It is surrounded by a well-built ghat.
Devotees are seen taking a holy dip in the sacred bathing tank, Damodar Kund, before offering prayers at the temple. Damodar Kund also has a connection with the famous poet, Narsinh Mehta, who was a Gujarati and a devotee of Lord Krishna. Nearby the lake is two small reservoirs- Revati Kund and Mrigi Kund where pilgrims visit to get rid of their sins by taking a dip. The lake springs to life during the Shivratri festival. Also, a fair is organized on Amavasya day of Bhadarva month as per the Hindu calendar. After seeing the lake, one can say that God has a major hand in the creation of nature.