Since Ages the fruits have been integral part of the cuisine of human civilization. In ancient times the sages and the common people used to rely on fruits and roots besides the vegetables and corn. North Indian plains have been the most fertile land impacted by the major rivers of Ganga, Yamuna, Satluj, etc. The soil, climate and the enough rainfalls make it suitable to grow various plants. If you are doing Delhi Agra Jaipur tours or you are traveling to Punjab and Himachal Pradesh you find different varies of trees laden with fruits.
1. Mango – Mango is one of the most common fruits of tropical countries like India. India is one of the largest exporters of mango fruits. Its juicy content is full of Vitamin A, C and D. In India there are more than 100 varieties of Mango. The most delicious names are Alphonso and Dussehra. Uttar Pradesh state has famous nurseries at Malihabad close to Lucknow and Barjhala close to Furukhabad District. Since the ages of Mughals plantation of mangos was done on a large scale. Akabar ordered for plantation of 1 lacks mango trees in Darbhanga district of Bihar.
2. Guava- Guava tree is widely grown in Tropical areas such as North India and is famed as great nourishment fruit. While it is immature its fruit is green, or ripening up it turns into pale. Guava fruits are amazingly rich in antioxidants, vitamin C, potassium and fiber. This remarkable nutrient content gives them many health benefits.
3. Plumbs- This is a common fruit of tropical regions and found on the abundance in Indian cities. Each fruit has one seeds. Plum in Hindi is known as Ber. There are so many varying of plumbs found in India and is one of the first fruit which is domesticated by Humans. A plum is a fruit of the subgenus; the subgenus is distinguished from other subgenera (Preaches, cherries, bird cherries, etc. If you come on Taj Mahal Tour during January you can find the plumbs in Agra. The primary producers of plum are Punjab, Himachal Pradesh, Uttar Pradesh, and Jammu and Kashmir.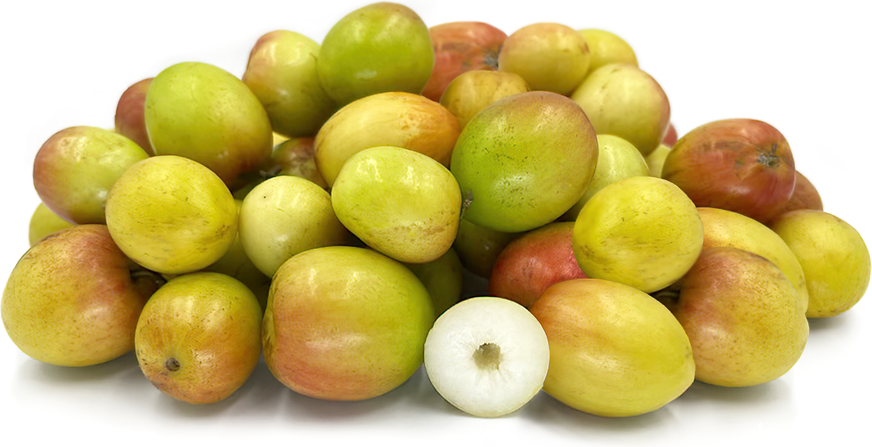 4. Banana- Banana is less grown in North India. This fruit is replete with potassium content and since time immemorial it has been the part of the diet of North Indians and is one of the most widely consumed fruits in the world for good reason. Eating them could help lower blood pressure and reduce the risks of cancer and asthma. This fruit is a staple starch for many tropical populations.
5. Custard Apple- This is a very delicious fruit of North India. The legends say this along with watermelon is considered a fertility symbols and is grown in a large area of Rajasthan close to Udaipur and its surrounds. Custard apple is widely grown in Maharashtra. The fruit is an excellent source of Vitamin C and manganese, high in energy too.
6. Water Chestnut- Water chestnut is known as Singhara in India and is grown in still waters of the ponds and lakes, and is one of the most important minor fruits crop grown in India. It also thrives in the soft nutrient-rich water in Lakes, ponds, and streams with a neutral to slightly alkaline PH.
7. Blackberry – Blackberry is a very common fruit of North India. It is available by the end of summertime and the beginning of monsoon at every nook and corner. This fruit is an abundant source of vitamins, antioxidants, and minerals and is low fat contribution is an advantage from which obese people are advised to make it a part of their snacks.
8. Apple- A common dictum goes "An apple a day keeps doctor away" This is very apt as apple is very rich in iron and other minerals and vitamins. It is grown widely in the hilly terrains of Himachal Pradesh and Kashmir in North India at the high altitudes. Himachal apples are comparatively smaller in size than Kashmiri Apples. It is in the rich of common men in North India and people use it in desserts.
9. Lychee- In North India Lychee is mainly grown in the state of Uttarakhand. It contains a rich amount of antioxidant, Vitamin C and Vitamin B complex. It helps in the production of Blood. The main season to relish Lychee is the end of April to June in North India sold in bunches on the pushcarts they appeal to all fruit lovers.
10. Watermelon- Watermelon has the botanical name is Citrullus lanatus. This delicious fruit has high calories and rich in Vitamin A and C. This fruit is grown in abundance in the gang tic plains of North India. It is to be noted that prince Salim used to go to Khandari area in Agra to see the market of watermelons. Since those times this area has the daily market arranged for watermelons during the seasons.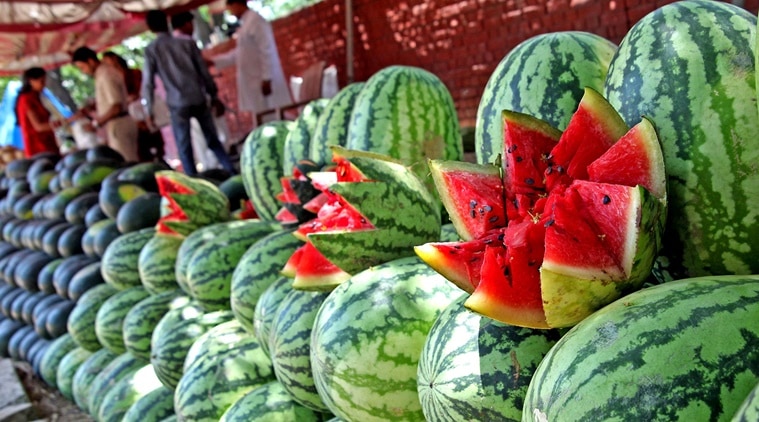 11. Tamarind- Tamarind trees are everywhere in North India and work a nice place for the birds to find a safe wrestling place. Its ripe fruits are like by the masses and used in preparing dishes. The green fruits attract the lands in the village to throw the stones to get some to eat.
12. Indian Gooseberry- It is commonly known as Amla fruits. Its fresh and dried fruits are used as traditional medicines in Ayurveda. Its sweet and pungent taste attracts the people for savory flavors. It is also used as a common pickle in the houses.
13. Mulberry- This is a plant grown in temperate regions and is known in botanical terms as Horus. Its fruit is 2-3 cm long. While it is immature its color is green or pale yellow, while it ripens it turns to pinkish color. Besides the human use of the fruits, plants and leaves are a good source of nourishments to silk wounds.
14. Date palm- Date palm is the crop of arid region, it requires high temperature and no rainfall during the crop time (i.e July August). India is the biggest importer of this crop however now the date cultivation is picking up is kach are of Gujurat and dry areas of Rajasthan which melt all the requirements for a good crop.
15. Kinoo- This is a citrus fruit was developed by Howard B. Frost. It is a hybrid of two citrus varieties king (Citrus nobilis) & willow leaf (citrus delicosa) In India it is grown largely in the plains of southern Punjab, northern Rajasthan, and western Haryana. It requires arid weather with not much irrigation.