Varanasi is one of the oldest cities of India. This city comes in the state of Uttar Pradesh and known as the holiest city of India having 3000 years old history and civilization. Earlier this city is known as Kashi or Banaras and the pilgrims and devotees coming all around the world to visit this live city of Lord Shiva. This city is full of interesting sites, temples, historical constructions and river Ganges. Pilgrims  come  here to take a holy dip in to the river Ganges and to pay a visit of Baba Vishwanath Temple.  In  this blog  I try   to summarize  about the famous places  to visit in Varanasi  and their significance.
 What are the Places to visit in Varanasi?
Kashi Vishwanath Temple
This temple is located on the bank of river Ganges and this is the most visited temple of this holy city. This temple comes among the 12 Jyotirlingas of Lord Shiva and this temple is also known as the Golden temple of Varanasi due to its Gold plated spire conisit of 800 kg gold donated by Maharaja Ranjit Singh of Punjab. The main deity of this temple is Lord Shiva which is known by the name of Kashi Vishwanath and also called Kashi Naresh (King of kashi) by the locals. The present temple was built by Rani Ahilya bai Holkar in the year 1776.
Read related blog :-
Kashi Vishwanath Temple Varanasi
Get to know about Taj Mahal Tickets online
Manikarnika Ghat
The story of this ghat is connected with mythology, when Lord shiva along with her wife Maa Parvati came to visit Varanasi they take bath in to the well near river Ganges where Parvati dropped her earring accordingly the 'Mani' denotes for jewel in the earring and kanika refer to the Ear. On this Manikarnika Ghat people coming for the cremation of the dead bodies and performing different death rituals. These are not only the locals but also from neighbor cities and sometimes from abroad as well who has desire to get salvation at Manikarnika ghat. As this is the holy city of Lord Shiva so people believe if they die or cremated in Varanasi they will get "Moskha" and they will free from the cycle of rebirth.
Every day more than 100 dead bodies came here for cremation. People celebrate death rituals at this place and after the cremation they also feed those people with (Puri-Sabji) which are coming with them from his home. This ghat will never be quiet since ages that why this is also known as the Burning ghat of Varanasi.
Suggested Tour Packages :-
The most visited ghat is Dashashwamedh ghat which is the most important ghat of Varanasi. This ghat looks very colorful and its seems always busy as lots of people doing different rituals such as bath, Pind Dan, Shaving their heads , enjoying boat rides etc.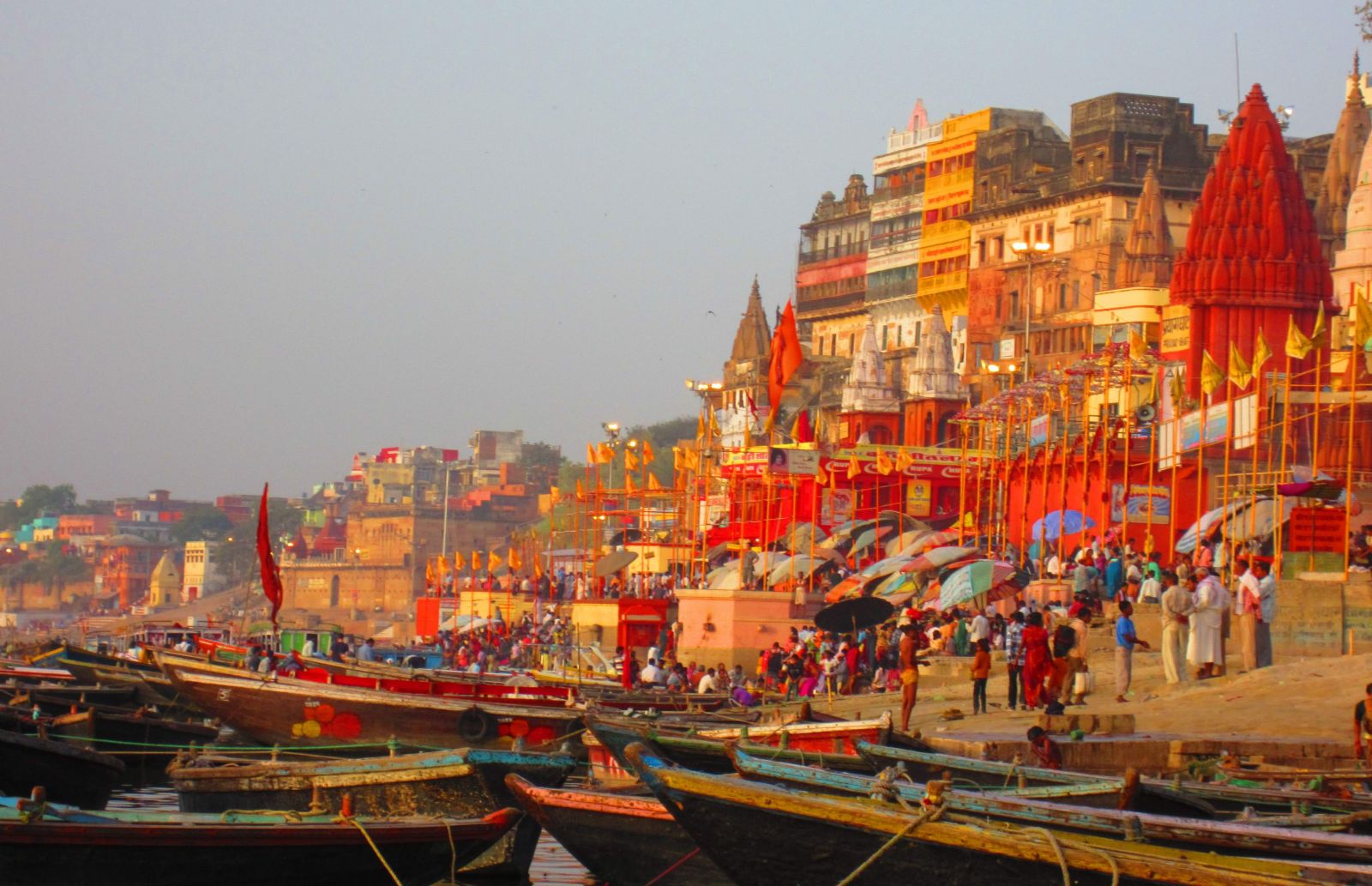 The history behind this ghat is when Lord Brahma the trinity God performing yajna overhere with a special cause he has to sacrifice his 10 horses among 12 at the same place. Because of its name called Dashashwamedh. Some historians said that this gate is made by Lord Brahma wo elcome Lord Shiva in Varanasi. This temple is very close to the main temple of Kashi Vishwanath temple and everyday in the evening you will enjoy the live grand prayer ceremony of river Ganges on the same ghat which is an extraordinary attractions for every tourist's.
Varanasi Tour Guide Charges
Varanasi local tour guide @ 1800 INR
No. of  Person
English Speaking Tour Guide Fee
Foreign Languages Tour Guide Cost
01 – 05 Persons
Half Day:- INR 1800/-

Full-Day:- INR 2200/-

 Half Day:- INR 2400/-

Full-Day:- INR 3000/-

06 – 14 Persons
Half Day:- INR 2200/-

Full-Day:- INR 2850/-

Half Day:- INR 2800/-

Full-Day:- INR 3650/-
Read more blog: – Taj Mahal Night Tour Information
Assi Ghat
Assi Ghat is one of the popular tourist attraction of Varanasi and play a very important role in the history of Varanasi. This Ghat is the confluence of river Ganges and Assi river by which the name of this city denoted. Here you can visist a huge lingam under a peepal tree which is visited every pilgrim which are coming to visit Assi ghat. The birth of the river Assi is connected with mythology as legend said, when goddess Durga  fighting with demons Shumbh and Nisumbh her sword struck the ground during fight where she destroyed him, because of this a stream create over here called river Assi. On this ghat you will also enjoy the morning and evening prayer ceremony.
Ramnagar Fort
This fort is located on the distance of 14 km from the main Varanasi city. This fort belongs to the 17th century which consist all the features of the Mughal architecture. According to the historian this fort was built by maharaja Balwant Singh in the 18th Century who was the emperor of Varanasi. This fort is located on high grounds overlooking the river Ganges. In this fort you can visit so many carved balconies, towers,arcades and open courtyard and pavilion make this for interesting to visit. This fort is also having one important temple of  Ved Vyaas who was the writer of epic mahabharat. This fort is a must visit site for those which are coming to see Varanasi and also good for the history point of view.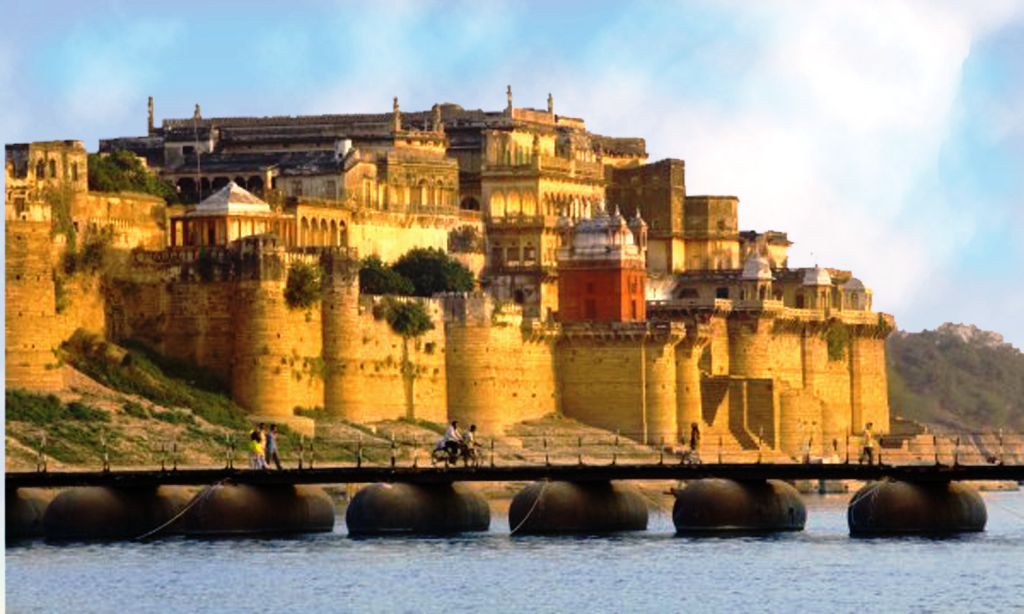 Harishchandra Ghat
Harishchandra ghat is one of the oldest ghat of Varanasi. Harish Chandra ghat belongs to the mythological story of king Harishchandra worked on this at the time of the death of his son ghat which is a cremation ghat. It is believe that god rewarded King Harishchandra to preserve the truth and charity by him. People said if anyone get cremated at Harish Chandra Ghat they will get salvation with the blessing of God. In present this ghat is still having an electric crematorium which is visited only by the locals.
Dhamek Stupa
This place is located around 12 km far from the main city. This was originally constructed in 249 BCE and later replaced in 500 CE.  This stupa was built by the great king Ashoka of maurya dynasty. It was believed that lord Buddha preached the first sermon to his five disciple Brahmins at the same place after getting the enlighten. This is a solid cylindrical shape structure around a height of 43 metre made up of red bricks and stone.
Sarntah Museum
This is oldest museum of India taken care by the archeological survey of India. It houses finding at the site of Sarnath and this museum have collection of Buddhist art, sculptures and artifacts. This place is visited by every visitor which are coming to visit Sarnath and this is the most informative and holy place to  understand the culture and Buddhism religion. The construction of this museum was began in 1904 and was completed in 1910.
Chaukhandi Stupa
It was originally constructed in 5th century AD and built by the great emperor Akbar in 1589 Ad to commemorate Humayun his father visit to the site. This is a rectangular plinth and is capped by octagonal tower. Chaukhandi stupa was built to mark the place where Lord Buddha met his first disciples as he travelled from Bodhgaya to Sarnath. Some of the historian said thet originally this terraced temple constructed during the gupta peiod between the 4th to 6th century. This place is must visit site for every tourists.
Sankat Mochan Temple
This is the oldest temple in the sacred city of Varanasi dedicated to Lord Hanuman. This temple is located on the bank of the oldest Assi ghat. The legend said that this temple was established by Goswami Tulsidas and he wrote the epic "Ramcharit Manas' at the same place. Goswami tulsidas ji giving this unique name Sankat Mochan to lord Hanuman which means the reliever of pain. In this temple the main deity is Lord Hanuman facing towards the statue of Lord Rama. People believed if they come to visit this temple they will get relief from all the pain of his life. Here you will also find so many monkeys and people offered foods to them.
Bharat Mata temple
The contruction of this temple starts in 1918 and was completed in 1924. Mahatma Gandhi ji inaugurated this temple of Varanasi in the year 1936. This temple was built by babu Shiv Prasad Sharma before independence. The main thing to visit here is a map of undivided india which is made on marble. This map has complete details of mountain range like Mt Everest, Vast plain, Water bodies, rivers, oceans and plateau.
Banaras Hindu University
This is the largest university of Asia and also known as BHU in the short form. It was established by Pt. Madan Mohan Malviya with the help of Annie Besant. This university has 6 institutes inside and 14 faculties with near about 150 departments. The total students studying in this university is around 30000 approx every year from 50 different countries. In present time also this is the best education centre of India having facilities of every subjects. Tourists are always excited to visit this Asia's largest university as this is the ocean of education for students. In this campus there is also a kashi Vishwanath temple which is not the real one  but worshiped by every tourists and students of different countries.
Ganga Aarti
This is a special prayer performed every evening at the bank of river Ganges on Dashashwamedh Ghat. This is the fascination journey of one hour which can connect every tourists to the different world of spirituality. This ceremony visited by thousands of visitors everyday.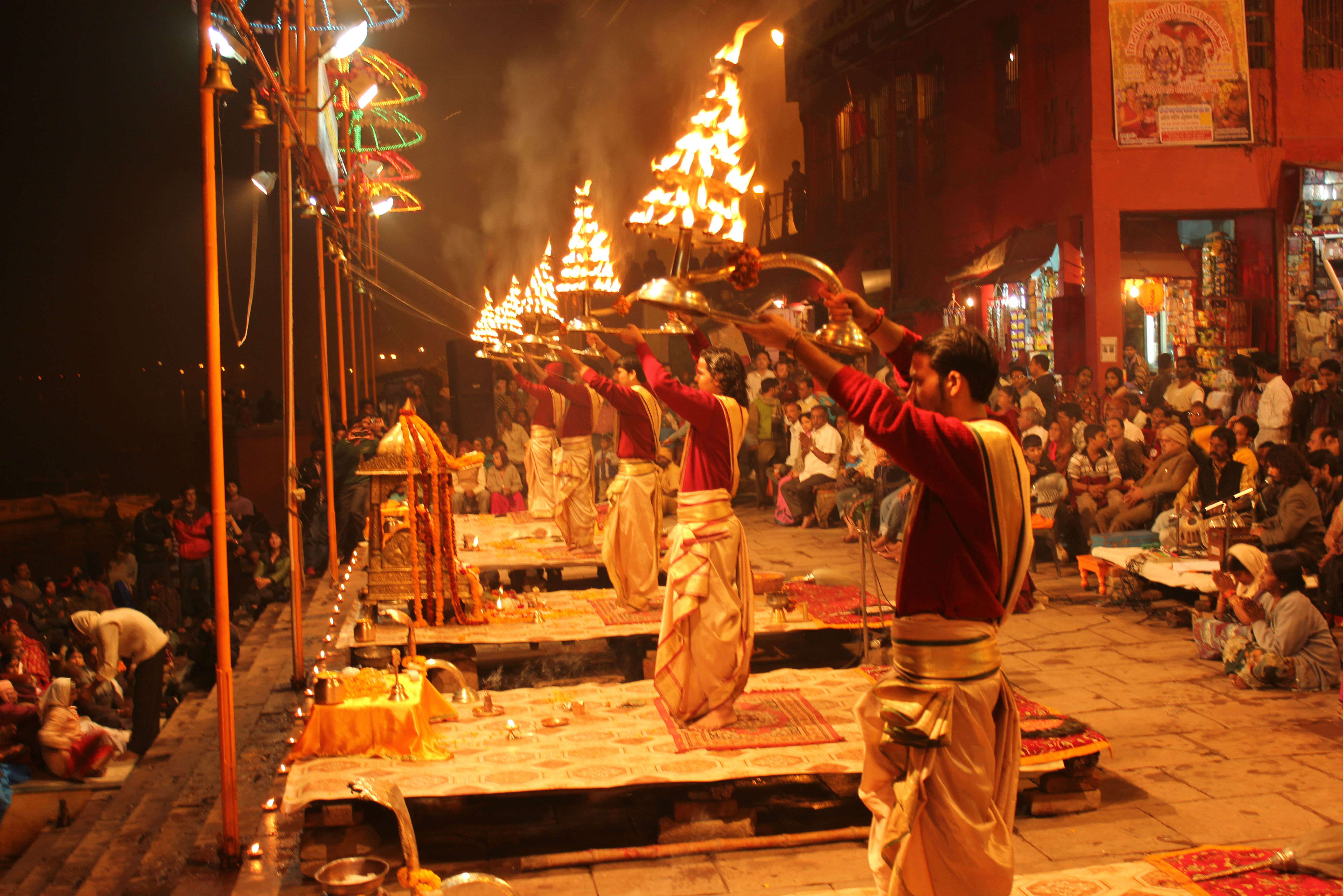 A group of priest performs these rituals of Ganga aarti by holding big multi tiered brass lamps, incense sticks and burning lamps filled with camphor in it. They are moving these brass lamps up and down in a rhythmic tune of aarti (devotional prayer) and also do chanting of mantras. The huge crowd will also making this scene very colorful and vibrating by repeating the same devotional songs and clapping together. This whole scenario takes everyone it a deep spiritual thought. The priest blow the conch shells during the whole aarti very loudly .The thousands of camera flashes and lights making this view awesome.