What is Expressway?
Expressways are like the nerves and arteries of a country. Just as nerves and arteries play a vital role in the physiology, similarly expressway in India have pivotal importance for the national body. They really bring prosperity by giving a boost to speed and curtailing time. The need was realized by the western countries after the Second World War and it gave multiple boost to their economy and growth.
An expressway is a large stretch of wide road planned for high speed, with limited entry and exit points. It has a wide divider between the opposite lanes. Thus the expressway has less impediments and provide more comfort and convenience not only to the passengers but also to the drivers. They also adhere more to safety norms and save travel time and reduce transportation cost. The proposed Narmada Expressway in Madhya Pradesh is going to be big booster to mp transport.
History of expressway
The history of expressway can be traced back to Italy where the construction of autostrade or toll motor highways started in 1924. Later in Germany Autobahns were built which can be equated with real expressway. The Nazi government built nearly 2000 kms expressway for their economic boost and military expeditions. Before the world war Pennsylvania Turnpike was completed in 1914. Up to 1950 several states of US completed expressways. Similarly in UK thousands of kilometres expressways were ready by 1950. Italy made 800 kms long expressway in 1964 and called it Autostrada del sole.
Expressway Vs freeway
Expressway and freeway are more or like same. So far as appeal is concerned both provide better for speedy traffic major difference between expressway and freeway is that freeway is a highway road which connects few cities and does not have much roadside facilities. While expressway is a fast speed road with many intersections and halts.
There are extra facilities provided on the freeway which is a main direct public road for transportation and connects major cities while expressway though a highway is made for high speed traffic bypassing cities and towns. The main benefit of expressway came from faster movement of Goods, services and personal travel. This allows the economy to be more integrated. The use of expressway reduces wear and tear of moving components of vehicle and saves fuel. They also do not allow the interference from the local villages and animals.
Expressway In India
Since 4 decades back much impetus is given in India on the construction of expressways. As a result up to 2021 nearly 2050 kms expressway were already constructed and various other are underway. The longest expressway In India is Purvanchal expressway in Uttarpradesh which covers 340 kms distance. Another named Ganga expressway in U.P. is also under construction which is going to be the longest in the coming times.This is going to connect Meerut to Allahabad passing through the valleys of the river Ganges.
The widest expressway in India is Delhi Meerut expressway and has 14 lanes.  You can find petrol pumps nearby the expressways in India. The national expressway authority of India is operating under the ministry of road transport and highways and is responsible for construction and maintenance of expressways. The states of Uttar Pradesh and Maharashtra are investing heavily on the expressway. The states of Uttar Pradesh and Maharashtra are investing heavily on the expressways on India, The Indian government announced to develop expressways in 2018 for speedy and safe traffic.
1. Mumbai-Pune expressway
Mumbai to Pune expressway boasts of being India's first six lane concrete and high speed expressway covering a distance of 95 kms. The construction of this expressway has curtailed travel time from Mumbai to pune by 2 hours and has fast tag facility. This Mumbai Pune expressway journey provides a large vista of Sahyadri ranges, passing above the deep gorges you can indulge in taking instagram worthy pictures of the scenic beauty.
2. Ahmedabad-Vadodara Expressway
This expressway is known as national expressway which connects Ahmedabad to Vadodara covering a distance of 96 kms. This expressway is fenced to prevent the entry of two wheelers & cattle. special road bridges have been built on this road to facilitate the animals moving from one side of the road to another.
3. Yamuna Expressway
This is 6 lane controlled access expressway which connects greater Noida to Taj Mahal city Agra. This expressway is very useful for Taj Mahal Tour Package This is an elevated highway with long flyovers, large bridges and 7 interchanges. This is equipped with CCTV cameras, emergency facilities, fast tag enabled toll plazas, food plaza, gasoline facilities etc.This expressway has an integrated Formulae One race track a first one of its kind in India,There is also an International cricket stadium in the vicinity. This 165 kms long expressway is developed by JP infratech Yamuna expressway it has 5 toll plazas, 35 underpasses. This is maintained by Yamuna expressway industrial development authority (YEIDA). It has north end near Pari chowk and south end at kuberpur, Agra.
Read More Blog: – 
Read Related Blogs –
4. Noida-Greater Noida Expressway
This beautiful 6 large expressway connects Uttar Pradesh to Delhi. This is spread in 24 kms lay long stretch and it has relieved the traffic on NH2.
5. Agra Lucknow Expressway
This is 300 kms long controlled access super expressway This connects two Mughal cities Agra with the state capital-Lucknow. This provides all facilities for the travelers. This is also important from strategic point of view and the fighter aircraft of Indian air force can land on it. This 8 lane Greenfield expressway passes close to the U.P. District of Firozabad, Etawah, Farukkabad, Kannauj, Unnao. It has interchanges for major roads and underpasses as well as service roads. This has advanced traffic management system which consists of electronic call boxes, speed detection system etc. This expressway made it possible to do the Golden Triangle Tour Package from eastern part of Uttar Pradesh.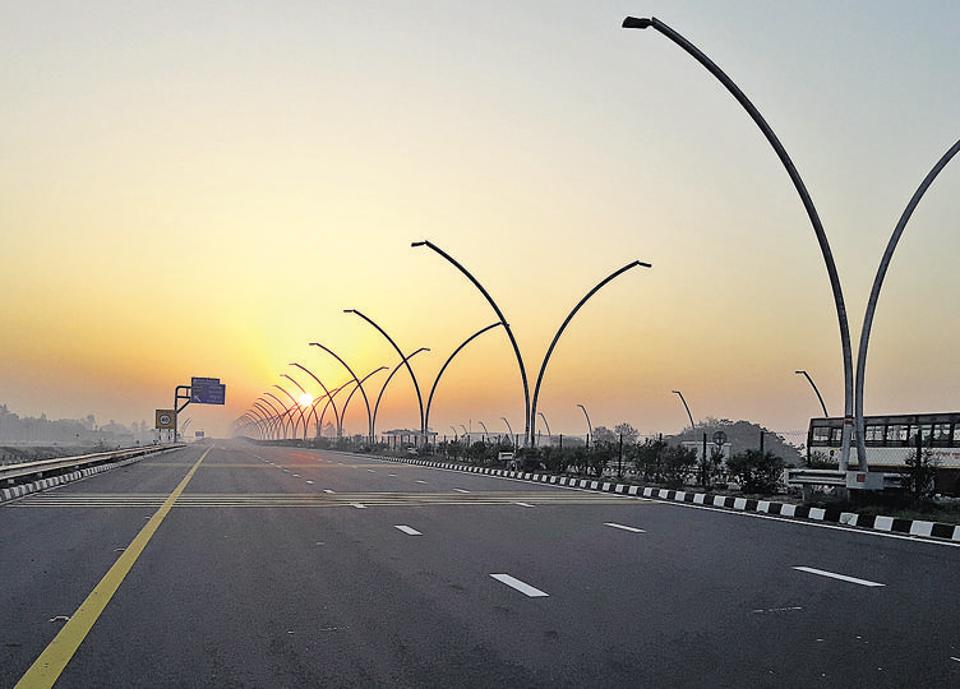 6. Eastern Peripheral way
This six lane elevated highway starting from Palwal a town in Haryana covering a distance of 135kms ending at Kundli in Haryana on the Delhi-Ambala national highway was envisaged to relieve the capital city Delhi from the commercial vehicle traffic. The trucks now straight coming from Agra- Jaipur can go to the Delhi-Ambala highway without entering Delhi thus the capital city is saved from the traffic snarls caused by these heavy trucks and the pollution added to the environment of Delhi is also saved. The road is a toll way with toll collected on the basis of actual kilometers traveled. There are respective exit gates for Noida, Ghaziabad, Shamli, Aligarh etc.
P M Mr. Narendra Modi inaugurated this newly completed highway in may 2018 the highway is a big respite to the people of Delhi and it saves a lot in terms of time and money for the nation.
Suggested Tours –
To relieve Delhi from the traffic woes a new byepass road was planned and the foundation was laid in year 2006 for the palwal- manesar stretch of the Kundli-Manesar-Palwal highway. Due to litigation's the project get delayed, ultimately in 2016 after the intervention of supreme court the project was revived and it was also upgraded from a four lane to a six lane highway. The entire highway became operational in year 2018. Its an elevated toll way with toll levied on the basis of actual kilometers traveled. This highway saves the capital city Delhi by providing a bye pass to the thousands of commercial trucks who otherwise would have entered Delhi. The trucks and other traffic without entering Delhi can go unabated to Jaipur or Haryana or Punjab.
7. Delhi-Gurgaon Expressway
This super expressway connects Gurugram with national capital Delhi. This is a part of Golden quadrilateral project declared by the then prime minister Atal Bihari Bajpai. This is 28 kms access controlled expressway and facilitates the smooth and rapid transport.  Lately this express way has been made toll free as the toll booths for collection have been scrapped.
Delhi To Jaipur electric expressway ?
The government of India, ministry of road transport is working on the mega project of making Delhi to Jaipur electric expressway. The honorable minister Nitin Gadkari is working on this plan. He is planning to eradicate the use of petrol and diesel vehicles in coming time. As the project will be completed you can see buses and trucks plying on the road with electric like rail engine. This will pass through Haryana and the Travel time will be easily curtailed.