Maldives is an island country set amidst the Indian Ocean and comprises of more than 1000 tiny islands. Out of these nearly 200 islands are inhabited and they are spread in thousands of miles. The capital of Maldives is Male and is located in south west of Sri Lanka. The Maldives islands are coral atolls are forced by the volcanic mountain ranges. The pervading scenic beauties of the islands are a strong reason to visit Maldives. This is the reason that it is a popular honeymoon destination in case you love serene environ or want to indulge in the adventure games like snorkeling or scuba diving, book Maldives tour packages. You have a large choice of hotels in Maldives Packages both underwater hotels and over water hotels of Maldives as well as the luxury villas.
About Maldives
The country has a mixed population of various ethnicities the first settlers in these islands are considered to be the Tamils and Singhalese. Later lots of travelers from the countries like Indonesia, china, Arab started frequenting these islands time to time and left a big cultural impression on the country. The official language of the country is Dhivehi which is based on the blend of Indo-European languages. Besides the native language people also speak English, Hindi and Arabic. The religion of the country is Islam. Major Occupation of the people is agriculture, fishing, and forestry as most of the populace is rustic except those living in the capital. The major produce is the agriculture and handicrafts. The country has a large number of cottage industries, In Maldives package you have immense opportunities to explore the culture of Maldives and enjoy the adventures of this great land.
Best time to Choose Maldives Packages
While you make a plan to visit a particular destination you always keep in mind the best time to visit and things to do. So far as Maldives is concerned. If you plan a visit to this fabled land you should plan to visit Maldives from November to March. Though it is warm all the year around but in April & May It is extremely warm. By the beginning of May is rainy season which pours a lot and these islands witness 5 to 10 inches precipitation every month. Besides strong winds blow by this time if you are honeymooner you should avoid this time but as an adventure seekers you can find pleasure because the large waves make it ideal to surf and sway.
What to eat in Maldives?
Maldives has been an Islamic country since centuries back as majority of population is Muslim, you can find plenty of mosques in the city and Muslim food traditions. Alcohol is served only in the hotels and you cannot find it in public places/Shops, In the food habits you find more of sea food and coconut cuisine. In the menu you can find Tuna, Wahoo and Mahi fish. Besides during your Maldives Packages, you can savour samosas, curies, you can find plenty of in house restaurants in the famed Maldives hotels. Outside as well you can find good restaurants for dining experience.
Know About The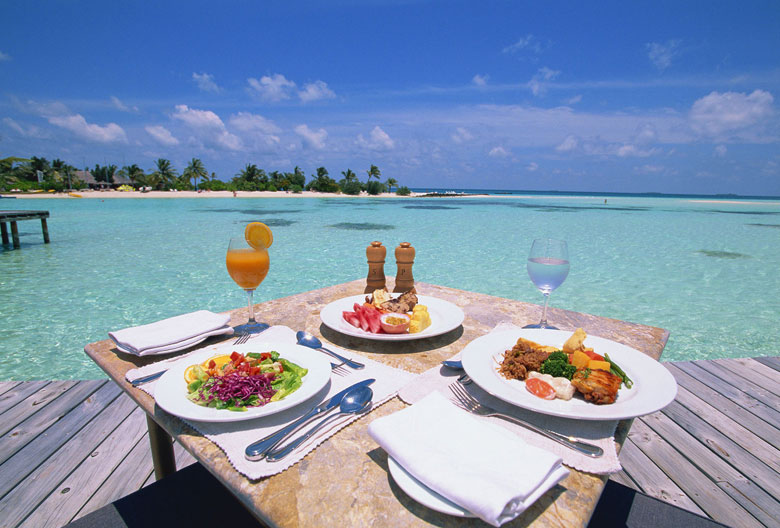 How to travel during Maldives Packages?
As these islands are tiny the best way is to go on foot, Male is nearly 2.5 square miles and you can easily freak out if you are doing yacht journey, you can navigate more islands. As you reach Valena International Airport of Male located on the island of Hulhule, you will find a representative of your resort. He will escort you to the place you are staying. Then you take a ferry or seaplane or a speedboat to reach your destination. Male international airport is connected with almost all major flights from the other countries. You need to have a valid passport of your country and you will be provided with a Visa for 30days which can be extended to 3 months on your request. You should also check with the health vaccination needed.
Interesting facts about Maldives
This archipelago was formed nearly 50 million years ago
This is the lowest country which is just 1.5 meters above the sea level
This is a mix of African Indian and European civilization
The Traditional Dhoni, the boats are inspired from Arabian boats
The traditional music of Maldives –Bodu beru is based on drum and is typically similar to Africa.
In 2009 Maldives president Nasheed organized an underwater cabinet meeting to create an awareness about the dangers of the oceans and human interference
The beaches of Maldives have white sand in place of yellow. This is an account of coralline.
The weather of Maldives remains cloudy
Maldives has 26 atolls and 1190 islands nearly 100 are left for tourism.
Interesting facts about India
Things to do in Maldives
Exploring Maldives Beaches – Most of the tourist dream of Maldives vacation for its sunny beaches. The island resorts have their private beaches where you can relax on the reclining seats under the umbrellas. Some famous beaches of Maldives include Fihalhohi Island resort, Como Cocoa Island where you can soak the beauties of nature following the local traditions. You also have plethora of options for the water sports like canoeing, kayaking, wind surfing etc. Wind surfing is a nice way to cool down in the afternoon.
Visiting Male – this small capital city is full of touring activities. You should visit the republic square which is lined with the palm trees. This famous square was constructed in 1989 and has the highest flag pole where the Maldives flag is unfurled. During your Honeymoon package of Maldives you have lots of opportunities in Male and the other islands to lie in the lap of nature.
Maldives is famed for coral islands, secluded lagoons and the signaling of whales. You can soak the sun or the beaches or indulge in the playful pines.
Suggested Plan : –
Adventure activities in Maldives
The beaches of Maldives offer lots of Adventure activities in crystal clear blue water. At same of the Maldivian beaches you can directly swim while in some places you have to take the boat to reach the deep water for scuba diving and snorkeling activities. Before the diving experience you have to undergo a practice session and are briefed about it. You have to produce your scuba diving certificate for it. Thus you can encounter many different species of fish such as clown fish, angle fish, sharks, eels etc.
While embarking an reef snorkeling you again embark on the sheer experience of coral reef scenery. You get to see the colours of the marine life more clean than you expected.
You also have the privilege to go on sea safari by taking a boat and explore what is beneath the waters. You can also get the Instagram worthy pictures of the majestic whale while it hops for air. Island hopping is a nice way to assimilate the variety of Maldives culture and life.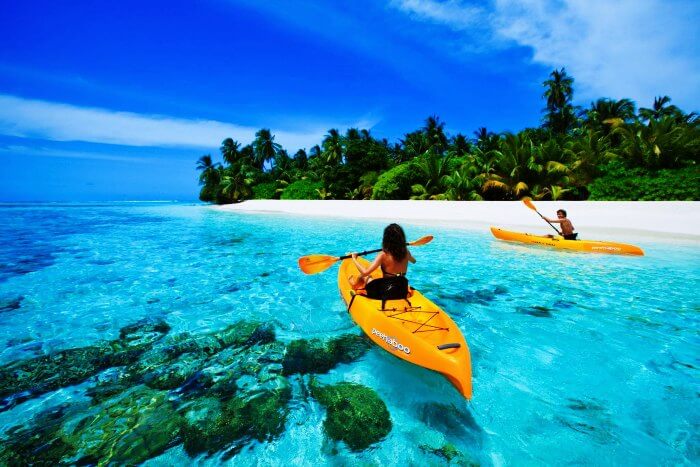 Enjoy the sunset cruise
If you dream of something special in Maldives, book the sunset cruise to explore the pristine beauty. This experience will last for one hour while you take a small skiff surfing out the water for a mesmerizing sunset view. Thus you inhale the fresh aroma.
Suggested Tour Plan :  – Goa Tour Packages