Agra city abounds in the rich heritage of monuments and cultural legacy. There are scores of worth visit forts, palaces, tombs in and around Agra which dates back to the Mughal, pre-Mughal and post-Mughal era. During your Agra Tour Package, you can witness the kaleidoscopic cultural facets of this city. This city also provides a plethora of options to the shopaholics for shopping in Agra along with the food experience.
This blog provides you the complete facts and information regarding Agra shopping such as what is Agra specialty, what souvenirs to buy in Agra, what are the major markets in Agra and what are their opening and closure timings. It also gives information about the food delights of each market.
What is the famous shopping in Agra??
In the Taj Mahal city- Agra various forms of arts and crafts developed on account of the great patrons in the Mughal rulers. As most of the rulers had aesthetic nature and they needed lots of decorative and utility needs for their imperial seraglio. Thus since ages Agra attracted artisans who found the best sellers in the royalties and the traders of the city. 
1. Inlaid Marble Articles Top Shopping Thing of Agra
On account of the Taj Mahal, the inlayers are dwelling in the city and passing on these traditions from generation to generation. They manufacture the nice inlaid marble pieces like tabletops, coasters, boxes, elephants and so on. If you want to decorate your drawing room with the marble pieces, you can visit the Agra Marble shops. 
2. Zardozi Art Liking of the Tourist
The amazing art of the Agra city is Zardozi which literally means work done on fabrics with silken thread and needle. Thus was initiated by Lady Noorjahan, the empress and wife of Jahangeer. She made a school for the ladies in the Agra Fort to learn this art. Presently this ladders work is more dominated by Muslim males.
Suggested Tour Packages :-
This city gave birth to Shamshuddin and Fazal Mohammad who are the national awardees. They really revived the dying tradition of this embroidery work and for God's sake still, this is surviving. During your Golden Triangle Tour while you visit Agra you can enjoy visiting such a place that exhibits this art like Kohinoor or Ganeshilal Emporium.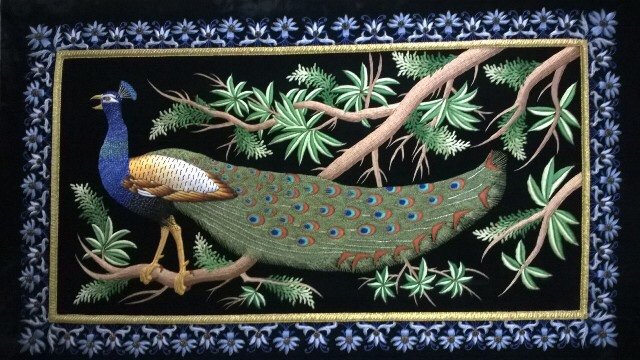 3. Leather Items of Agra – Another thing to  Shop in Agra
Agra is well known for leather goods such as shoes, sandals, leather jackets, belts, bags, etc. During the British tenure in this city, there were many tanneries. But right now they are shifted to another place to avoid water pollution. Now the leather is brought from other places like Chennai and the work is done in the city. During your Agra visit, you can explore the possibility of buying the best quality leather products. 
4. Rugs & Durries Shopping in Agra
State of Uttar Pradesh is one of the largest producers of hand-knotted rugs and carpets, Bhadohi and Agra on account of Mughal demands. Emperor Akbar set up "Faraashkhana" in Fatehpur Sikri and Agra where many looms were fixed to weave carpets for the royal Mughal palaces.
He also appointed an inspector to check and set up a department, while coming on Taj Mahal Tour you can get a chance to see the carpet stores displaying various Ispahan, Turkish and indigenous Patterns. 
The markets near the Taj Mahal provide great options to shop for souvenirs especially marble handicrafts, curios, tea and spices, and fabrics. The old area of Taj ganj has lots of small shanties. Similarly, on the Eastern and Western Gates of the Taj, you can visit these street shops.
If you are looking for good quality stuff you can visit the famous Agra Marble shops on Fatehabad Road Agra. With these marble articles, you can adorn your house. In some of these factory shops, you can even witness the process of inlaying of semi-precious stones in the marble that is popularly known as Pietra Dura Artwork.
Visiting Hours- 8 A.M to 8 P.M 
Things to Buy- Marble tabletops, coffee tables, plates, coasters, Boxes, Trays, elephants, Taj Mahal replicas, etc. 
Agra Shoe Market, Hing Ki Mandi
Agra is famed with its unique leather crafts since ages shoe market Hing Ki Mandi is an Asia's biggest market for wholesale shoes, it's a paradise for wholesale rate leather shoe buyers. There is a very interesting story about how this leather market developed. Initially, this market was the import place for the asafoetida (Hing) from Afghanistan.
The traders used to come with asafoetida products in leather bags to preserve the smell. Later the bags were thrown as waste result heaps of bags got accumulated. The leather workers started making shoes out of these bags. Thus shoes and chappals started to be made.
Presently this market looms large with the export model shoes and the cost of shoes is reasonable with good quality. 
Visiting Hours- 11 A.M to 6 P.M. Sunday Closed 
Things to Buy- All kinds of ladies and gents shoes and sandals. 
What is Shilpgram in Agra?
Shilpgram in Agra is an ideal place for street shopping like Delhi Haat. It is located close to the Eastern parking of the Taj Mahal. It provides idyllic surroundings for the aspirants of shopping where you can fulfill your desire amid the open-air stalls set in huts and tables. You can also get refreshments and enjoy coffee or tea after your sightseeing in the Taj.
Visiting Hours- 9 A.M to 7 P.M except for Friday.
Things to Buy- You can buy the imitation jewelry, footwear, ethnic clothes, brassware, musical instruments, etc. 
Shah Market
Shah Market near Anjana cinema is located on M.G. Road, Agra. This is a very good market for electronic items such as mobile phones, music systems, play station, etc. In case you want to get the facility of electronic gadgets repairs this is the best place. There are some hundred-odd shops in one place dealing with all sorts of electronic gadgets. The parking at times is little troublesome as thousands of local buyers throng this market every day.
Visiting Hours- 11 A.M to 7 P.M. Sunday Closed
 Gokulpura Handicrafts Bazaar 
This fabled market is situated on Mahatma Gandhi Road opposite to Agra College, Agra. This is an ideal place to buy marble handicrafts and other souvenirs at great prices most of these shopkeepers are actual exporters so you are sure to get the best deal for marble souvenirs over here. This is a very good place to buy "Bric-a-Brac" out of marble. 
Visiting Hours- 11 A.M to 8 P.M. Monday Closed. 
Shahganj Bazaar
This famous Bazaar is known so an account of the massive population of Shah Muslims in this area during the Mughal tours. Thus from Shah ganj, it comes to be known as Shahganj alter on while moving from Jaipur to Agra Tour you get a chance to see the old Bazaar brimming with the local fabrics and other articles. Most of the shops are related to readymade clothes, The clothes pertaining to every budget can be bought from here you can window shop over here for hours.
In old Agra bazaar's always there were some very famous eateries associated with the old markets so the shop keepers and the buyers could enjoy the local food delicacies along with business, "Satto Lala " is one such old eatery in the Shahganj bazaar here you can savor hot samosa, fritters, and Indian sweets.
Very near to the Shahganj market is a huge open space (Kothi Meena Bazaar) where every year midnight bazaar is organized by the local authorities, This space is also frequently used by the political parties for their poll meetings, in olden times the Circus was always organized over here.
Visiting Hours- 11:30 A.M to 8 P.M 
Things to Buy- You can choose the local clothes, fabrics, and other handicrafts. 
Raja ki Mandi 
Raja ki Mandi market has old significance. In the Mughal period, this area used to have the Haveli of Raja Todarmal who hailed from a Kaisth family and is well known in India for his land measurement in Akbar's Time. Akbar, the Mughal emperor appointed him one among his Nine jewels of the court (Nine Advisors). Thus the market area close to the mansion of Raja Todarmal came to be known as the Raja ki Mandi.
Suggested Tour Packages :-
This is presently one of the largest markets of Agra. This market is spread from the Raja ki Mandi Railway station to Lohamandi Agra, The market is famous for the book market and the flea market selling all sorts of purses, leather gadgets, artificial jewelry, etc.
There are also many cloth shops selling ready-made clothes, The mannequins display of these readymade garments makes an amazing setup, There are some very famous local eateries too," Bhajan Lal" sells Chole Bhature in a makeshift shanty and is really famous for his food wares he usually prepares all his food items from his home and comes here to the market to sell them the Foodholics of Agra wait for him and usually all his stuff is sold out within two hours.
Visiting Hours- 10:30 A.M to 8:00 P.M- Monday closed
Things to Buy- In this market, you can buy all household things, garments, books stationery, sweets, imitation jewelry, ladies' cosmetics, bangles, etc. 
TDI Mall, Sarv Multiplex, Ashok Cosmos mall, Agra 
This TDI mall is located very close to the Taj Mahal and Kalakriti Emporium on Fatehabad Road, Agra. The other malls are in downtown Agra. They are an ideal place for entertainment seekers and food lovers. These malls are very new to the age-old culture of Agra, Very fast people of Agra are assimilating to this new culture and the locals come over here especially on weekends to enjoy a Bollywood movie and have a favorite Macdonald's burger, they also enjoy a stroll inside the mall where there are scores of shops selling various items. These malls have some very famous Indian and foreign brand shops like Reliance, Bigbazaar, Easy day, etc. Some famous disco joints are also doing good business over here.
Visiting Hours- 10 A.M to 9 P.M every day 
Things to buy- This Mall is the best place to buy all kinds of Indian and International branded clothes, cosmetics, etc. 
Kinari Bazaar, Agra 
Kinari Bazaar is one of the most celebrated markets of Agra. This market got the nomenclature from Kinari (fringe). During the Mughal period, the ladies of the harem used to have a great passion for Kinari and Gota while they were doing the Knitting work or Zardozi work.
The famous shops like Agra Bartan Bhandar dealing in household utensils are also situated in this market. These shops present a wide variety of household utensils ranging from spoons to huge cauldrons, everything pertaining to the kitchen can be bought from here.
This Bazaar is located very close to the Jama Masjid area beside the retail shopping it is also famous for the wholesale market. You can browse the by-lanes of Kinari Bazaar and look at the colorful shops. The shopping experience is never complete without good food so every market has some very famous eateries.
Kinari bazaar also has some very old and famous eateries like "Gopal Dass petha" Munna Lal Pethe Wala" "Chiman Lal Poodi Wala" the Chiman Laal as asserted by the shopkeeper is more than 100 odd-year-old food shop. In fact, a lane is famous for the Indian sweetmeat, sold in multiple shops this is the famous "Seth Gali".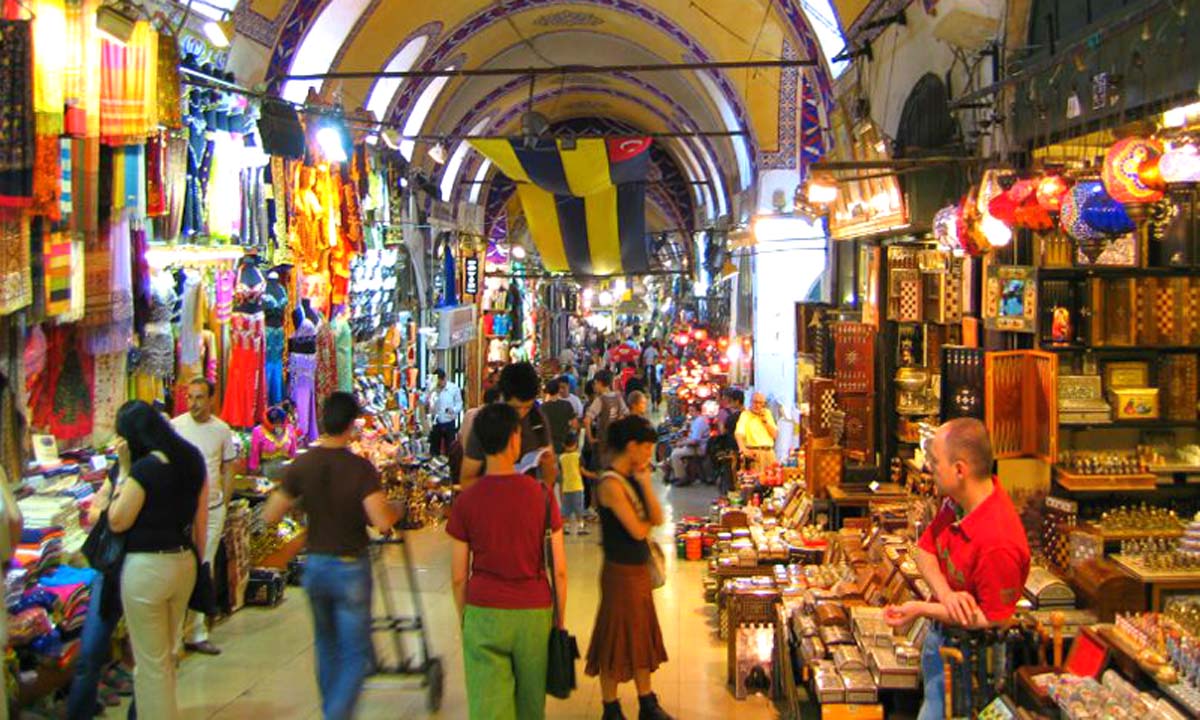 Very near to the Kinari bazaar is the Agra bullion market where lots of jewelry stores are situated. Usually, in old times the jewelry trade was always held in very congested markets for obvious security reasons. Even now hundreds of kilograms of silver are used in this market every day to make silver ornaments and anklets.
There are some very congested alleys in this old bazaar one of these is the "Lohaar Gali" perhaps in Mughal times this alley was used by the sellers from Lahore. Nearly forty years back this dark very narrow alley always full of people was used by the sellers to sell imported items and imported electronics smuggled into India. Today this narrow lane is famous for bangles wholesale lingerie shops household plastic goods etc.
Kinari Bazaar Visiting Hours- 11 A.M to 8 P.M. Monday closed.
Things to Buy in Kanari Bazaar- You can shop for fabrics, handicrafts, shoes, lingerie, Kitchen items, imitation, jewelry, toys, bags, suitcases, Toys, etc. 
Rawat Para Spice Market
If you want to see the spice market Rawat Para Agra can be the best place for this purpose. This is considered to be the oldest spice and dry fruit market in Asia. This is located close to the Kinari Bazaar and Subhash Bazaar. You can leave your car in the Agra Fort car parking lot and get a rickshaw to walk up to the market. Doing a walking tour in Agra Rawat Para is a well-known tour activity. Don't forget to cover your nose as the spicy aroma fills this entire area and you might be left sneezing.
One very old lane in Rawat para spice market is the "Khoa Gali" the sweet shop owners(halwaai) of Agra and adjoining area come to this lane every morning to buy the khoa(condensed milk) from this wholesale market, you also get to see the famous Shiva Temple- Man- Kameshwar associated with this old temple is a small lane where all sorts of items(bells, Clarion, incense sticks, earthen lamps, etc) related with Hindu religion are sold. 
You can have a glance at the shops selling the garlands fixed with new currency notes used for bridal make up while the groom proceeds on a horse to the house of the bride. This is the token of embracing the Goddess Laxmi for the would-be wife (Laxmi). These shopkeepers offer you to put this garland around your neck and take Instagram worthy pictures.
Rawat Para Visiting Hours- 11 A.M to 8 P.M. Monday closed.
Things to Buy in Rawat Para – You can buy the spices, dry fruits, Incense sticks, perfume, Ayurvedic drugs, khoa(condensed milk), etc. 
Subhash Bazaar(Sindhi bazaar) Agra 
Those who dream of shopping silk and the best quality sarees bedspread etc should plan for visiting Subhash Bazaar Agra. This market is also called Sindhi bazaar as a particular lane was developed by the shopkeepers who hailed from Sindh state of erstwhile India, There are large shops selling readymade garments.
This is located close to Kinari Bazaar and the Agra Fort. This market is located close to S.N Medical College Agra. You can visit the famous fabrics shops and close to it you can roam around the petha Gali where you can watch the process of making Petha (the sweet dish).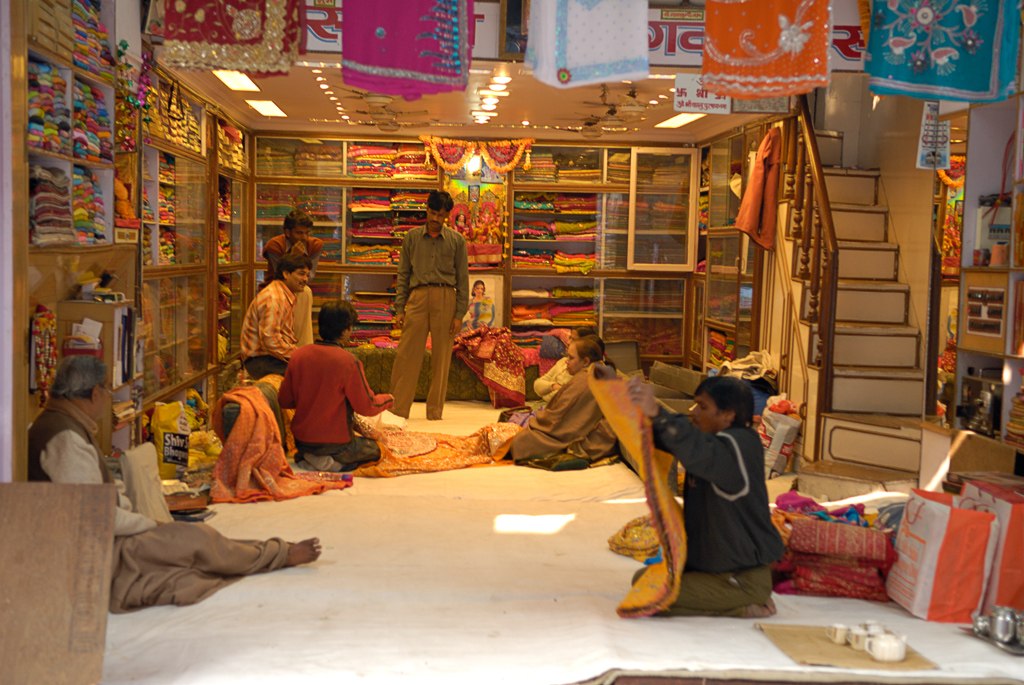 Subhash Bazaar Visiting Hours- 11 A.M to 7 P.M. Monday closed.
Things to Buy In Subhash Bazaar – Sarees, imitations, jewelry, toys, Readymade garments, etc. 
SADAR BAZAAR AGRA
In Mughal times the Agra city was only confined to the walled city, with the coming of the British the city ventured into new areas a cantonment was built near the Agra fort this cantonment was huge with quarters for the army personnel, huge bungalows were made for the officers of the then British Indian army, this cantonment also had a small bazaar where the officers and the person could go and shop for their daily needs.
Sadar bazaar of Agra is one such bazaar associated with Agra cantonment even today you can see the army personnel managing the vehicular movement, this is a very happening place of Agra there is a separate lane (Saudagar lane) for the walking crowds you can enjoy and have a nice ice cream sitting in the midst of the wide road with proper sitting avenues.
There are swanky electronics showrooms, branded ready-made garment outlets(Bachoomal & Sons), Designer boutiques selling women apparel well, in fact, this market of Agra was always known for shoppers with a better taste and better budget.
This market also has a lane dedicated to the food lovers you can savor the Agra street food(Agra Chaat Bhandar ), western delicacies like Pasta can also be enjoyed in this market. Mama Franky is a local food brand that became famous from this market itself. There are some good restaurants in this market Café coffee day, The Park restaurant, The Laxmi villas, etc. 
Sadar Bazaar Visiting Hours- 10 AM TO 10 PM.
Things to buy in Sadar Bazaar Agra:-Branded clothes, Electronic gadgets, Branded Footwear, Cosmetics, Street food, etc