What are the best things to do in Jaipur?
1:-Hathi Gaon (Location)
Very near to the Amber Fort just a kilometer away from the Delhi road, settled in the hills of Aravalis is the Hathi Gaon (A village of the elephants) which is the best things to do in Jaipur
Entrance-
A fee is levied on the entrance to this village, Indian citizens are charged 50 INR while people of other nationalities (foreigners) are charged 300 INR.
Description-
The hathigaon is a project of the government of Rajasthan, A village has been developed in the hills of Aravali hills to give natural habitat to the elephants with a natural supply of water. The project was started in 2006 and was completed in 2014. The elephants and the mahouts who are working with the elephants ferrying the tourist on the tough trail to Amber fort have been rehabilitated, Almost natural environment has been recreated for the animals, pools of natural water for the elephants to bathe and living quarters for the mahout which mix so well with nature have been made. The tourist are welcome over here they can learn more about this massive creature, Tourist can indulge in a photography sessions, can feed an elephant if interested can also go for a ride on the elephants.
Read More Related Blogs:- 
The time required for the activity-
The village is set across the picturesque greenery of the Aravali range you should spare at least 2-3 hours to visit Hathi Gaon village. The elephants working at the Amber fort come back around 12:00 pm so plan your trip accordingly.
Best time to visit:-
The best time in the day is the afternoon, as all elephants are back in the village so you can enjoy your time with them.
2:-Chokhi Dhani-
Location–
On the highway connecting Jaipur with Tonk, 23 kilometers from Jaipur is the Chokhi Dhani situated.
Description-
If you are on a Jaipur tour and are staying overnight at Jaipur then Chokhidhani is an ideal getaway for you, You can enjoy your evening over here along with a sumptuous Rajasthani ethnic dinner. When you are planning your Jaipur tour itinerary do remember to tell your tour planner to include a visit to the Chokhi Dhani in your tour plan as the restaurant is a little away from Jaipur city. The name "Chokhi" means nice and elegant in the Rajasthani language and Dhani means a village so Chokhi Dhani sums up as a nice and elegant Rajasthani village. The setup is to lure the tourist and they have tried to showcase a rural Rajasthani village with mud houses, this setup sure is loved by the tourist and Indian city dwellers who come here to experience the rural cuisine and the rural folk.
Read more blog:- City Palace Jaipur History Timings & Facts
As the lights lit up the place looks magical, folk dancers, fire walkers, puppet shows, magic shows. There is so much for everyone to be engrossed in. The icing on the cake is the sumptuous ethnic Rajasthani cuisine-based dinner. The setting is a classic rural village theme. Where inside a thatched roof hall you are seated cross leg across a small table and are served the delicacies on your respective platter. The hospitality will flatter you more and you will certainly eat more than your appetite. You can also shop here for bangles, handicrafts, souvenirs, etc.
Entrance-
The restaurant charges around 750 INR per person.
Best time to visit-
The best time is the evening time after 7:00 PM.
3:-Cycle Tour in Jaipur.
Location-
The walled city of Jaipur to Jal mahal.
Description-
The best way to explore any place is to make a visit to the place as a local. One best way to experience the humdrum of life in Jaipur is to enjoy a cycle ride in Jaipur. The music of day-to-day life will energize you. We start early morning from Hawa mahal our energetic and informative guide will detail you all the vital information regarding the dos and donts. From Hawa Mahal, we will cycle all the way to Jal Mahal, here enjoy the cool morning breeze blowing against the Man Sagar lake, the cenotaph at Ghettore , a local vegetable market, and finally a visit to the Hindu temple for morning arti at Govind devji temple. If you are interested we can arrange a morning breakfast at a traditional Rajasthani haveli restaurant.
Suggested Tour Packages :-
When to do the tour-
In the daytime the traffic is very hectic and it may not be safe and viable to cycle on the busy roads of Jaipur, the morning time gives you an opportunity to explore Jaipur city on a cycle.
Where to book your cycle tour in Jaipur-
There are many companies that organize the cycle tour. We at S.A.M Tours And Travels also organize the cycle tour, we provide you a city bicycle along with all safety gear and a guide who will give you all the necessary instructions and will detail you all nitty-gritty of Jaipur local life.
Suggested tours
Jaipur Tour Guide Charges
Jaipur Local Tour Guide Charges @ 1200/-
No. of  Person
English Speaking Tour Guide
Other foreign Languages Tour Guide
01 – 05 Persons
Half Day:- INR 1800/-

Full-Day:- INR 2200/-

 Half Day:- INR 2400/-

Full-Day:- INR 3000/-

06 – 14 Persons
Half Day:- INR 2200/-

Full-Day:- INR 2850/-

Half Day:- INR 2800/-

Full-Day:- INR 3650/-
4-Jaipur Bazaar walk–
Description-
Shopping certainly entices and enthralls everyone. Jaipur is a shoppers paradise. You can safely ( with some basic precautions) go for a very interesting bazaar walk in the busy streets of Jaipur. Just take some basic precautions, take good care of belongings (wallet and your travel documents), Don't walk in the middle of the road, leave space for the moving traffic. With these precautions, you will enjoy a walk in the busy streets of Jaipur. If you are interested we can provide you an escort cum guide for your shopping extravaganza. These are the respective famous items you can shop in Jaipur and these are the famous markets where you can find them.
Jewelry-
Jaipur is famous for precious and semiprecious stone cut jewelry. The best place to go for jewelry shopping is on the streets of Johari Bazaar. There are so many well-known shops of jewelry in the Johari bazaar.
Textile and Fabrics-
Indian fabrics and textiles are famous worlds over, especially Jaipur is famous for its ethnic block print bed sheets, bedspread, Bed covers, Tailor-made suiting shirting, You can buy all this at:- Kishan pole bazaar, Tripolia bazaar.
Rajasthani Ethnic Shoes (Juttis)-
Ethnic Rajasthani shoes called 'Jutties" are a craze with the tourist and local Indian population, mostly made from camel leather they are beautifully embellished with beads etc. These exotic Jutties can be bought at:-Nehru Bazaar, Bapu Bazaar, Sireh Deori Bazaar.
Related tours:-
Handicrafts and Bangles-
There are so many kinds of handicrafts available in the bazaars of Jaipur. Antique bronze items, wooden handicrafts, inlaid wooden, stone handicrafts, ethnic lak bangles. There are so many handicraft items you can shop in the bazaars of Jaipur.:- Kishanpole Bazaar (wooden carvings) Chand pole bazaar(handicrafts, marble items, etc). Tripolia Bazaar( lak bangles)

5-Rajasthani breakfast at Rawat Misthan Bhandar and Lassiwala
Location-The Rawat Misthan bhandar is just a kilometer away from the Sindhi camp bus stand.
Description-
As an old adage says "when in Rome do as the Romans do",on your Jaipur tour do reserve a morning for local Jaipuri breakfast. The Rawat misthan bhandar is very famous for the specialty pyaz kachori. Rajasthan being a desert is famous for its fried recipes. Pyaz kachori is a delicacy prepared from simple onions and concoctions of choicest masala(spices) stuffed into flour dough and then fried. One serving of kachori is usually enough but you can always go for more if one is not enough. After pyaz kachori. do try the assortment of Indian sweetmeat at this shop.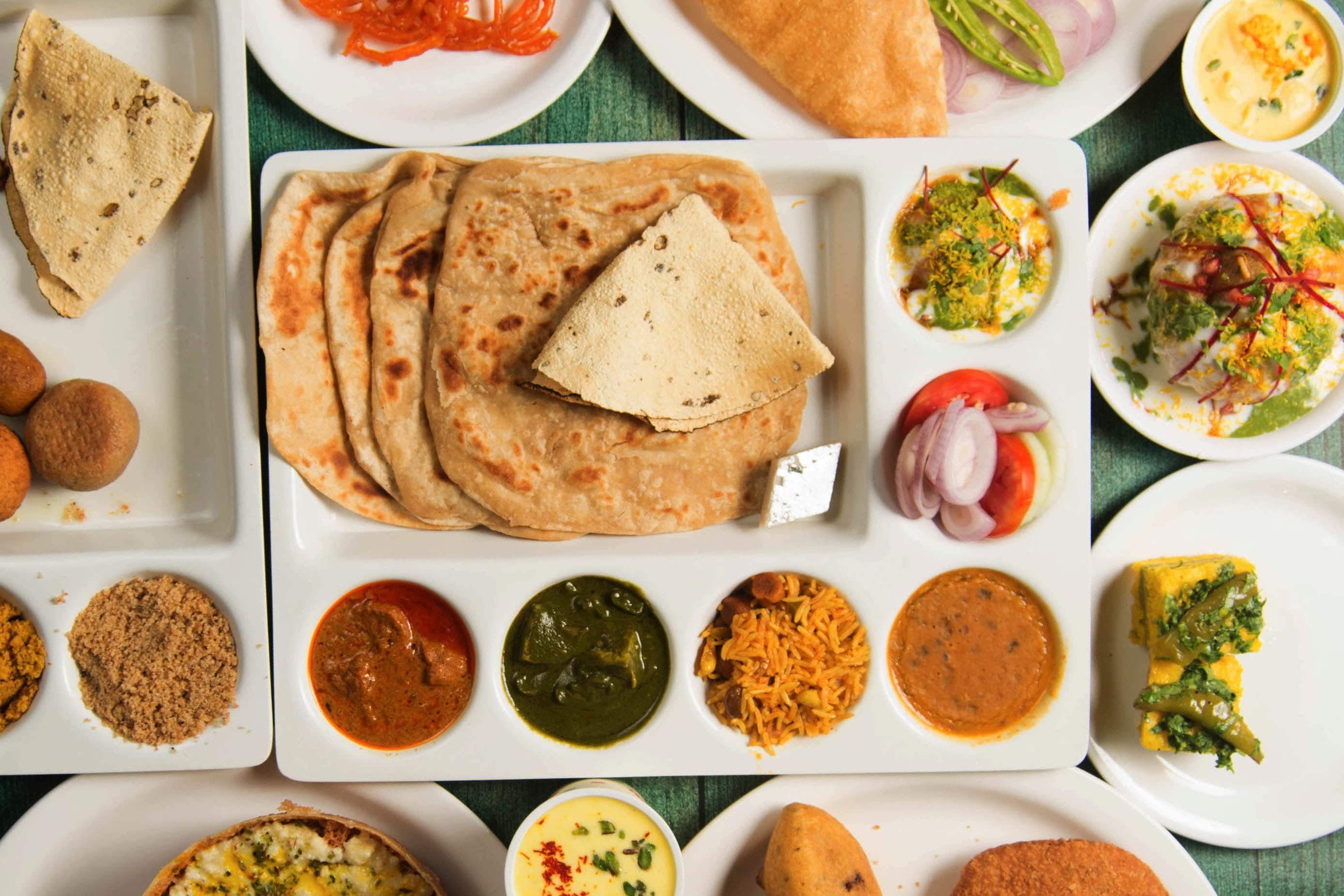 After this amazing fling with Rajasthani's famous delicacy, its time to try another famous gastronomical delight from Jaipur. The famous vend of Lassiwala is just a two minutes walk from the panch batti crossing on the MI road. The churned-sweetened curd is very thick in texture and is augmented with a dose of rose water and cardamom. This is called Lassi and is served in earthen vessels called "kulhar". The price of a kulhar of lassi is around 50 INR.

Jaipur Tour Packages Cost
| | | | |
| --- | --- | --- | --- |
| Tour Name |   Days |  Cab, Tour Guide & budget hotel |  Tour Cost |
| Jaipur tour from Delhi | 1 Night 2 Days |  Sedan Car (Swift Dzire/Toyota Etios) |  INR 15400/- up to 3 persons |
| Jaipur tour from Agra | 1 Night 2 Days | Sedan Car (Swift Dzire/Toyota Etios) |  INR 14500/-Up to 3 persons |
| Jaipur tour from Udaipur |  2 Nights 3 Days | Sedan Car (Swift Dzire/Toyota Etios) |  INR 22300/- Up to 3 Persons |
| Jaipur tour from Gwalior | 2 Nights 3 Days | Sedan Car (Swift Dzire/Toyota Etios) | INR 19999/- Up to 3 Persons |
| Jaipur tour from Ahmedabad |  2 Nights 3 Days | Sedan Car (Swift Dzire/Toyota Etios) |  INR 29500/- Up to 3 Persons |
| Jaipur tour from New Delhi | 2 Nights 3 Days | Sedan Car (Swift Dzire/Toyota Etios) | INR 17900/- Up to 3 Persons |
| Ranthambore tour from Jaipur | 1 Night 2 Days | Sedan Car (Swift Dzire/Toyota Etios) | INR 33300/- Up to 3 Persons |
6- Galta Ji temple visit-
Location-
On a steep hill very near to the Jaipur road connecting Amer road with Agra road is situated the gate for the Galta ji temple. The other route is through Sisodia Rani garden at Ghat ki guni this way is a little longer but four wheeler (cars etc) can easily scale this route right up to the temple.
History-
This place has ancient Hindu temples and is famous for a Hindu sage who meditated on top of this hill, his name was saint Galav so in his name this temple is called Galta ji. The folklore says the saint Galav called upon the Ganges to make an appearance at the Galtaji. Thus the water-filled in the ponds at Galta ji is known to be sacred and the devotees take bath in this water. It is said the Hindu trinity of Lord Brahma, Lord Vishnu, and Lord Shiva come over here for the holy ablution. The Galta ji is also famous for being home to a Vaishnavite sect of saints.
There are scores of brown macaque monkeys at Galta Ji, This place is famous for its monkeys and these monkeys have featured in a documentary by a famous Tv Channel National Geographic. This temple is now also known as the Monkey temple of Galta Ji. You can enjoy watching the activities of these naughty creatures. This is an excellent escape from the humdrum of Jaipur city and the excursion offers a different experience to the tourist who makes a visit to Galta Ji.
7- Birla temple evening arti.
Location-
On the Jawahar Lal Nehru Road near Tilak Marg and Moti Dungri is situated the Birla temple. The temple is situated on a lofted piece of land very near to the busy intersection. The temple with shining marble is visible from a long distance.
Description-
The Birla's are a famous corporate family hailing from the Marwar area of Rajasthan. They are a very successful business family and they rever Goddess Laxmi and Lord Vishnu. This temple is dedicated to Goddess Laxmi and Lord Vishnu. The temple is built in splendid white marble, the temple and its splendor make it a place interesting enough for a visit. Important Hindu festivals like Diwali, Dushera are celebrated here, You can attend the daily evening prayer session called evening Arti, The mantras are recited and the Gods and Goddess are incited for blessings amidst the continuous ringing of temple bells and blowing of conch shells, You can be a part of this special ceremony held every day. The temple was made by the B.M Birla foundation in 1988.
Suggested Tours
RAJASTHAN TOUR WITH KERALA PACKAGES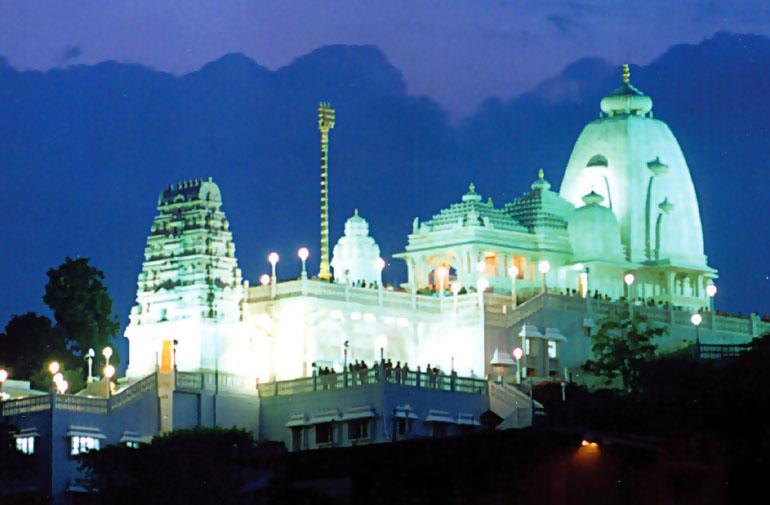 8-Sunset At Jal Mahal.
Location-
Located on Amer road is the Mansagar lake. This lake offers an amazing view of a partially submerged palace right in the midst of the lake.
Description-
Another example of classic Rajsthani style of architecture, A palace partially submerged in the water of Mansagar lake, This palace makes a never forgettable picturesque view daily venerated and liked by thousands of tourists. Scores of people gather at the Jalmahal to be a witness to the final moments of the day. The dipping sun creates everlasting memories. The mood is festive, there is lots to do over here you can enjoy a refreshing walk, enjoy street food, sip a piping hot masala tea at a local vend, negotiate with street vendors selling handicraft items and souvenirs or you can just sit on the bench and gaze at the lake and the palace. The place is ideal to spend an evening and watch the sunset in the city of Jaipur.
9-Movie at Rajmandir cinema hall
Location-
A single-screen regal movie theater located very near to the famous Panch Batti crossing on MI road. It lies on Bhagwan Dass Road.
Hindi cinema is an experience, the crowds, the grand and regal movie hall, It's a complete experience. What's more when this movie is being screened at Rajmandir movie hall then it becomes a not-to-be-missed opportunity. This movie hall is one of the best or rather the best single-screen theater in India. Many premieres of the Hindi movies have been held over here. The opulent chandeliers, the grand architectural design of the movie theater, the charismatic curtains, make movie viewing an unforgettable mesmerizing experience. Though the theater has a large seating capacity seldom it does not house full. The Hindi movies are mostly family-based melodrama with song and dance sequence as a necessary part certainly you will enjoy this experience.
10- Albert Hall Museum
Location-
Outside the walled city of Jaipur on museum road amidst Ram Niwas garden is situated the Albert Hall Museum.
History- Started in 1876 and completed in 1887. It was the work of architect Samuel Swinton Jacob. The construction of the building started, It was to commemorate the coming of Prince of Wales King Edward VII to the city of Jaipur. The building was ready but it was not yet decided that what will be the use of this new construction. Maharaja Sawai Madho Singh II finally gave his approval to use the structure as a museum. The building is a beautiful example of the Indo-Saracenic style of architecture. This building today houses the Albert Hall Museum. It's an excellent museum with some very important exhibits. The museum has a rich collection of sculptures, Paintings, Coins from various ages of Indian history, An Egyptian mummy is also part of the collection of the museum.