Here we explain to you the detailed information of the top cities of India famous for food. India is the country known for its diverse culture, religions, language, and climate all over the world. In India, there are 28 states and 8 union territories and if we are talking about the cities In India we have more than 4000 cities in which 40 cities are more than 1 million populations.
In this blog, you will read about the top cities of India famous for food.  India is also known for its diverse food culture and get famous all around the world for its cuisines and culinary style. The legend said the food speaks a lot about the place and its people. So if you are a true traveler and would like to explore yourself in India you just need to enjoy the food culture of each city. In this blog, we explain the few most famous foodie cities of India and its various cuisines.
Delhi (India)- famous for which food?
Delhi is known as the capital city of India has a population of 20 million. In Delhi, around 5 million people are coming to work every day from the neighboring states like Haryana and Uttar Pradesh. This city is best known for its food culture and varieties of food which will feed all of those working people who are coming from neighboring cities and locals as well.
This city is also known as 'Food Capital of India' At every corner of Delhi you will find the best food joints wish to serve mouth-watering street food and meals at best affordable prices such as Chole Bhature, Dahi Bhalla, pav bhaji and different chaat. This city is also famous for luxury restaurants Like Bukhara which serve the best lentil "dal Bukhara' across the globe. Here you will also find the best Non-Veg food here near the Jama Masjid area Karim's is one of the famous names among them.
Amritsar–(India)- famous for which food?
Amritsar in the world-renowned city because of the major pilgrimage sector the Golden Temple, Here thousands of tourists are coming from different parts of the world to seek the blessing and visit this holy place. Besides that this city is also famous for its Punjabi culture food which is considered as the world's most powerful foodie city. Here you will food so many touristic Dhaba and restaurants which serve all north Indian and Punjabi cuisines.
Amritsar is best known for Amritsari Kulcha, Paneer dishes, and special earthen pot Kesar Milk and cool drink like Lassi made by yogurt with a pinch of rose water and sugar which is the most favorite of every person. Few famous Indian restaurants which serve special Punjabi cuisines are Kesar the Dhaba, Amrik Dhaba, etc. here in the evening you will also enjoy the Parade ceremony at Wagah border and enjoy the best street food as well.
Suggested Tour Packages :-
Jaipur (India)- famous for which food?
Jaipur comes on number 3 in the list of top cities of India famous for food. This city is known for its royal culture and historical buildings. This is the famous city of Rajput Kings which is known for its luxury lifestyle and royal food culture. As this is a tourist city so here you will have both vegetarian and Nonvegetarian food but the specialty of this city is its Vegan food which consists of mouth-watering Rajasthani cuisines such as Daal Bati (lentil served with wheat flour Ball), Churm laddu, Besan Gatte, Pyaaz kachauri, etc.
Here you will also find the best sweets shops which serve special Jalebi and Ghebar (A round sweet cake decorated with dry fruits). On every half kilometer, you will find the best food joints of this city. Here you will also find the best food option and entertainment in the evening which is famous all around the world called 'Chowki Dhani'. This place is famous for its authentic Rajasthani food and cultural activities like dance performances, came rides, etc.
More Suggestions-
Hyderabad (India)- famous for which food?
Hyderabad is known as the city of Nizams which is famous for its rich lifestyle and food habits. The best-renowned food of Hyderabad city is called Hyderabadi Biryani which is a nonveg food dish and famous all over the world. This culture of biryani is started by the Mughals. Apart from this, you will also enjoy the best Non veg food items here like Kachhe gosht ki biryani, Haleem Paaya soup, Hyderabadi marag, Mutton Biryani, and Sheer Kurma.
The best thing about Hyderabad is here you will avoid the same food varieties from a smaller shop to a big multi-cuisine restaurant according to your budget and choice.
Visit us on ;-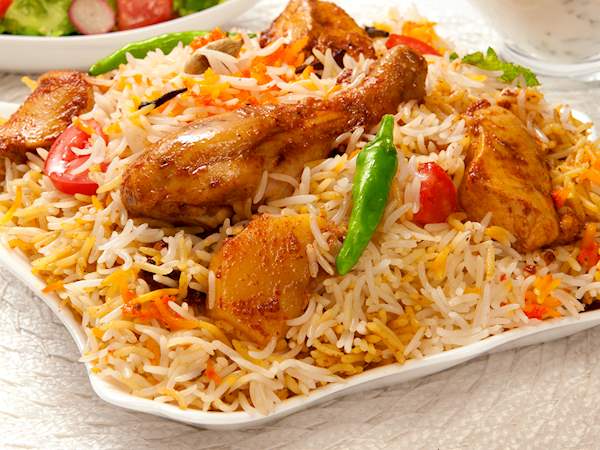 Mumbai (India)- famous for which food?
This city is also known by the name of Mayanagri because of its vibrant culture and Bollywood. This city is like a dream city for every Indian who has a desire to work in this city and to be a successful man in his life. This city looks always busy and local trains are the lifeline of Mumbai.  This city is famous for its street food as well as for its luxury restaurant which serves the best international cuisines. The most famous street food of Mumbai is Vada Pav and Pav bhaji which is the signature food of this city.
Here you will also find so many locals and tourists enjoying the best street food near Juhu Chowpati such as Bhel puri, Chana chaat, Papdi chaat, and coconut water while walking on the beaches. Here you will also find some juice corner which is unique for its various juices they have varieties of more than 200 juices which start from INR 20 up to rs.1000 just for a glass of juice.
Golden Triangle Tour with Aurangabad and Mumbai
Varanasi (India)- famous for which food?
Varanasi is known as the lively city of India. This city is known as the holiest and colorful city of the world-famous for its religious aspects and culture. This is the city of Lord Shiva which is always overcrowded with thousands of devotees. This city is also famous for its street foods and unique food habits which make this city special. Three things are famous in Varanasi the first is the Benarasi Paan, Chai, and Bhaang (marijuana). Here people are dying for Paan (betel leaf) and Chai (Tea).
Here you will see the culture at every corner of Varanasi people standing in groups until midnight and enjoying tea and gossiping at tea stalls. Banarasi paan is famous in all over India and you will see at every Paan shop the name written as 'Banarasi Paan Bhandar'. Here some snacks are also famous like kachauri, Varanasi Tomato chaat, etc. In the evening people enjoying flavored milk cooked at a low temperature and Gadowlia, Chowk, and Dashashwamedha Ghat are the famous place for street food.
Read Related Blog:-

Is Kolkata famous for sea food?
Kolkata is known as the City of art galleries, grand architecture, and cultural festivals. This city was also known as the capital of India under the British Raj between the 17th and 18th centuries. The life of most of the Kolkata people moving around Macchi –Bhaat means fish and rice the most famous food here is rice served with different fish curries. Lucchi and Manghsho Jhol are also one of the famous foods of Kolkata.
This city is also known for its stunning varieties of sweets and the famous desert here are Roshogulla and Sondesh which is famous all around the world for ages. In India when we have foreign VIP delegates in our country we preferred to serve them Roshgulla or Sondesh in the desert after meals. Some kinds of new Chinese food are also famous nowadays in Kolkatta like Momos, Chowmein, and noodles.
Ahmedabad (India)- famous for which food?
Ahmedabad is famous for its festivals and food culture. Gujratis are the famous food lovers in the world and the variety of light snacks is famous all around the world like Khakra, Fafda, Khaman Dhokla, Thepla, Patra  Dalvada Farsan, and so many things. Most of the snacks made in Gujarat will serve in the morning breakfast but due to the oil-free and light meals you will have the same at any time in a day. This city is without No Dariya and No Daru but has a vast variety of food here.
At present this city is known as the business capital of India has so many foreign industries and Plants where millions of people working every day in which some are foreigners as well but this is truly mentioned that foreigners are also fond of the food of Ahmadabad. In this, you will get these snacks on roadside stalls as well as in the luxury restaurants. When Prime Minister Modi who belongs from Gujarat went for his official foreign trips the foreign officials welcome him with Dhokla in his meals.
Lucknow -The city of Nawab's
How can we forgot Lucknow in the list of top cities of India famous for Food. This city is known as the city of 'Nawab' They are famous for their discipline life such as an attractive disciplined language, stylish lifestyle, and for the delicious food discovered by them. Lucknow creates itself as a pioneer of Awadhi cuisine. The main cuisine is famous in Lucknow are the different varieties of non-vegetarian kababs such as Galouti kabab, Tunde kabab, Seekh kabab, Kakori, Shami, Sheermal and Korma,
You will also enjoy here the best aya soup and Paya Nahari which is mouth-watering in the taste. In the evening hours, the Lucknow market is fully decorated with these varieties of foods where people are come to enjoy the delicacies of non-vegetarian foods. There are very old shops more than 100 years are the hub of these foods and if any tourists visiting this city these shops are like a paradise for non-vegetarian such as Tundey Kabab (Famous for Different varieties of kebabs) and Idrees biryani etc.
Suggested Tours:-
Udupi – Famous for South Indian Cuisines
Udupi also comes in the list of top cities of India famous for food. The famous city of south India located in Karnatak state this city is known as the city of temples all over the world and attracts millions of tourists every year. Udupi is that place where you will enjoy all the cuisines of south India such as Dosa (Pancakes), Idli, Vada, Rawa serve with Sambhar are the main food of this place.
This city is originated in dosa which is famous everywhere in India and you will find many Udupi named restaurants all over in India. The specialty of this food never looks oily and always healthy as it is made up of rice and different vegetables. During your visit to Karnataka, you will find so many street vendors that are selling the best Dosa and Idli sambhar.