Location of  Nanded City :- Abichal nagar Nanded Sahib Gurudwara is situated in Nanded town of Maharashtra state. The town of Nanded is situated south of the Nagpur city and west to the Hyderabad, both cities are around 300 kms. The Nanded city is on the eastern side of Maharshtra state.
How to Reach Nanded?
Nanded By Train-
How to reach Nanded;- Nanded is connected with some very good trains of Indian Railway, the Sachkhand express connects Amritsar city of Punjab with the Nanded. There are around 48 trains connecting Nanded city with major cities like Mumbai, Chandigarh, Hyderabad, Kolkata, Aurangabad, Amritsar. New Delhi, Jaipur and Pune .
Nanded By air-
Though Nanded has a functional airport but due to the covid condition it is not functional, there are two major airports in vicinity 1. Aurangabad Airport,  2. Rajiv Gandhi International airport, Hyderabad. Both these airports are very well connected with Nanded City by road and rail network. These airports both have many flights connecting with major cities of India. The Hyderabad airport also has international connectivity with London, Hongkong, Chicago, Sharjah etc.
Nanded By Road-  The Nanded city is very well connected by road, It has excellent highways connecting with Aurangabad, Nagpur, Akola and Hyderabad, The state transport corporation buses connect Nanded with all these destinations, There are private buses plying between these destinations everyday.
Suggested Tour Plan: –
History of Huzur Sahib :-
Huzur Sahib" Abhichal nagar" is the fifth Takht of the Sikh religion. Takht means a Gurudwara with temporal authority from where the diktats for the religion can be released,
The other Four Takhts besides Nanded –
Sri Darbar Sahib Amritsar( Golden Temple Amritsar)
Takht Sri Dam Dama Sahib . Sabo ki talwandi Bathinda
Takht Sri keshgarh sahib Anand Pur Sahib. PunJab
Takht Shri Patna Sahib.Bihar
In 1708 Guru Gobind Singh came to Dakhan along with the royal entourage of the Mughal emperor Bahadur Shah. The emperor went further to south but Guru Sahib stayed at Nanded.
It was here at Nanded Guru Gobind Singh met a Hindu ascetic Banda Bairagi, he was initiated in to the Sikh fold and given a new name Banda singh Bahadur, Guru commanded and blesses him to return to Punjab, punish the Wazir of Sirhind and protect the people of Punjab and carry forward the religious war against the tyrants.
Guru ji was attacked by two Pathan assailants(sent by the wazir of Sirhind) during his stay at Nanded one of the assailant was killed by Guru Sahib himself while the other was killed as he tried to escape. Guru sahib was treated by an English doctor and the wounds were healing. After few days Guru sahib tried a heavy bow and the wounds reopened. Guru sahib called all his Sikhs, At the congregation Guru Gobind singh ji ordained Sri Guru Granth Sahib ji to be the next live Guru and ordered all his Sikhs to follow the commands of Sri Guru Granth sahib now on. It is believed that Guru Gobind Singh left the mortal world along with his favorite horse and went to the Sachkhand (holy abode of the God).
Why Nanded is Famous?
It is believed that Guru Sahib went to Sachkhand along with his mortal body. The place from where Guru Sahib left the world is known as "Angeetha" sahib at the Gurudwara Sri Huzur sahib. The hard core believers still believe that Guru Gobind singh ji still resides at the Huzur Sahib and the day starts with head priest bringing water from the holy Godawari river for the ablutions of Guru Gobind Singh ji, Guru Sahib is believed to be ever present at Abichal nagar Huzur sahib.
Read More Blogs: – 
A grand Gurudwara was constructed at the behest of Maharaja Ranjit singh in 1837 at Nanded. The Gurudwara has gold clad domes similar to the golden temple Amritsar. The Gurudwara is constructed in white marble with inlay work done in semi precious stones. The Gurudwara has an excellent collection of period arms and accouterments of  Guru Gobind singh ji, An exhibition of the same is held every day at the evening Diwan after "Rehraas Sahib"
Guru Sahib's Horses
There is a stable at the Nanded Gurudwara where the biological progeny of the horses of Guru Gobind singh ji are preserved and bred. These horses are given special treatment and are really taken good care, one of these horses is supposed to carry the sawari of Guru Sahib during the "Mohalla" at the Dussehra festival in Nanded.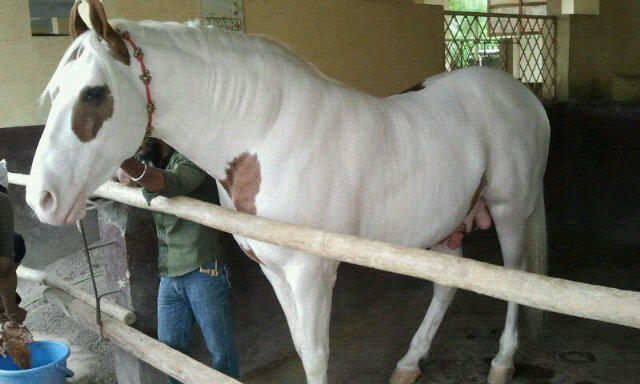 Langar Sahib Gurudwara of Nanded-
Guru Gobind singh ji had ordered his Sikhs to continue the service of langar (community kitchen) unabated at the Huzur Sahib after his departure. Confirming to this tradition Sant Baba Nidhan Singh ji started the service of langar at Gurudwara langar sahib, Sant ji is said to be personally ordained by the Guru Sahib to carry on this service in early twentieth century. Today a huge community kitchen(Langar) operated 24 x7  serving thousands of devotees every day. The Gurudwara has associated Yatri niwas comprising of well appointed 2000 rooms for serving the devotees.
Book – Amritsar Tour Packages 
Other Famous Gurudwaras at Nanded Sahib
Gurudwara Shikaar Ghat
Gurudwara Nagina Ghat
Gurudwara Heera Ghat
Gurudwara Maal Tekdi
Gurudwara Banda ghat
Gurudwara Baoli Sahib
Gurudwara Sangat Sahib
You can cover all these historic Gurudwaras in a half day excursion from Nanded Sahib Gurudwara, Shared taxis are readily available. If you want to hire a private taxi the same is also readily available.
The devotees coming to Huzur Sahib also make a day trip to Gurudwara at Bidar (Karnataka),this Gurudwara is related to the life of Guru Nanak Dev Ji as he visited this place in Karnataka in one of his Udaasi. Guru Nanak Dev ji is supposed to rid the local population off the scarcity of water, a natural spring still flows unabated at the Gurudwara. The spring was initiated by Guru Nanak Dev ji .
Read Information about Mumbai –