In the Hindu religion, there are three categories of devotees-Shaiva, Vaishnav and Shakti. Shakti are those who worship various forms of the mother goddess and call the duty as Mata rani a Vaishnavi. Vaishno Devi is the manifestation of Ma or Adi Shakti. Vaishno Devi Temple is dedicated to Goddess Vaishnavi. In India, millions of people do Vaishno Devi Yatra annually.
According to the legends in the Treta yuga when the demons were creating havoc on the earth and the saints and common folk were suffering. Vaishnavi goddess was created. Their goddesses Uma, Rama, and Vani combined their powers to give birth to Vaishnavi. She crushed the demons and decided to reside on Earth.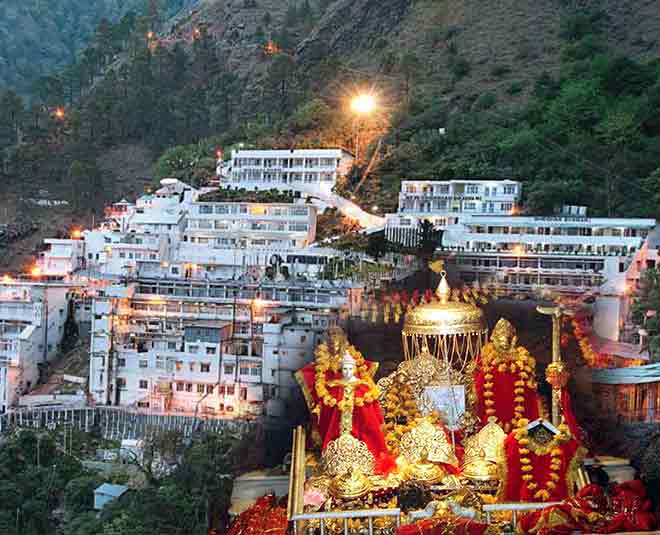 Location of Vaishno Devi Temple
Vaishno Devi Temple is located in Katra on the old Trikuta mountain ranges. It falls in the state of Jammu Kashmir for the management and better facilities the Vaishno Devi shrine broad was made in 1986.
Story of Goddess Vaishnavi
Even as a child Vaishnavi was engrossed in the deep thoughts and prayers of Lord Vishnu. As an adult she left home and performed worship to get Lord Vishnu as her counterpart. As the time elapsed she found the result of her prayers when Lord Ram appeared. She learned from Lord Ram that he is already married and is searching for Sita who is abducted by Ravan. Realizing the obsession of Vaishnavi.
Suggested Tour Packages :-
Lord Rama assured her that he would return one day and if she recognizes her, he would marry her. One day Lord Rama appeared in the form of an old man and Vaishnavi was unable to recognize him. Even though Lord blessed her that in his would-be incarnation of Kalki. He would marry her. Thus she was asked to reside on Trinkuta Parvat and wait for his arrival.
Vaishno Devi Yatra 
To attend this yatra devotee comes all months in a year but the special time to perform this yatra is by the time of the Navratri festival. Normally this festival happens twice in year- in the month of March or April and another in September. The best way to be a part of this yatra is to catch the train from your nearest railway station up to Jammu. As Jammu is well connected by all major railway stations in India, it is easy to do this by train. You can also get Deluxe buses and private car to reach Jammu by road. You can also get a domestic flight up to Jammu airport and thus you can reach the nearest point of Yatra by air. Get to know Journeyyatra
The distance of Yatra is nearly 20 km including the visit of the shrine of Bhairon Nath Ji.
How to reach Katra
After reaching Jammu railway station or Airport or Bus stand, you have to take a bus up to Katra which is around 40 km from Jammu. There are so many Dharamshalas, Budget hotels, and Guesthouses available at Katra at affordable prices.
After the refreshment, you will start your Yatra from Katra up to Bhawan. There are so many options available to perform Vaishno Devi Yatra. You will get Mules, Ponies and also the Helicopter services up to Sanjhi Chatt and from here you have to walk up to the holy cave. But most of the people preferred to do Vaishno Devi Yatra by walk.
Vaishno Devi Yatra Distance and starting point
Darshani Darwaza- Darshani Darwaza has a famous story behind it. It is considered that Vaishnavi as a child met Pt. Sridhar over here first. This has religious significance. This spot is known as Darshani Gate because from here you can have a paranoic view of the whole Trikuta Parvat. This place has two gates- The old gate leads to a flight of stairs and the second new one is developed by the Shrine Boards in the second one you find enough space for parking. The Army assistance counter is also made here.
The Old Track- In the earlier times this was the only way rugged path and few steps leading to the Bhawan. Since long the Pilgrims were visiting this old track during the holy yatra.
The New Alternate Track- As the old track is steep and narrow, the shrine Board of Vaishno Devi made this alternate track in 1999. It starts just below Andhkumari near Indraprastha and culminates just below Bhawan. It is nearly half the Kilometer short of the old track. This track is wider and stalls and nice viewpoints. You can also have a battery vehicle facility at Indraprastha for sick and handicapped pilgrims.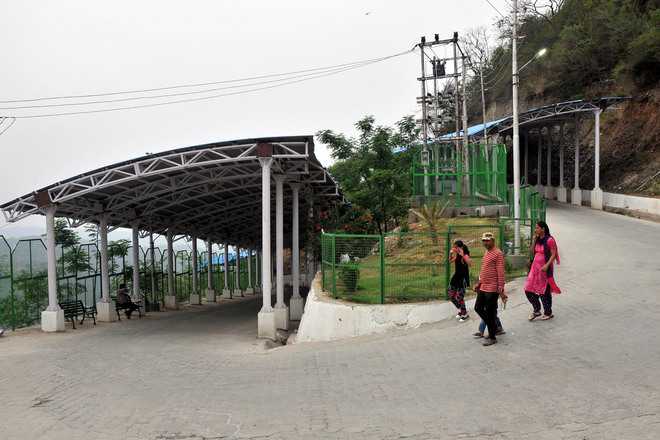 Ban Ganga – when you embark on-foot journey from Katra to Bhawan you encounter this first place known as Ban Ganga. This is based at an altitude of 2700 ft, this place is full of natural beauty. This is a small rivulet which is supposed to be created by the arrow of the goddess. It is believed that when Vaishnavi was accompanied by the group of Langoor bens they felt thirty and just to quench the thirst goddess shot an arrow into the ground. Thus Ban Ganga was crated.
After crossing the police check post and yatra parchi check post, you reach this place. The river has water all year round. Most of the people take a bath in this river and the famous Ghats of Ban Ganga.
Ardhkuwari – Audhkuwari is considered sacred as it is believed Goddess worshipped lord shiva over here in a cave. When she was seen by Bhairo. She made an openly by her trident and made her way to the Bhawan.
Himkoti – This spot falls on the new track and is well developed by the Shrine Board. This abounds in natural beauty and you can have Instagram worthy pictures. Besides the stalls, you enjoy watching a pond and garden and discovering a meditation center. This place is almost 3 km from Audhkuwari.
Sanjhi Chhat – This place is based at an altitude of 6200 ft and provides you a spectacular view of the downhills. The Bhawan is only 2 km away from here and the Helliped is also built at this place. Helicopter services are available up to this point.
Reaching Bhawan of Mata – Now you reach the Bhawan. It is a beloved hat pt. Sridhar discovered this cave (Bhawan) nearly 700 years ago. The geologists believe that this cave dates back to millions of years back. Upon reaching the Bhawan it is considered pious of the Aarti ceremony either at Sunrise or at the Sunset.
After the Aarti before Mata, it is taken out by the pujaris for the public.
Visit Bhairon Ghati – After visiting Bhawan of Mata you came to the temple of Bhairon Vaishno yatra is considered incomplete without paying a visit to Bhairon Temple. The legends say that when Bhairon Nath was beheaded, the mother's heart was melted by his appeal of forgiveness. Mother blessed him and said his temple visit is the key to the spiritual pilgrimage.
Best Time Vaishno Devi Temple – Although the shrine is open to the public throughout the year, Navratas are the special festivities. The best time to visit Vaishno Devi is from March to October when it is very pleasant nighters too hot or cold. In case you want to miss the adventure and pilgrimage you can venture in November or December.
Vaishno Devi Yatra New Guide Lines 2023
In 2023 take the new route to the shrine as the new route has far lesser crowds and is more neat and clean. The new route will certainly make your Yatra more enjoyable and hasslefree.
You can opt for online registration for the Yatra. This is more convenient as you can save the hassle of standing in long queues for hours which earlier was very common. So next time get an online Yatra parchi and enjoy a hassle free Darshan of Mata Vaishno Devi Ji.
If you can't walk all the way to the shrine then ride the electric car / cart, this service is now available and will save you from riding a pony or being carried manually in a  palanquin you can register for this service online and utilize the same.