Each tourist destination of India provides a unique opportunity for unique experiences. This is the case with Varanasi also where western tourists have a culture shock. This holy Hindu city has a Kaelodescopic culture and enthralls tourists with its vivid and varied traditions. I am recalling my flimsy memories of visiting Varanasi Ghats when I was left awestricken. A couple of years back I had a chance to do a trip to Varanasi along with my friends. In this following blog, I am putting forth my Varanasi tourism experience. While planning a Varanasi tour you can indulge in such experiences.
Savoring Misrabu elixir – One of the top Varanasi tourism experience 
We had a knowledgeable tour guide some pundit Ji for conduction our Varanasi tour. As we were walking through the narrow alleys of Varanasi, our tour guide made us halt at a shanty. Out of curiosity, we asked the reason to stop. We were suggested to try a drink the famous one of Varanasi. We ordered some glasses of Mishrambhu. It was a good experience and made us strong enough to energize us for the day-long sightseeing. I would certainly recommend trying the drink saying O for a draught of Misrabu.                                                                               
Escaping from the sage    
This episode is very hilarious while I was walking with friends and was left few yards back from the company. I found a sudden entry of a sage-like person. He was having a visage of baba with a mark of the third eye of Lord Shiva on his forehead and rough hair locks. This person holding a trident in hand hindered me he forced me to see through his eyes –gazing at me. I under a thing veneer of awe mixed with fear, followed his instruction He asked me –what did you notice in my eyes. Obviously, I could not find anythi8ng except his red eyes, So I said simply baba I could not explore anything. He was under the sway of some intoxicant maybe grew angry on me and respected to see again. I tried again but again I was helpless to find with the twice demand of doing same he had a sudden jolt of his head with mine with a thrust.
I could not understand having minor pain and fear. He uttered you fool, could not trace directly you are facing Lord Shiva. Within a single moment, this personification of the Lord demanded a few hundred rupees. Now I came to the stark reality that this is a pseudo sage who wants some money. I gave him something but he insisted on demanding more. Somehow I had a safe escape. At the same time, my friends appeared and asked me the reason for lagging behind.
For exciting Varanasi Tour Packages
Encountering Varanasi Boatman
Our troupe started for the morning Ganges boat tour. We already had few links in the Varanasi tourism industry and were suggested to call some boatman whose number I was having. As we reached the point we were surrounded by dozens of boatmen all asking for assignments. Now the negotiation process started. I was about to call up some boatman whose reference I was having. Now one came with an old face and a scarf on shoulders. This man with his sagacity appealed to my senses. He started talking to me in my native Brij language despite the fact he was Awadhi speaking. He offered me such a deal as whatever you want you can pay. His saying with few English words like you happy, I happy and hiss mannerism finally made my decision lame. I finally gave him a nod and still I remember his smile saying Ram Ji ki Jai ho.
Now our cruising started. We were surfing on the water of the Ganges and watching the ripples and floating worship materials. This man with his frail body was having the vigor and coping with the rudders. He was singing songs and smiling in himself despite his poor health. Happy he was, content with his lots. Away from envy and worldly pleasures, his character made me feel envious of myself. He was in himself uttering.
I am from the respected Kewat community and felt proud of his job. His pride of having from some boatman family who served Lord Shri Ram we were also explained a bit of Varanasi history art and culture. In the end, I had the privilege to offer to give compliments and regards to this daring boatman.
Suggested Tours: – 3 Days Varanasi Religious Tour
Varanasi Rickshaw Wala – Vara
The second day of my Varanasi experienced started after morning breakfast. Our team decided to hire a rickshaw for Varanasi local sightseeing. Fortunately, I have one rickshaw Wala who was with study figure, so two of us decided to be in his machine. The man was singing in Bhojpuri and explaining to us addressing us a babu. In his Bhojpuri dialect, he tried to explain to us about Varanasi city and places of interest.
My rickshaw was a sort of revolutionary. Sort of figure moreover a socialist by heart this man abhorred the predominance of priests on the religious places of Varanasi. He was having distrust with the present scenario where the corporate culture prevailed. This man had the rage and I was amazed to hear that he was a science graduate. Really we had good guidance and lecture on Varanasi.
Varanasi Paan- Another Varanasi tourism experience  
Varanasi is famed for it is unique Paan culture all over the globe the markets and gullies of Varanasi abound in paan shops. Much heard about Varanasi Paan I had a desire to taste it. As we were doing a walk through the bazaars of Varanasi, I heard a person shouting- Aaiye(come), Chabbaiye (chew), Ganga me nahaiye (take bath), and garmaiye (feeling hot). This voice was coming from a paan shop that was applying this sales gimmick.
This man was asking for rs. 50. Though I knew this is a big price for the pan but impressed with his salespersons. I decided to taste and it was really up to the mark personally speaking if you are in Varanasi and have a craving for Paan, freak out and go for the delight of paan.
A very famous Bollywood number filmed on Hindi superstar in the '70s made the association of Benares and Paan everlasting. Even now for sure will get to hear the lyrics of "Khaike Paan Benaras Wala" somewhere. For sure the image of paan chewing hero with the red juice oozing out from the sides of the oral orifices and the typical dialect of a man trying to be ambidextrous speaking while chewing his paan is the classical style of Benares.
Varanasi 24×7 tea stalls
What an experience of nonstop chai ki Dukan of Varanasi. As by my local friend I was suggested to have a Varanasi chai experience, I made my mood t explore Gadoliya Crossing. Left to it is Kashi Vishwanath  Temple and right to it lies the famous Dashaswamedha Ghat, Two other sides are brimming with budget hotels, café, and restaurants.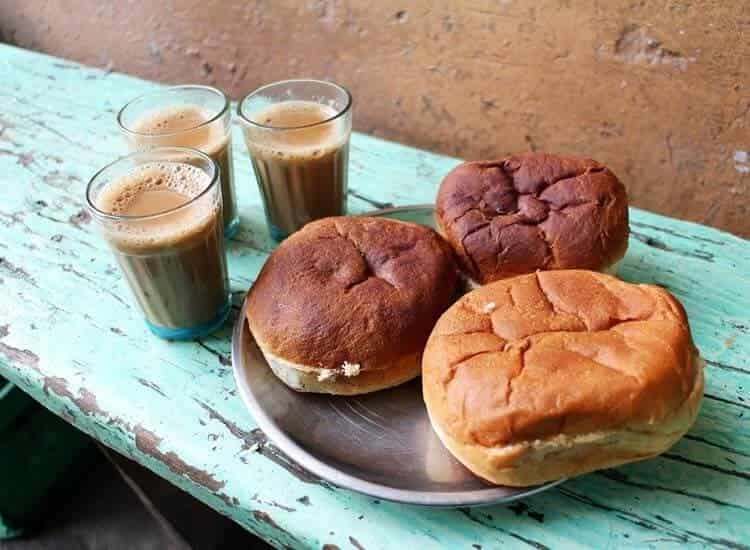 I found the place surrounded by people-locals and pilgrims. The shops to my amazement are sprawled even on cycles, footpath. I was severed chai in an earthen pot with scant tea but full of flavors. Chai with bread and butter was meager 30 rs.
Visiting Varanasi Ghats- Prime Varanasi tourism experience
There are nearly hundreds of Ghats in Varanasi spread in a large area. Out of these some 25 are worth visit. Our friends also decided to visit some of these Ghats. Our tour guide took us there passing through the narrow streets. We had a chance to see the famous Harishchanda Ghat and Manikarnika Ghat. One of my friends has never attended a funeral. He had a dreadful experience. We saw the perennial fire which never stopped – always at the fire. If you are in Varanasi you must visit these Ghats.