The Insignia of the Govt of Uttar Pradesh has a depiction of two fish. This leads us Pondering as from where this depiction of the fish symbol is influenced and why this was taken up by the government. The state of Uttar Pradesh before the British took over was known as the Oudh and the Nawab of Oudh were the rulers of the then Uttarpradesh. If you are on Delhi to Agra Tour you can plan visiting the state capital of Uttar Pradesh Lucknow and during your Lucknow Tour, you can see the fish symbol on the famous monuments of Lucknow.
Uttar Pradesh has the life line river Ganges flowing across the state, this river Ganges is inhabited by a particular variety of fish Popularly Known as Rohu "labeo Rohita". Rohu is a famous fish variety not only in northern India and the Gangetic plains but also in South India. Going back in time, Indian cultures have the fabled tale of Matsyavtar- The tale of the fish God, it goes back to the time when great deluge happened and King Satya vrata was saved by a horned fish.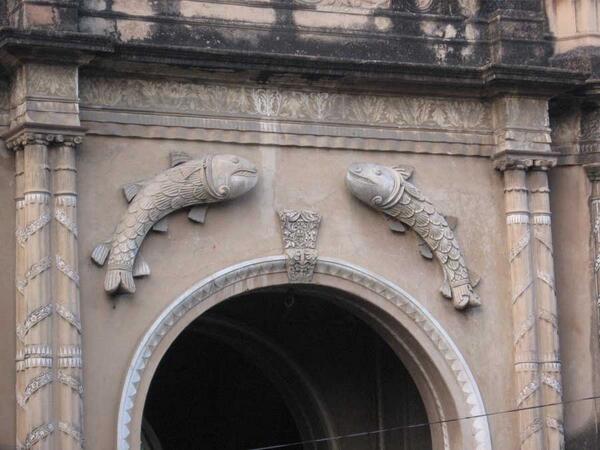 The fish was an incarnation of lord Vishnu who eventually killed the demon "hayagriva", this demon was responsible for the great flood. Matsyavtar is the first incarnation of lord Vishnu in the Hindu chronicles. This humble fish was a symbol of power and pride during the Mughal Empire. "Mahi Maratib" was a title and the highest honour conferred by the mughals. 
It was certainly nothing less than the British title of Knighthood. This title of Mahi Maratib was confered on those persons who had displayed exemplary courage and bravery. Shahjahan the mughal emperor who built the famous taj mahal somewhere in the early seventeenth century started this honour.
Suggested Tour Packages :-
Some other chronicles also relate similar tradition of the honour in Persian Empire. Those confered with Mahi Maratib in their royal procession included an effigy of rohu fish on a pole with giant teeth. This effigy has infected with a display of pride.
Probably inspired by the rohu fish of Mahi maratib the Nawab of Avodh selected Rohu fish as their royal insignia and the same insignia used by the royal nawaabs is even today used by the Government of Uttarpradesh. During your Lucknow tour, you come across the Royal life the old nawabs and also get to know about there gorgeous lifestyle and their likings.