The Rajasthan state of India has many famed religious sites such as Salasar Balaji, Shri Mahaveer Ji, Kaila Devi temple, Khatoo Shyam Ji, etc. Mehandipur Balaji temple is one of such most frequented temples which is dedicated to Lord Balaji an incarnation of Lord Hanuman. Besides the spiritual experience, this temple is also renowned to get rid of evil spirits.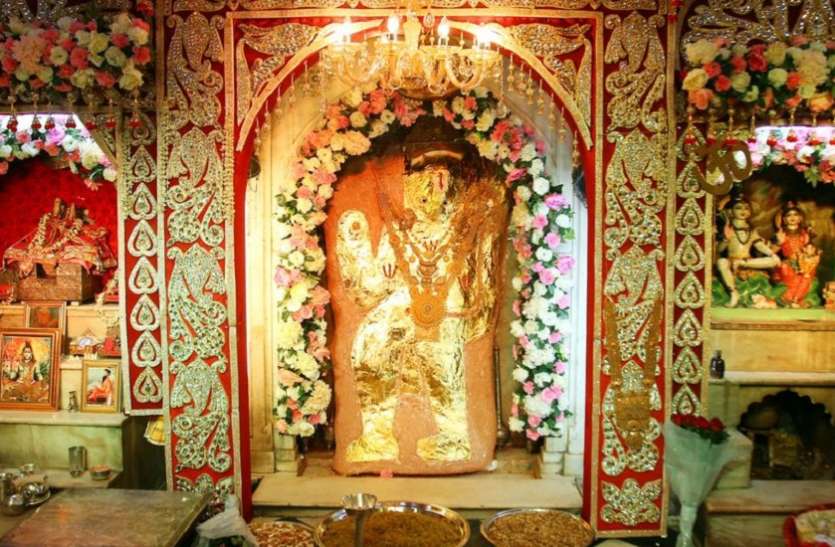 This complex consists of Lord Hanuman, Pret Raj, and Bhairav's idols. By the grace of Bal Hanuman, thousands of possessed people are from the evil powers and the spell of Black magic.
How to reach Mehandipur Balaji Temple ?
This Mehandipur Balaji temple is located on the borders of Karauli and Dausa districts of Rajasthan nearly 125 km from the Taj Mahal city and 120 km from the pink city Jaipur. One can easily reach this place by car or by public bus either from Jaipur or from Agra. Another means of transport to reach the temple by train. You have the nearest railway station at Dausa or Bandikui. This temple is near todabhim village of karauli district. It is also close to Hindon Railway Station. Get to know about Journey Yatra 
Temple timings
Mehandipur Balaji temple timings
This temple remains open from easily morning 05:00 am up to 8:00 pm in the summertime. In the winter season, it is open up to 7:30 pm. Normal Darshan time in the morning session is from 7:30 to 11:30 am and in the evening session from 12:00 to 8:30 pm. The curtains remain closed from 11:30 to 12 pm.
Read More for Taj Mahal:-  Get To Know Before Visiting Taj Mahal
Suggested Tour Packages :-
Stories related to Mehandipur Balaji
Balaji Dham is famous across the globe for his presence of the power of the child form of Hanumanji. This is related to the greatest disciple of Lord Rama-Hanuman. Many activities are done by Lord Hanuman in the child age such as gulping the sun god etc. find prominence in Hindu mythology. Thus the child form and pranks of Lord Hanuman are revered and many devotees worship this child form of Hanumanji
Siyaram temple
In the front of the Balaji Shrine is located the Siyaram Bhagwan temple which houses the beautiful idols of Siyaram. It is conceived that Lord Rama Controls the powers of aggression of Bal Hanuman and Channelizes the energy flow.

What are the Aarti timings in Balaji Temple ?
Complex
Summer
Winter
Ram Durbar
06:00 to 06:15 AM

07:00 to 07:15 PM

06:10 to 06:25 AM

06:20 to 06:35 PM

Balaji Durbar
06:15 to 06:45 AM

07:15 to 07:45 PM

06:25 to 06:55 AM

06:35 to 07:05 PM
Read more for Mathura Vrindavan :- Mathura Vrindavan Temples Facts and Timings
Types of Prasad offered in Mehandipur Balaji
Darkhast– It is considered that all the visitors should place Darkhast which you can find easily from the neighboring shanties. This comprises Laddu, Batasha and Ghee and costs only 15 Rs. First of all the Darkshat is placed before Balaji Maharaja. Later it is offered to Bhairon and ultimately to Pretraj sarkar. Finally, it is placed outside the temple complex so that birds can eat it. In case you do not want to come again you have to place two darkhasts.
Arji- If you have same wish or any grave problem, you have to apply for Arji. This costs 281 Rs. This comprises of Bhoga of Laddu to Balaji Maharaj, black pulse for Bhairon and Rice for Pretraj sarkar. On the eve of Ekadashi, it is not allowed to place Arji.
Savamani– After attaining your wishes fulfilled you are supposed to offer Savamani in the Balaji temple complex. In the Prasad of Savamani Halwa puri is offered and it is offered from 11:30 to 2:00 P.M
Raj Bhog-This Prasad is arranged by the temple trust and Bhog is offered to Balaji Maharaj first.  Later it is distributed among the devotees.
What to keep in Mind visiting Mehandipur Balaji
Photography in the temple complex is strictly prohibited. So you should leave your camera and other leather items inside the car or with the small shops outside the temple. You have to leave the shoes before visiting the shrine. Thus better you leave the shoes where you buy Prasada and flowers.
You have to be careful with the pickpockets and the beggars all the time pressuring you. You should ignore them and keep on walking your way. In case you are a normal visitor you should avoid the days of Tuesday and Saturday to skip the time.
You have to park in the car park and from there you have to walk nearly 1km when you reach the complex. Remember not to keep the Arji bhog with you as it is considered it can bring same amnions spirit or evil with you. Better you can dispositive the material at the temple complex itself.
You can visit the Bhairon Baba and Pretraj sarkar without being afraid of the patrants and noisy atmosphere. The temple is known for curing various physical problem and body pain.