The next Kumbh Mela 2025  will be held in the month of Januray in Prayagraj which is earlier known as Allahabad. The previous Ardh Kumbh Mela was held in year 2019 at Prayagraj and the next Kumbh mela or Maha Kumbh is decided to be held in year 2025 at Prayagraj according to the Hindu calendar. This festival is world famous as the llargest gathering fair in the world according to the previous Kumbh mela in prayagraj more than 100 million people attend this fair. This starts in the month of January on the occasion of Makar Sankranti festivals when devotees and pilgrims took bath in the river.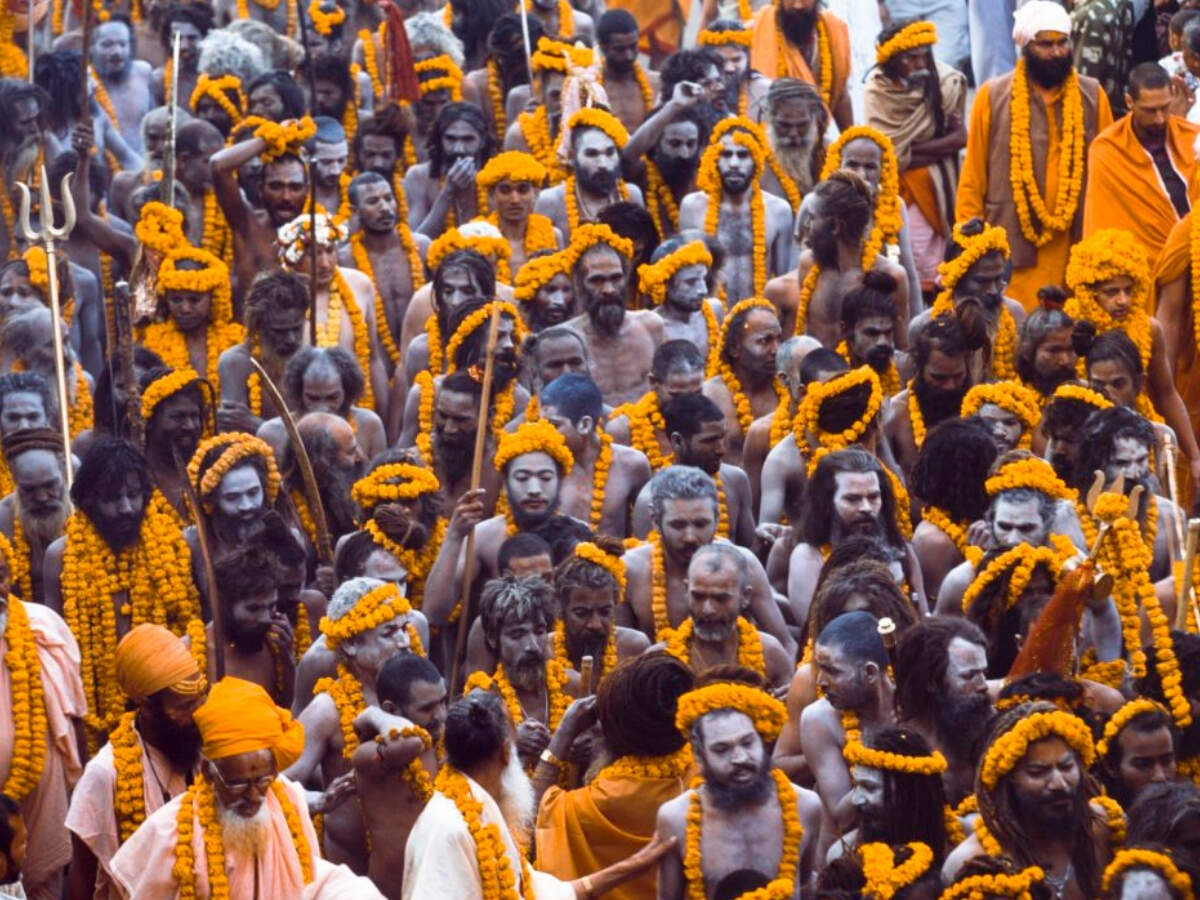 Maha Kumbh 2025-
According to Georgian Hindu Calendar the next Maha Kumbh will be held in 2025 at Prayagraj which starts on the occasion of Makar Sankranti on January 13 or 14th and concluded after the festival of Maha Shiv Ratri.
How many Types of Kumbh Mela's–
There are 3 types of Kumbh Mela held in India at four major religious places such as Nasik, Ujjain, Prayagraj and Haridwar on the regular interval of 4 years 6 years and 12 years. The three types are
Ardh Kumbh Mela-
Purna Kumbh Mela-
Maha Kumbh
The four Royal bathing dates in Kumbh Mela 2025 are as follows-
1. 14th January- Makar sankranti (Festival starting date)
2. 29th January- Maagh Amavasya
3. 2 February- Basant Panchmi
4. 26 February- Maha shivratri (Festival ending dates)
This is the land of alms and charity where people believe to do bounties since ages. History mentioned lots of great kings and saints came here to offer food, clothes and many more things to the poor peoples. As this Kumbh mela is specially organized on the holy dates according to the hindu mythology and if you do some charity here you will be in touch of directly to the god blessings.
People perform here different rituals and customs on large scale, people also offer special prayers, do meditation and take 5 times bath as well in the holy river during the festival.
This is world class entertainment for the world wide photographers, bloggers, and article writers to know the culture of India where they can meet and interact with the people from all over the world. The social media provide a new platform to this holy festival where people make videos and click instagrammable pictures to showcase this largest fair of the world.
People enjoy the special bathing ceremony at Triveni Sangam Ghat which is the confluence of three holy rivers of India Ganga Yamuna and Saraswati where you Ganga and Yamuna can be seen together from naked eyes and the Saraswati River are underground.
The famous priest, saints and pilgrims are making their camps on large scale where pilgrims can enjoy free meals and stay there to participate in this festivals. These priest and saints also perform different arts and events which is an eye catching moment for everyone.
This fair also brings lots of opportunities to the street performers where they can perform their art in between a large audience which make them famous in seconds.
People can visit Akharas of different saints, temples, camps of priest and can attend spiritual ceremonies such as religious sermons of the famous priest, attend aarti ceremonies and cultural activities.
Pilgrims and tourist can Savour the delicacies of local street foods which is mouthwatering in taste.
This is the fair of rich to poor and kids to old age peoples where they can have full entertainment in a religious manner such as the musical performances, dance performances, camel riding, horse riding, fun and fairs etc.
 On the occasion of the state government and the different akhars making a large tents city where you can see countless tents and temporary accommodations. If you are just a tourist this is a unique experience to stay in a tent accommodation and explore the sightseeing during the day and in the evening enjoy the special performances by the entertainers.
How many Akhara's arriving in Kumbh Fair 2025
There are total numbers of 13 Akhara's which are regularly coming to attend this grand festival on every Kumbh Mela. But in 2019 Kumbh Mela one women's Akhara break the rules of the ceremony when they get place to make their camps and perform the ceremonies similar to the male akharas under his own flag at the prayagraj Kumbh Mela 2019.
So now it supposed to be total 14 Akhara's coming to attend Kumbh Mela 2025 which they can split in two parts like previous kumbh –Nirmohi Akhara, Nirvani, Digamber Akhara, Mahanirvani Akhara, Atal Akhara, Bada Udaseen Akhara and Nirmal Akhada.In the other Group they have 6 Akhara's –Niranjani Akhara, Juna Akhara, Avahan Akhara , Anand Akhara, Agni Akhara and Naya Udasin Akhara. The female Akhara took place in Prayagraj Kumbh named as "Kinnar Akhada" which is a unique thing to watch for the pilgrims.
Famous food in Kumbh Fair
The thing to be notice is that the entire area where the Kumbh Mela will be    held in 2025 is totally sanitized with governments before one month of the festival and they will ensure that Non vegetarian food is totally ban in this area, But this is not less than to a paradise for the vegetarians and street food lovers as you will get small counters of mouth licking food on every few steps. The famous food to eat here are Choley Poori where the chick peas gravy served with wheat flour hollow poori, Poori Sabji (Potato vegetable and fried poori) Choley Bhature, Idli sambhar, Kulfi, Jalebi and some of the shops selling pure vegetarian food as well  such as lentils with Indian breads (Daal roti). Here you can also enjoy the taste of Indian ice cream called Kulfi or Gola ice cream sell on small shops. The tandoori tea is the famous attraction of this fair which gives immense pleasure to each and every pilgrim after taking the holy bath in cold water.
Where to stay in Kumbh Mela ?
The entire Kumbh Mela 2025 will be held in a big open area on the banks of  Triveni Sangam Ghat where they make temporary city of tents in which you can watch a kind of fair of the colorful tent cities. On the special bathing dates it is hard to get the accommodations so it's better to book your accommodations in Advance. The hospitality industries making special arrangements and planned neat and clean tent cities at Naini Prayag located near to the Sangam Ghat. They are providing well maintained swiss tents with attached meals, parking space for the vehicle special halls for mediation, 3 times pure vegetarian meals and special gardens and stage for performances.
These beautiful tent cities are looks like heaven in the surroundings of Sangam River. Some Special camps are Rishikul Cottages, Teertham Camp and Sangam camps etc. This is bit expensive but providing excellent services for tourists and travelers from all around the world. It is always better to make your booking in advance as you have no idea about the crowd here. In the Old Prayagraj (Allahabad) city you can also found small hotels, guest houses and Dharamshala to stay which can accommodate you on normal charges but all depends upon the crowd.
How to get boat in Kumbh Mela ?
The biggest attraction of this spectacular is to enjoy the boat ride in the river  up to reach at the Sangam where you can see the confluence of three holy rivers. At the time of fair Government make the arrangements of the boats for the pilgrims as well as the private boats are also operated. Some of the private boats were operated by the Camps cities by which they will send only their in house guests up to the Triveni Sangam Ghat. The normal charges are 50 to 100 per person up to reach at Triveni sangam Ghat from one way. The private boat charges are 1000 rupees for 1 to 5 people where for two and fro journey in which they will wait for the people at the confluence area for taking the holy bath. You have to do a good bargaining if you would like to hire a private boat which includes watching confluence, taking bath and boat ride for the entire area.
Places to visit in Kumbh Mela, Prayagraj
Triveni sangam is the major highlight of the Kumbh fair which is always busy with millions of devotees. Each and every pilgrim would like to see triveni sangam ghat to witness the holy rituals performed by the people, group of saints and performers. Besides that there are lots of nearby attractions to visit here such as- patal puri temple, Bade hanuman temple, Nagvasuki temple, Allahabad Fort, Shri Adi Shankara viman Mandapam temple etc.
Best Place for photography in Kumbh Mela 
The whole event is held in an open area where photographers, bloggers, you tubers, social media channels, media channels and internet media channels are roaming with their teams and individuals to capture the best moments of this biggest gathering fair. But few of the sites or Points are extremely famous for capturing the best pictures of this event such as Allahabad Fort, Triveni sangam Ghat, pantoon bridge, and Adi shankara viman mandapam temple from where you can get panoramic views of the tent city and the whole mela ground.
Role of Government in Kumbh 
The state government of Uttar Pradesh plays a vital role to organizing this largest human gathering fair at Prayagraj. The role of central government is also very important to maintain the huge crowd. The central and state government has to start special trains, special flights, making roads, making pantoon bridges, decorate the mela ground, making bio toilets, planting tent cities, arranging food stalls etc. The biggest effort of is to deployed administration, police, river police, Rapid action force and other facilities etc. government has to make lots of emergency health centers. Lost & found centers, bathing dates arrangements etc.
Special attractions of Kumbh Mela 
Kumbh Mela is that kind of event which can't describe in words. This is fair of attraction, grand events, rituals, spiritual journey towards the god. But when we are talking about the major attractions of this fire we highlight few major things.
1.Naga Sadhu- Naga sadhus are the backbone of this event. Nagas will not found easily in India as they mostly lived in Himalayas or in dense forest areas. This fair brings them live in between the common peoples as show stoppers of this great event. The ash smeared naked body, long hair styles, art of armoring is always the best attraction for the pilgrims and travelers from all around the world.
2.Bathing at Triveni Sangam- Triveni sangam is always the hot spot of this big event where devotes takes a holy bath in the confluence of three rivers.
3."Kinnar Akhara"- First time this women's Akhara took place in the previous 2019 kumbh mela which was held in Prayagraj. This happened first time in the male dominated event when women's gate same respect and participate in the event with their followers. For the devotees and travelers this is the first time when they interact with the lady priest and saints which is a unique experience for them. The same will happen in the next Kumbh mela of 2025 when they are coming with their big groups and people seeks for their blessings.
Kumbh Mela- 2025 starting and ending dates  
The Kumbh Mela 2025 or Maha Kumbh 2025 will commence from the festival of Makar sankranti which falls on 14th January 2025 and the festival over on the Festival of Maha Shivratri on the date of 26 February 2025. This festival will be organized in 2025 for total for 44 days according to the Hindu Calendar.
What is Shahi snan (Royal bath) in Kumbh Mela?
Shahi snan or Royal bathing is the auspicious occasion which was held in every Kumbh Mela since 14th Centuries. According to the religions all 13 Akhara's are taking bath on the special dates of Shahi Snan. Mostly in every Kumbh Mela there are three to 4 Royal bathing Dates in which Naga's, Priest and 13 Akhara members are first to take the holy bath on the banks of river. No other people are allowed on these special date before them to take bath and these groups of Priest, saints and Nagas were treat as VVIP. The four major royal dates in the kumbh mela will be held on the special occasion of Makar Sankranti, Mauni Amavasya, Basant Panchmi and Maha Shiv ratri. In which the first three attracts the major crowd and Maha shivratri festivals also the ending date of this grand event.
How to reach at Kumbh Mela 2025
The kumbh Mela 2025 will announce to be held at Prayagraj located in the state of Uttar Pradesh, India. The prayagraj city is well connected with Airways, Road and Railways from the major cities in India. People can take direct flights or trains to reach Prayagraj city from where you can hire taxis. Local transport or government operated buses to reach Triveni sangam Ghat or to the mela ground.
The second nearest city to reach Prayagraj is Varanasi which is directly connected with all major railway stations, roads and having an international airport as well at where you can take drive of 2 hours to reach Prayagraj. The road distance between Varanasi to Prayagraj is just 120 kms.
Kumbh Mela – Luxury Accommodations
The Kumbh mela 2025 surpassed the expectation of devotees as the hospitality industry are fully ready to entertain the tourists and the pilgrims by providing them a high quality luxury accommodations for their stay. In kumbh 2025 many hospitality expert companies which have an experience of organizing kumbh fair since long are planning to make a temporary tent city at the banks of river Ganges. This tent city has the close proximity to the bus stand and the auspicious sangam Ghat. The will increase the facilities of the travelers to provide them a unique and comfortable stay. The tents accommodation is equipped with many amenities such as western toilets, Music system, tea coffee maker, news paper, mosquito replants etc.
These accommodations are planned to make in bag campus where they have dining halls, lounge, meditation halls, river facing gardens, parking space and kids zone. They also add some more flavors in their services such as doctors on call facility, Buttler services, and private boats for Triveni Sangam etc.
Read our related Blogs ;-
How to find the correct route in Kumbh ? 
The government made so many plants to ease the Kumbh mela for the devotees which are coming from all around the world. This fair is organized in a big area of around 40 kms so most of the people are confused to find the correct path to reach their destination. The government plans so many diplay boards and signage to identify the correct path which makes the visit easier. But here we inform you some tricks which makes easier to find anything easily in the mela ground.
The best way to find the correct route is to always remember the number of the pantoon bridges. During the fair administration made so many temporary bridges by which the tourists can cross the river easily and reach up to the mela ground. They are many in numbers and look similar so the better way is to remember the number of the pantoon bridge to reach at your destination.
Collect the Mela ground map to found the Akhara's and camps location which you can easily get from any help desk.
Remember the stall number or shop number where you shop something or eat something. So you can reach again to these shops without any difficulties.
Note down the numbers of Lots and found call centres where many officers ready to help you any time during the event.
Things to buy in Kumbh Mela 
This is an spiritual event where many artist, vendors, book sellers are coming to attend this grand event from different places in India.
This event has grand collection of spiritual books, calendars, holy articles and special sermons of the priest and saints.
You can buy audio cassettes and video cassettes of holy songs and videos in different languages.
Plastic and earthen toys for kids are easily available for your kids
Here you can buy colorful ribbons, bracelets, lockets and bangles etc.
Traditional clothes in which some of the clothes are specially designed with pictures of Gods and goddesses.