India is world famous for its vivid culture, traditions, festival & Fairs. In India each and every festival celebrates by the people with joy and happiness. Every year there is a huge list of festivals celebrates in India in which the colour festival Holi has its own importance. To enjoy this Holi Festival people come to India from different countries and see the happiness of people in the form of colours. Holi is the festival which brings people of different religions, customs and traditions close to each other. This festival celebrates in India at every part but in north India this festival celebrates on a huge scale. Holi in India most falls in the month of March- April every year and if you would like to participate you will book your India Tour with Holi celebration with a reputed travel agency.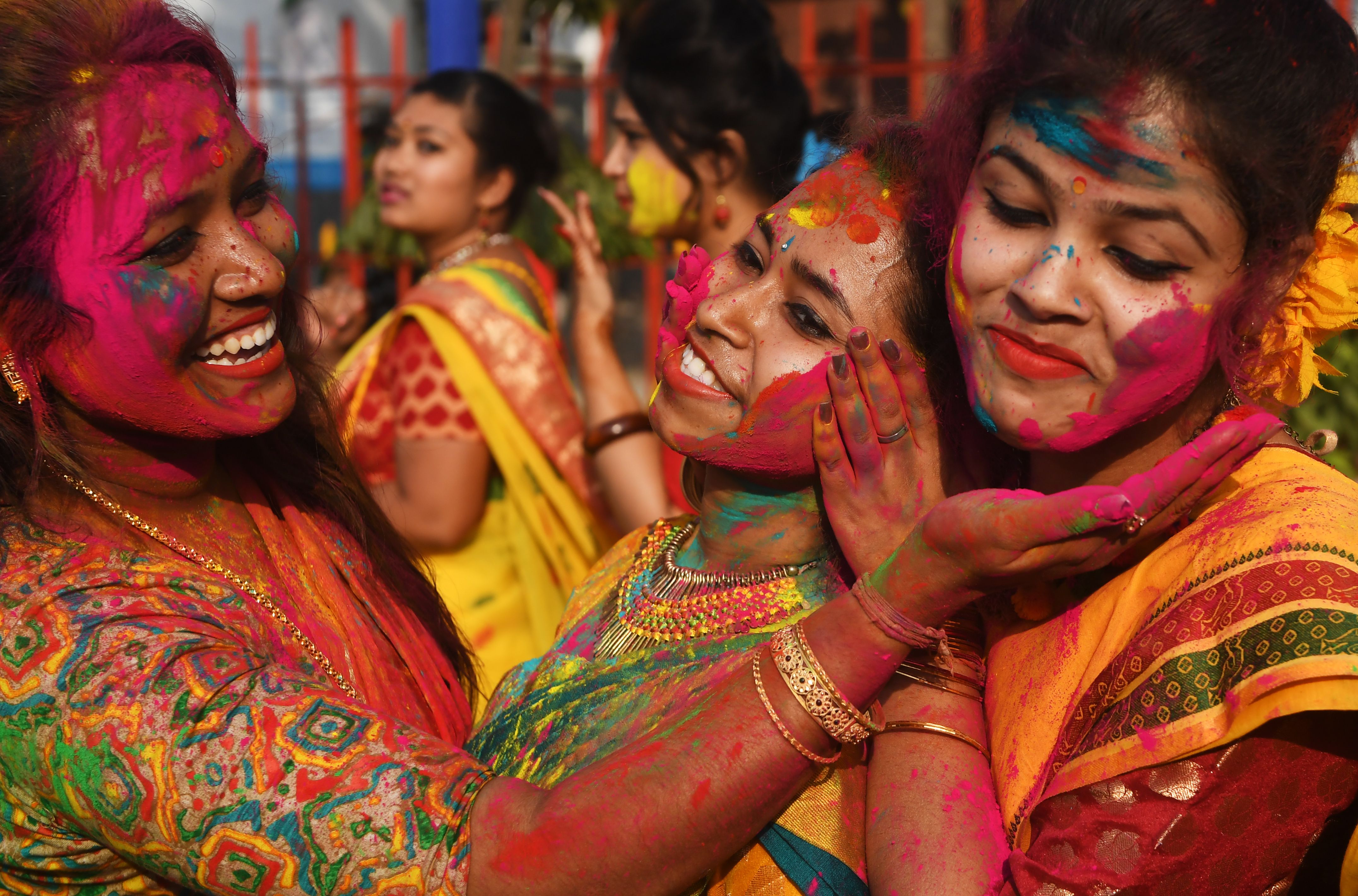 This is the festival of excitement, craziness, colours, dance and love. This festival is also connected with religious traditions as people believed Lord Krishna also playing Holi in Braj (Uttar Pradesh) with Gopikas and Radha. Holi is celebrates in different styles and versions in all over the India so you can pick your choice like which kind of Holi you want to celebrate in India.  Here we shortlisted few famous Holi in India such as Rangon ki Holi, Khadi Holi, Flowers Holi, Lathmar Holi, Hola Mohalla, Dola Jatra, Basant Utsav, Manjal kull , Brij ki holi and Phaguwa. In this article we suggest you some famous places in India where the festival of colours Holi celebrates like a great event.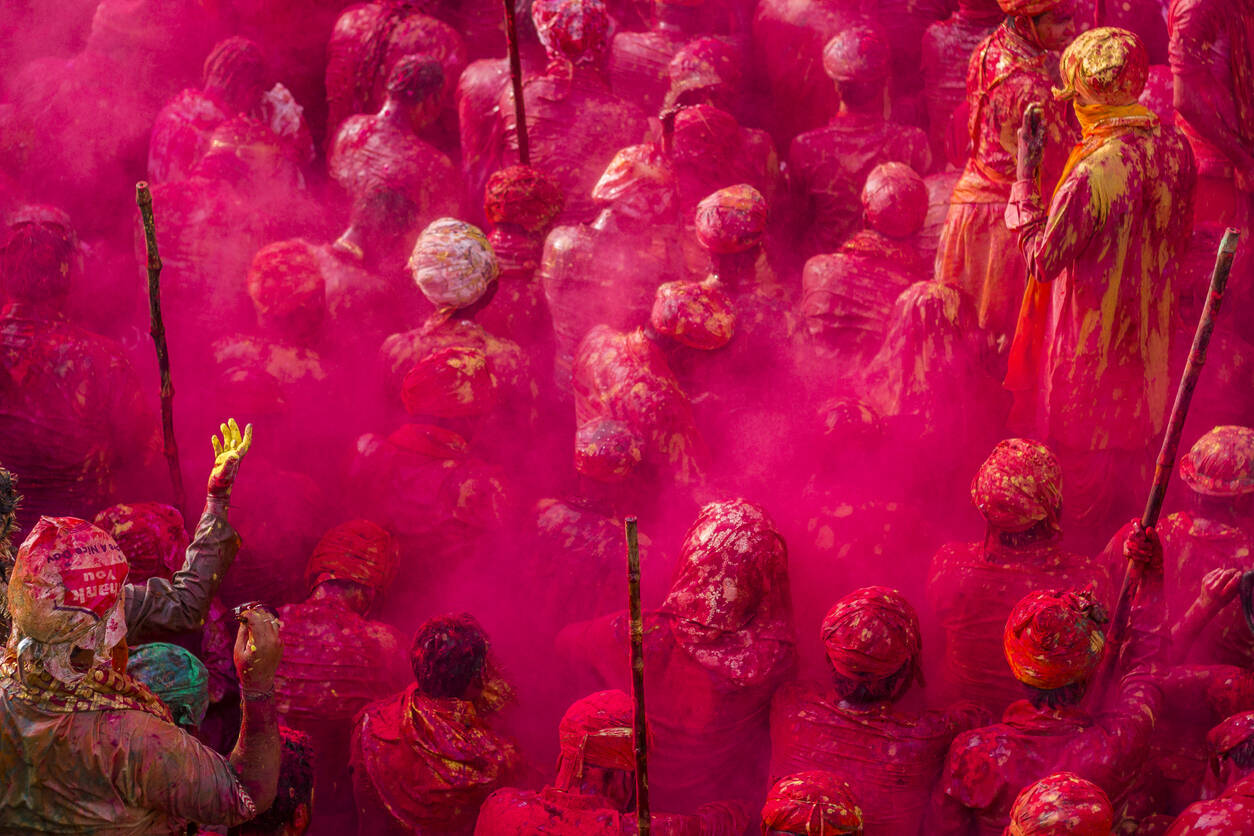 Suggested Tour Packages
Mathura city lies in the state of Uttar Pradesh, India. You can easily reach Mathura from Delhi the capital city and Agra which is the biggest tourist's destination in India. Mathura city is world famous as this is the place where Lord Krishna took birth and a sacred site of Hindu religion. Mathura is the best place in India to celebrate the festival of Holi. Here the festival of Holi was played since the time of Lord Krishna when he was playing Holi with Radha her soul mate and Gopikas. This city is also famous in the world for its beautiful temples and shrines and the festival o colors will played here on a big scale. At Mathura the temples were decorated with flowers, lighting and paintings and on the festival of Holi played here with colors and flowers. Here the pilgrims and tourists enjoy holi by visiting different temples and specially the Janmabhumi Temple where they can entertain them with musical and live dance performances as well. This festival begins from the main temples and procession towards the river Yamuna. You can also enjoy the street foods and special sweets made on the occasion of Holi festival. Enjoy Holi also during Taj Mahal Tours and enjoy Holi different style in Agra.
2.Vrindavan Holi, Uttar Pradesh
Vrindavan city is located in the state of Uttar Pradesh and it is much closed to the pious city Mathura. Vrindavan city is world famous for its huge temples and Dharamshalas. This city attracts world photographers, bloggers and instagrammers to attend this special event of Holi with their loaded cameras. At Vrindavan the Holi festival celebrates in many temples like Bankey Bihari temple where the priest throwing colours on the pilgrims with water cannons and a vibrant atmosphere you will found in the surroundings. The next place to celebrate Holi in Vrindavan is Hare Rama Hare Krishna Iskcon temples where an special dance and musical events performed on this occasion. Few other temples like Prem Mandir , Priyakantu Ju (Lotus temple) and Nidhivan are the places where you will celebrate this festival of colors and joy.
3. Barsana Holi, Uttar Pradesh
Barsana is the world famous city of India especially for the festival of Colors. Barsana city is located in Uttar Pradesh, North India where the colour festival Holi celebrates in unique style. Here the holi celebrates before few days of the main celebration day. On this occasion of Latthmar Holi the women's beating men's with sticks and the men's try to protect them. Barsana is the whole town of Radha Ji and it is believed that Lord Krishna were come to play Holi with Radha at same place Nandgaon. Since this festival is celebrated here on a large scale and the tourists, pilgrims and photographers come to capture this special event in their eyes and cameras. While enjoying the Holi festival you will also savor the special Holi drinks Thandai and Bhang(Cannabis) drink made by adding milk, dry fruits and sugar. In this special event the Hurangas (Mans group) try to teased the women's and on the other hand the women's beat them with sticks in a funny way. You will also enjoy dancing, musical performances and colors during this ceremony.
Suggested Blogs – 
4. Agra Holi, Uttar Pradesh
Agra is the historical city of Taj Mahal and it is just 200 kms from the capital city Delhi and it is also closer to the sacred city Mathura and Vrindavan, Here you will celebrate Holi with a fusion and Indian and modern style. Here people celebrate the festival of holi with colors on the beats of Bollywood music. Lots of event companies and societies organized Holi Milan Samaroh and Holi party where people join and celebrate the festival of Holi with Dance and Music.  Here you will savor the delicacies of special holi drinks Thandai, lassi and sweets like Guzia. Agra is the famous tourist city of India having many hotels and restaurants which are also organized in house parties for their in house guests. In the evening of this occasion you will visit the markets and must try the delicious street food of Agra city.
5. Jaipur Holi, Rajasthan
Jaipur city is located in the state of Rajasthan India, This city is also the capital city of Rajasthan where every Indian festival celebrates with full joy and excitements. Here some of the monuments are closed on the occasion of Holi festival so the tourist have plenty of time to celebrate Holi with their friends and families. On the occasion of Holi you can watch live the parades of Elephant where the painted elephants did parade on the beats of folk music. Here most of the people celebrates holi with colours, dance, music DJ's etc. Some of the Rajasthani folk singers sung holi song in groups and people enjoying dances in between of them. This is a special attraction of tourists as well when they can interact with the locals and play holi in between of them.
6. Mumbai Holi, Maharashtra
Mumbai is also known as the dream city of India. This is the city where people live in huge population. An special event of Matki Fod were performed in every local streets where a big earthen pot tied on a height and different groups of boys try to break this pot by standing on each shoulders. Here in this city lots of bollywood parties were also organized where the bollywood celebrities and artist come to play holi. Groups of locals will play holi near the beaches with their families and enjoy the street food of Amchi Mumbai.