Fly Dining Agra Booking and Timings
The thrill-seeking tourists must be pleased to know that Agra tourism is going to have a new activity of Fly Dining in its bouquet. Experience the utmost adventure mixed pleasure of dining in the air while touring Agra. Above all the unique experience of viewing the Taj Mahal from the air up above 150 feet height would certainly add the charm of meals. Enjoy the warm food and breathtaking pictures. You will also be provided with the pictures taken by the fly dining team and will get them before you depart.
This blog gives you complete information regarding Fly Dining Agra booking and timings. You can opt for breakfast, lunch or dinner sessions in the air in the surroundings of the Taj Mahal.
This is fully insured and is designed keeping in mind the German Norm DIN 4112. The operating company ensures maximum security and is well-liked by the adventure tourists of the western countries. This is already running in Noida and Agra is the second city on Uttar Pradesh to have this activity. This is well claimed to be well designed and extensively tested keeping in mind various aspects like airspeed, balancing, etc.
The present blog gives you complete information regarding Fly Dining Agra price, location, menu, and other relevant updates.
Location – The fly dining will be conducted on the Kalakriti ground which is almost one and a half km away from the Taj Mahal east gate and just half km away from Shilpgram parking. Thus it is set in quiet ideal surroundings.
Fly Dining Agra booking and timings
For Booking pls contact 088008 80395
Fly Dining three types of tickets
| | |
| --- | --- |
| Cost | Menu |
| INR 1199 | Only Snacks |
| INR 3500 | Fixed breakfast or Lunch |
| INR 6500 | Special Menu for breakfast/Lunch |
Fly Dining Sessions 
So far there would be three sessions but in the coming time, they are planning for 7 sessions every day. Two sessions at the breakfast time, two at lunchtime and three for the dinner. Fly Dining Agra booking and timings are easily available online.
Each session would be for a period of 45 minutes. In each of these sessions, there would be a capacity of 24 people to join. You will be taken to an elevation of 150 feet by the hydraulic system. Thus you can enjoy a 360-degree city view and take Instagram worthy pictures and enjoy the panoramic view, It will take nearly 3 minutes when you reach up to the desired point soaring in the sky.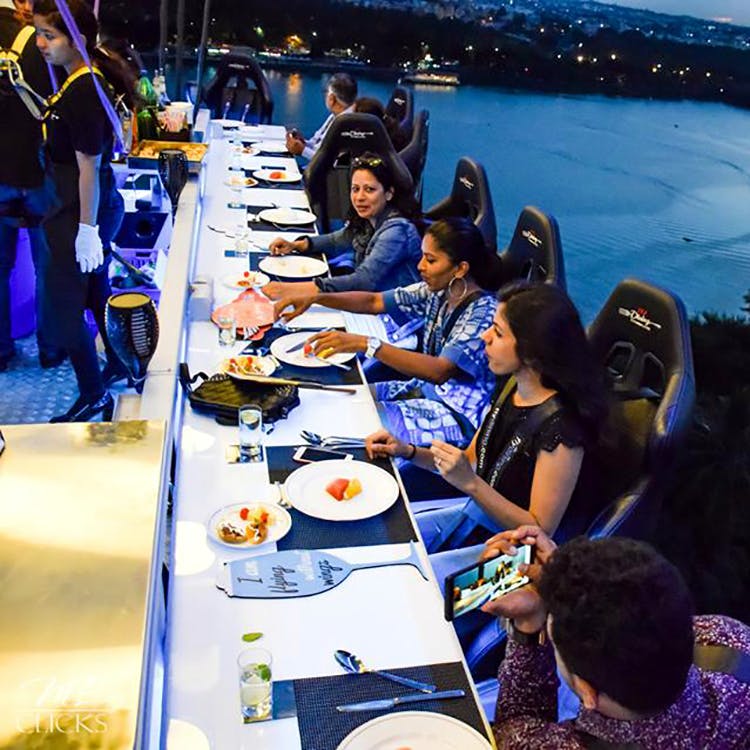 Fly Dining Timings
The timings of fly dining would change according to the season. In winters it would be a little late in the morning as on account of fog it remains hazy and visibility is less. In the summertime, it is clear weather but in the months of May & June, it is scorching heat by the midday. Thus it will be operational early in the morning like 7 am and will be up to 7 pm.
Who can enjoy fly dining?
On account of security concerns, everybody is not allowed to join this activity. The only one who is more than 12 Years of Age and 143 cms minimum height can take part in this activity. Children, less than 12 years are not allowed. Similarly, a person weighing more than 150 kg or having less than 4 and a half feet height is not allowed.
People suffering from high blood pressure, heart disease, Acrophobia, and pregnant ladies are not allowed to join this activity. Before going up everybody has to go through a breath analyzer test.
Safety features 
Before going on the flight of the fly dining a safety supervisor will brief you about the safety norms like what you are expected in the air flight. You are supposed to fasten the seat belts and only one person is allowed to sit in one seat. The crew is secured by the safety harnesses all the time. If you are looking for a lavish dining experience in Agra, fully secure what can be the other best option then choose to go to the fly dining. During the time of thunderstorms, rains or inclement weather this activity is going to be suspended