The renewed Kaila Devi temple of Rajasthan is a great devotional place for the Shakti worshipers. It is all among the 9 Shaktipithas of Goddess Durga. It is considered that the erstwhile ruler of Karauli state king Bhompal who was a great worshiper of Goddess dreamt of a command of Goddess to erect a temple.
Location of the Kaila Devi Temple
This temple is located on a small hill in Karauli district and can easily be reached from Agra or Jaipur. It is at a distance of 250kms from Agra and 150kms from Jaipur.
Story of Kaila Devi Old Temple
The folk lores say that the idol of the Goddess was being carrieded on a bullock cart by a hermit from Nagarkot. He was trying to protect it. By the grace of Devi, the cart stopped in the dense forest of Karauli by the hillside. Even by the hardest efforts, it could not budge a little. Thus it was considered that Mata wants to reside at this place and since that very time, the idol was placed at the spot. Thus the old temple of Karauli Ma came into existence.
The old temple of Devi is located at a distance of 2 km far from the main new temple while the new huge temple was being created by the king of Karauli, People put the idol here in this old temple under the banyan tree. The stories say that the steed of Ma- Lion used to come every day in the night time to protect this place and still it is believed that the lion comes every day to pay reverence to the deiy.
History of Kaila Devi
We find mention of goddess Kaila Devi first of all in Skand Purana. The Puran says that Goddess would come in Kaliyuga by the name of 'Kaila' the Vedic scriptures say that the goddess will bestow mercy and fulfill the desires of the mankind immediately. The late Maharaja of Karauli decided to erect the temple in the honor of Goddess Kaila in the year 1723 was the completion of this temple.
Goddess is considered to be a form of Maha yogini, who was born from Nand Baba and Yashoda along with Lord Krishna who was born of Devki and Vasudev. Later on, Lord Krishna was replaced with her. When the cruel King Kansa tried to kill the female child she transformed into lightning and cursed  demon Kansa that one you attempted to kill is already safe. This was goddess Kaila who is also known by other names as Vindhya Vasini or Hing Laj Mata in various regions of India and Pakistani Sindhi community.
Read the related blog:- Mehandipur Balaji Temple Stories, Timings & Facts
Kaila Devi Temple Timings
This temple opens in the early morning at 4 am and remains open until 8 P.M for the visitors.
| | |
| --- | --- |
| Aarti and Darshan | Timings |
| Mangla Darshan | 04:00 AM to 04:30AM |
| Dhoop Aarti | 05:30 AM to 06:00 AM Summer 06:00 AM to 07:30 Am Winter |
| Shringar | 08:00 AM |
| Raj Bhog | 11:15 AM |
| Vishram | 12:00 to 01:00 PM |
| Darshan | 01:00PM to 08:00 PM |
| Evening Aarti | 07:20 PM |
The architecture of Kaila Devi Temple
This temple is constructed out of red sandstone which is found in abundance in the area. The courtyard area in front of the temple is made of marble and black stone like a checkboard. In the main sanctum, you find the two idols- one of Kaila Devi and the other of Chamunda Devi. The larger idol is of Kaila Devi and is in a slightly bent position. The palace of Maharaja is right in the backdrop of this temple.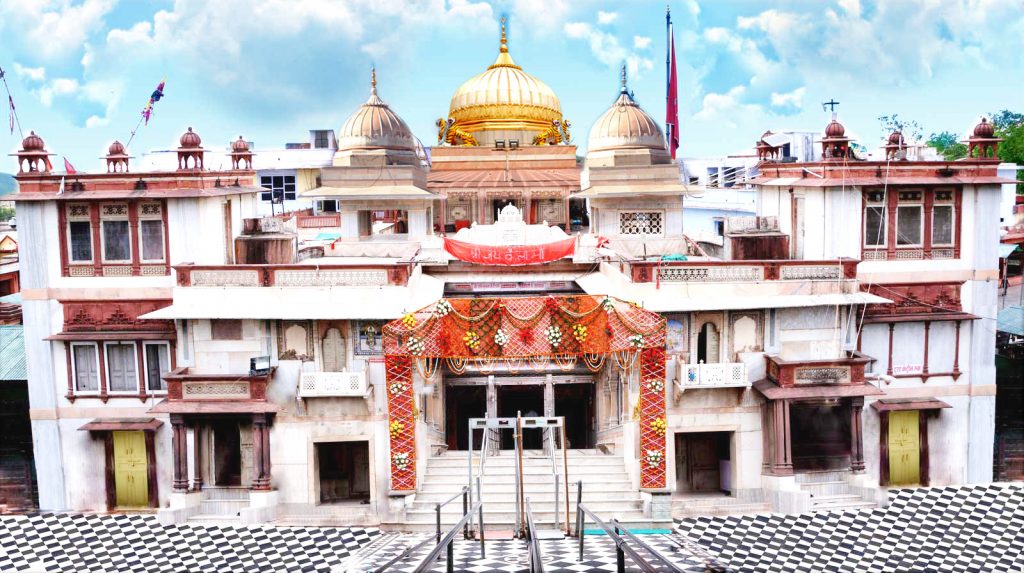 How to Reach Kaila Devi?
You can easily reach Kaila Devi temple by road or by train. Gangapur city is the nearest railway station. Besides Hindaun and Sri Mahavir Ji are some other nearest railway stations.
You can also get there by a flight to Jaipur or Agra Airport and can hire a taxi cab to reach Kaila Devi. Besides you can also use public transport to reach this temple.
Read the related blog:- Khatu Shyamji Temple Timings & Facts
What is Kaila Devi Paidal Yatra?
This yatra is conducted every year from Agra and other adjoining areas of Mathura, Bharatpur, Fatehpur Sikri or elsewhere. In the month of March or April just a few days before Navratri. People start walking barefoot covering a distance of more than 200kms taking a couple of days to reach.
On the way of the yatra, the religious people arrange for small Bhandaras(free food stalls) on the other side on the road. People relax there and enjoy tea and food without any cost. These devotees travel in the form of groups, sometimes seen on tractors and other vehicles with musical gadgets.
The langurias and other devotional songs are sung. Langur plays an important role in Devi worship. Even in the courtyard area of Kaila Devi Mata you see the temple of Hanumana facing the shrine of Kaila Devi and is known as Languriya or Langur.
What is the best time to visit Karauli?
The best time to visit Karauli is from October to March. May & June months are extremely hot on account of scorching heat, thus you can avoid visiting the temple during this time, if not necessary
Why is Kaila Devi Yatra suspended in 2020?
In wake of Feb-2020 coronavirus pandemic in India. This Covid 19 pandemic started in china andbecame a global problem within few months. Due to this, all the monuments in India are closed as safety measure. Similarly the famous temples in India are shut down to avoid the spread of the Covid-19 virus. Kaila Devi temple is also closed for Darshan as per the local administration.
Read more blog:- Taj Mahal Night Tour Information
Other highlights of Karauli
Karauli is famed not only with its celebrated temple of Mata, but it also has other memorable monuments like Madan Mohan Ji Temple, Mahavir Jain temple, maharaja fort, and palaces. It is also famous for wildlife. This heritage town witnesses an animal fair during Navratri for a fortnight.
Nearly 2 million devotees visit Karauli during the fair. Same staunch devotees are seen performing Kanak- Dandoti in which they fall prostrate on the ground and crawl for 15 to 20 Kms for the reverence of the Goddess.