Rishikesh is known as the capital of yoga in the world. The name Rishikesh refer to 'Rishi' which means saint or sages and 'Kesh' means Hair. This is home of saint and sages all over the India situated in the state of Uttarakhand near Haridwar. It is also the gateway of Chardham yatra which comes in to pilgrimage site of Hindu religion. Rishikesh city is full of temples, Dharamshalas and Ashrams and In present this city is also famous for the adventure sports activities. In this blog we will mention few interesting things and best places to visit in Rishikesh on your rishikesh tour.
What are the places to visit in Rishikesh?
Lakshman Jhula
According to the legends, the story of Lakshman Jhula is connected with the mythological character, the younger brother of Lord Rama Lakshman. When Lakshman crossed the river Ganges he used only two jute ropes to cross this river. To remember the brave job of Lord Lakshman a long hanging 284 feet bridge was constructed in year 1889. But it was vanquished during the floods of 1924 and again constructed with iron suspension rods.
This is the iconic landmark of Rishikesh and also the state of Uttarakhand. This bridge is used by the locals as well as tourists to cross the river Ganges. On one side of the river you will find hotels, restaurants and parking of vehicles and the opposite side has Ashrams, Temples and sightseeing points etc.
Parmarth Niketan-
This ashram was built in the year 1940 by Saint Swami Sukhdevanand ji to meditate on the banks of river Ganges with his group of saints. Later the devotees and his disciples came to listen these masters and their spiritual thoughts then more rooms and Satsang hall (Hall for Prayers) were added to this complex. Swami Ji gave this name 'Parmarth Niketan' to this campus. In present Parmarth Niketan is known as the spiritual hub of Rishikesh where people are coming in the search of peace and Spirituality. The atmosphere of this ashram is so vibrating and this ashrams is always full of devotees and students. They come here to learn yoga, meditation and spiritual lessons.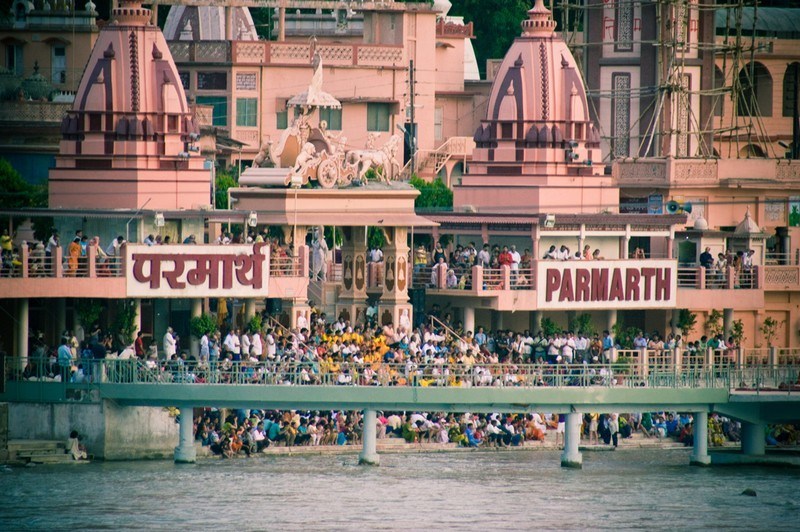 This Ashram is equipped with libraries,  fruit gardens and big trees, medical facilities and living quarter etc. every evening during sunset you will enjoy the evening aarti ceremony on the white marble platform located on the bank of river Ganges which is the best attraction for every tourists. Sometimes you will also found bollywood singers who perform lively on this platform during evening prayer ceremony.
Haridwar Rishikesh Tour Packages Cost
| | | |
| --- | --- | --- |
| Tour Name |   Tour Cost without Entry Fees |  Cab, & Budget Hotel |
| 2 days Haridwar Rishikesh tour from Delhi | INR 15700/- Up to 3 Persons |  Sedan Car (Swift Dzire/Toyota Etios) |
|  2 days Haridwar Rishikesh tour from Chandigarh | INR 17300/- Up to 3 Persons | Sedan Car (Swift Dzire/Toyota Etios) |
| 3 days Haridwar Rishikesh tour from Lucknow | INR 30300/- Up to 3 Persons | Sedan Car (Swift Dzire/Toyota Etios) |
| 3 days Haridwar Rishikesh tour from Delhi | INR 21000/- Up to 3 Persons | Sedan Car (Swift Dzire/Toyota Etios) |
| 3 days Haridwar Rishikesh tour from Agra | INR 27600/- Up to 3 Persons | Sedan Car (Swift Dzire/Toyota Etios) |
| 3 days Haridwar Rishikesh tour from Amritsar | INR 23800/- Up to 3 Persons | Sedan Car (Swift Dzire/Toyota Etios) |
| 3 days Haridwar Rishikesh tour from Gwalior | INR 31000 /- Up to 3 Persons | Sedan Car (Swift Dzire/Toyota Etios) |
| 3 days Haridwar Rishikesh tour from Jaipur | INR 28900/- Up to 3 Persons | Sedan Car (Swift Dzire/Toyota Etios) |
Suggested Tour Packages :-
This Ashram was founded by Shri Mahesh yogi Ji as a centre of Practicing yoga and meditation. Earlier this Ashram is known as 'Chaurasi kutiya Ashram' as this place is having 84 cemented huts for meditation and practicing yoga. But after the visit of the famous Beatles Music band of early 70's this place is known as Beatles Ashram. The group of Beatles members practicing yoga and meditation for more than one month in this place and during their stay they write some songs which is world famous after released. People coming here to watch their paintings which they made on the walls of Satsang Halls during stay and specially foreign tourist coming here to visit this place to understand the connection of Beatles and Spirituality. After the visit of this music band Rishikesh was known worldwide as the capital of yoga and meditation.
Triveni Ghat-
This place comes in the list of most visited place of Rishikesh. People believe that those who take a dip in to the river Ganges on this Holy ghat will purify them from all sins of his life.  People feed fishes over here and visit the famous Narayan temple after taking the holy bath. A special prayer 'Maha Aarti' performed everyday in the evening on this ghat. A group of priest wearing traditional clothes Dhoti Kurta and doing the rituals of special prayer with multi tiered brass lamps burn with camphor and pure ghee moving up and down and chanting the Sanskrit slogans and devotional songs. Thousands of visitors enjoying this live ceremony every evening. This ghat is also surrounded with so many dharamshalas , rest house and ashrams where people can stay in low budget. These dharamshalas and ashrams are so beautiful and with full of nature like gardens, trees etc.
Here you will also good budget restaurants and Indian Dhabas to eat and can also find the best street food of Rishikesh. On of the famous restaurant is called Rajasthali Bhojnalaya which is located on the walking distance from this ghat.
Read more blog :- Mathura Vrindavan Temples Facts and Timings
Chotiwala Restaurant
This is the famous land mark for food connoisseurs those are coming to visit Rishikesh. This is a pure vegetarian restaurant serving North Indian, Chinese, South Indian and Rajasthani food. Here you can savour delicious Thali which is a fixed meal platter consist 5 to 6 dishes with breads and desert. This restaurant is located near Ram Jhula and can be reaching by walk. The main attraction of this restaurant is a fully dressed priest with a unique make using face paints and  a long braid in standing position. When tourist are coming to this place these priest welcome them sitting outside the restaurant on a stage and customers take selfie and pictures with them. Practically they looks like a statue as they will never pass on smile or talk with anyone during his eight hour shift.
This restaurant has not had any feedback or visitors book. They will only fix a bell where these priests are sitting and if you would like to appreciate the restaurant services you can ring the bell which is a sign of thanks for them.
Neelkanth Mahadev Temple
Neelkanth Mahadev temple is situated on the distance of 28 km from Lakshamn Jhula in Pauri Garhwal District. The spire of this temple is adorned with scene of churning of the ocean by devils and Gods pulling a snake type of rope to churning the ocean to get priceless things under the ocean. This is the famous shrine of Lord Shiva and a sacred hindu pilgrimage site where devotees are coming different parts of India. It is surrounded by dense forest and adjacent to the mountain range of Nar and Narayan. This temple is also having a natual spring where devotees take holy bath before darshan. Accroding to the mythology lord consumes poison at the same place which was originated by churning the ocean. You can reach by 22 km trekking from Ram Jhula and can also hire a sharing taxi.
Neer water falls
Neer waterfalls are located on the distance of 3 km from Lakshman Jhula. The best time to visit this place in summer when people can enjoys bathing in natural waterfalls. There are two pools over here the first one is close to the entry point and the second is one km trekking from the first one. There are two small bridges erected on the waterfalls and having few small bridges erected on the waterfalls and having few small shops which sell special tea, coffee, and Maggie noodles. The entry charges are just rs. 30 of this place and kids are free under 10 years. This is the best place to spend some time in the lap of nature after a busy sightseeing schedule.
Kaudiyala- White water rafting
The hill station is popular all around the world among the adventure sports lover for its 6 different levels of river rafting. This place is located around 30 km from Lakshman Jhula and you have to book any of the sports activity to visit this place like river rafting, Bunji jumping, Rock climbing, river crossing etc. This place admires the best beauty of nature and the crystal water of river Ganges. It will give thrilling excitement of river rafting with different levels between Shivpuri to Kaudiyala in the lap of nature. This place will also provide you the facility of camping and enjoying bonfires during your stay at the bank of Ganges after a long day adventure activities.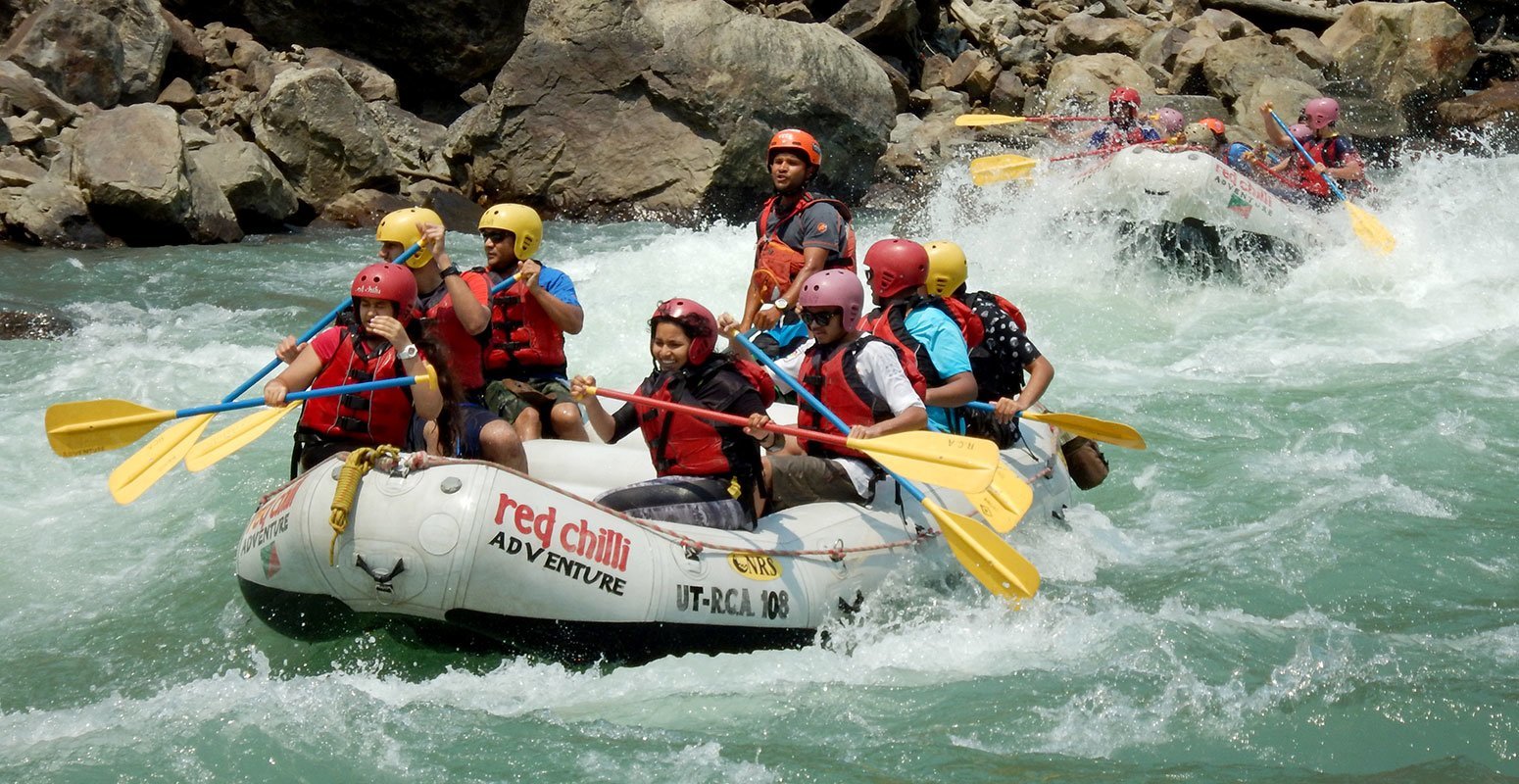 Air Safari Rishikesh
This activity was started in Rishikesh a few years ago. As Rishikesh is famous by the name of Yoga capital, besides this is also the home for adventure sports so a private company started this activity for adventure lovers. In This activity they will take you to fly in the skyu with the help of light aircrafts called paramotors. This is the best way to explore the river Ganges, mountain range, dense forest and wildlife area of Rishikesh and Dehradun. They will complete all safety measures before the ride and they have 4 different levels of ride according to the time and prices such as Kitty Hawk- 10 to 12 minutes, Explorer-18 to 22 minute, Valley expedition- 25 to 30 minute and Rishikesh expedition-60 to 70 minute. This will start every day early in the morning near Dehradun and you have to reach by your vehicle up to that point. Advance booking is the best option to enjoy this activity and if always depend upon the weather conditions.
Swarg Ashram–
This is the oldest ashram of Rishikesh, located on the walking distance of Ram Jhula. This ashram was built is the memory of Swami Visudhanand Ji who was famous by the name of 'Kali Kamli Wala' (Saint with black blanket). it is very famous among tourists due to its ethnic touch every time you will enjoy several religious activities like chanting of mantras, Yoga, Meditation, special prayers and musical performances. Ashram has so many living quarters for saints and sages and can also take on small rent by tourists. They have their own dispensary, doctors, milk dairy, library, yoga schools etc. This is the best worth visit during your Rishikesh tour.