There are scores of famous temples of Mata (Mother Goddess) spread all over India from Kashmir to Kanyakumari. Pitambara Devi Temple or Baglamukhi Mata is such shrine famous for the revered goddess. Pitambara Mandir is located in the small town of Madhya Pradesh –Datia. Millions of devotees travel to this Shaktipeeth annually for their various wishes. Maa Dhumabati temple is also situated in the same complex. As Datia is well connected with road and rail services with the major cities of India and the nearest airport is Gwalior to easily reach there.
History of Pitambara Mandir Datia
It is believed that Peetambra Shaktipeeth was founded in 1935 by Tejaswi Swamiji. There are no concrete proof of Devi's birthplace, name, family, etc on account of Swamiji's devotion to the goddess Mata resides in Chaturbhuj form. In this form, she is having Gada (club) in one hand, in another pash (trap). In this third, she is holding Bajra and in the fourth, she is clasping the tongue of the devil.
The devotees believe her to be omnipotent showering her mercies into all. Thus people flock to this Pitambra Devi temple Datia regularly. They are blessed by the supreme darshan of the idol through a small window. Mother is known as Baglamukhi and offering of yellow coloured objects are done. Thus she is called Pitambra owing to the liking of yellow clothes. None is allowed to touch the idol of maa. People believe if the rituals are performed in the right way it may lead to the wishes fulfilled. This is the reason many of those who aspire for political power or riches go to the temple and making wishes.
Pitambara Mata is considered to be Shastru Nashini and one who goes there with utter submission attains liberty from enemies and the zenith of power.
How to reach Pitambra Mandir Datia?
This place is in Datia (Madhya Pradesh) which is nearly 30 km from Jhansi. You can delight at Jhansi railway station and take a cab from there for Darshan. You can also travel by car from Agra or Gwalior to this place. If you want to fly you have to book a flight to Gwalior and take a car to visit the famous Shaktipeeth.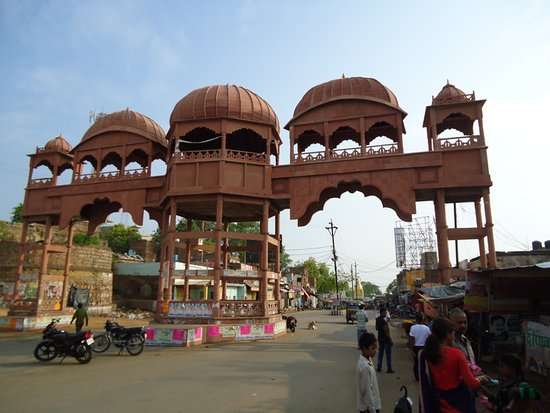 Suggested Reading: – Mathura Vrindavan Temples facts & Timings
Pitambara Mandir Car hire
| | | |
| --- | --- | --- |
| Tour Name | Persons | Tour Cost |
| Agra to Pitambara one day tour | 1 to 4 | INR 8000/- |
| Gwalior to Pitambar day tour | 1 to 4 | INR5000/- |
| Mathura to Pitambara tour | 1 to 4 | INR 10000/- |
| Delhi to Pitambara Devi tour | 1 to 4 | INR 15000/- |
Things to keep in mind before visiting Pitambara Mandir?
Saturday is concerned very auspicious day to visit Maa Baglamukhi. Thus on Saturdays, it is very crowded, and thus you have to reach the temple early. As very popular people prefer visiting the shrine in yellow colour according to the taste of deity. Thus you can clad yourself in yellow attire and keep yellow flowers and laddos for the offering.
There are three types of lines. One passes right in front of the deity second few feet apart and the third type is from distance. It may take nearly an hour in the first type all depends on the crowd. It is also to keep in mind that the darshan of Dhumavati Devi is not allowed for the married ladies.
Dhoomavati Mata Temple Datia-
This temple is situated in the same campus of Pitambara Temple Datia, This is the strange form of the goddess where Goddess Shakti depicted sitting on a crow wearing a white Saree and open hair. In the first appearance, its looks like a widow. This is a contrast to the other places, you will find goddesses always look in the form of married women with full makeup. This temple is only worshipped by men and widow women. Married women and girls are not allowed to visit this temple.
Dhoomavati Devi Darshan Timings
Day
 Timings
Saturday
7 Am to 9 Am

5 Pm to 8 Pm

Other Days
During Aarti

8 Am & 8 Pm
This temple is only open on Saturday for the public 3 hrs in the morning and 3 hours in the evening. On the other days, it will open just at the time of morning and evening aarti for few minutes.
In this temple, people offer Onion fritters, Samosas, and Mamkeen whereas in other temples people usually offer sweet dishes.
This temple was established by a saint called Swami Ji Maharaj and when it was created the other saints were in fear to see the goddess shakti in this dangerous form. But Swamiji Maharaj convinced them that this form of the goddess is just for the evils and enemies.
On Saturday blackline seeds offer to the goddess in black color of cloth, this temple is also offered by those who believe in the tantric occult process and black magic.
Read the related blog:- How Religious Tourism Can Make A Better Society
Famous places to visit in Datia Madhya Pradesh
Govind dev Ji temple-2 km from Peetambra temple, Lord Krishna Temple
Datia Fort- Built by King Veersingh dev in 1602.
Seeta Sagar
Ranagarh Mata
Batuk Bhairav Nath Temple
Sona gir
RajGarh palace- Royal court of king
Vankhandeshwar Temple Datia