Touring has been an inherent passion of mankind. If touring is done with adventure, it adds charm to the touring.  Half century back adventure tourism in India was not in vogue. The travelers from overseas used to wonder about the adventure tourism in India  and bear  the image of the country as a land of temples, forts & Palaces  only. To them India was having the lofty  ranges of the Himalayas and the rivers like the Ganges and Brahmputra  for  making the Geography and topography. There was a time when India was known for culture tourism and religious tourism only, but now scenario has changed. Since couple of decades back India has emerged as a hot destination for Adventure tourism.
India is the only country in the Asian continent where the adventure opportunities loom large as it has diversity of regions. This country presents plethora of options of adventures with its exotic islands, fawning rivers, different altitudes of mountains ranges and so on. Besides a great advantage for adventure tourism in India is that season is no bar. Suppose if it is winter you can choose low range mountains while if it is summer time you  can choose high altitude places for the adventure spots.
Read More Blog :- 
Why Delhi Agra Jaipur Tour is best India tour ?
Get to know about Taj Mahal Tours and Tickets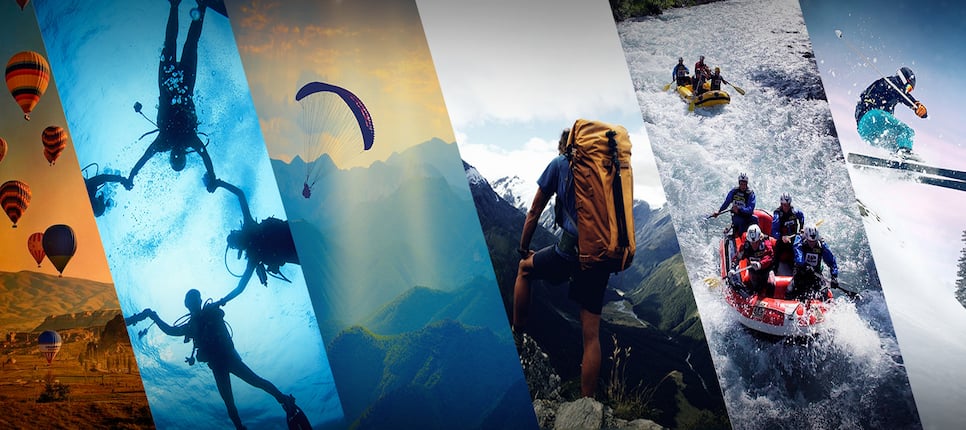 Besides this a traveler can choose a variety of destinations from North to South or East to West and include the popular adventure activities in his or her travel plan. Suppose you are on a tour to North India you can involve yourself in the adventure activities such as skiing, trekking, rock climbing, walking on the sheet of frozen snow, traveling on pony  or take part in the water spots. Another great fact is that  the enthusiasm for such adventure activities is escalating among the Indians day by day and they do not leg behind the overseas tourist.
Best Places for Adventure Tourism in India
Rock climbing
This is the first step of mountain climbing and has emerged very popular adventure sport over the years. It does not require large paraphernalia of aids and with proper training, physical health and suggestions of the doctor and guide one can enjoy it. Indian destinations of the Himachal Pradesh and Bangalore area are gaining popularity among professional and amateur rock climbers.
Rock climbing destinations in India
In North India the area close to Manali, Dharmshala and Kullu provide great options for rock climbing. Similarly, if you plan touring South India, you can choose destinations like Ramanagaram, Bandami and Savandurga close to Bangluru. Nearly 90 Kms from Chennai you can try the place Kambakkam. The same way  Hampi, the oldest historic site provide the climbers a great opportunity, close to Mumbai you can choose to perfect destinations like Kanheri, karnala etc. The Karla caves  also give nice option to enjoy the rock climbing.
Suggested tour plan :-
If you travel ton   Gujrat, Pavagarh is nice spot to try the skill. If you are in the capital city of India, Delhi you can find the rock climbing spots at Damdana Lake & Lado Sarai Rocks.
What precautions you should take in rock Climbing?
This sport was in  early times  considered a  game for those who are daring and have high tolerance level.' The coaching by the modern institutions and the suggestions have made it now easy sport. Before undertaking this opportunity you should keep in mind what type of rock you are going to struggle with and you should consult your doctor about your physical conditions. You should have all safety equipment like rope, harness, nuts etc.
Read More Blog :- Jim Corbett National Park- Complete Travel Tips
Hang- Gliding
This is an air sport activity in which a person flies a light height non motorized gliders made of aluminum alloy. Now the pilots can soar in the sky for hours and every on high elevations.
One can experience the best hang gliding in Bir, Himachal Pradesh, Ooty in Karnataka, Indore in Madhya Pradesh.  Even Shimla offers a great opportunity. This activity has increased in Himachal after 1984 when the intentional Hang Gliding Rally was  organized .
Para Gliding
Para gliding has been a popular spot In India specially in the regions of Himachal and Uttrakhand.
Difference between para gliding & hang Gliding
The basic difference between the two is the gliders shape. In the hand gliders a sail cloth is attached to metal frame while in the para gliding a harness is suspended under the fabric wing.
Another difference is that hand gliding is more streamlined and attains much faster speed and has ability to fly in adverse conditions whereas para gliding  lacks in that.
Read More blog :- Char Dham Yatra
Para Motoring
In case you pine  for thrill and  want to take same breathtaking pictures, para-motoring in India can satisfy you thirst.  The joy of  soaring  high into the the skies and having a  bird's eye view enhances to charm .  In India you have lots of opportunities to experience the Para-motoring activity on Karnataka, Goa, U.P. Uttrakhand and very other destinations.
Suggested Tour:- 
Mountain Biking
There are plenty of opportunities for the mountain biking activity in India in  the states of Kerala and Himachal Pradesh. Munnar in Kerala  is a very ideal destination. Top places for mountain biking are Manali, Garhwal & Kumayun, Leh. In this activity you go cycling though the unforgiving roads and tough  conditions. In this activity you need proper guidance and stamina.
Biking across to hilly terrains,  you across different tribal people and ethnic differences. You also view diverse landscape which can fill your heart utmost pleasure.
Suggested tour Plan :- Taj Mahal Tour Package
Rappelling or Abseiling
Rappelling is almost same  as  Abseiling. In this activity one performer has a descent from the rock in a controlled manner with the support of a rope. This game is safer in comparison to rock climbing. In this sport rope hangs free without touching the rocks thus it looks  sometimes very  scary, but it is very safe sport. In this sport special methods are adopted to increase the friction on the rope.
You can find important destinations in Himachal Pradesh, Karnataka and Uttrakhand for the activity.
What is More Adventure Tourism in India
River Running – This is an activity in  which the participates travel ahead with the current of the river softly by using a raft, canoe or a Kayak. The difference between kayaking & canoeing is only of the sitting position of the paddlers and the number of blades on the paddle. Rafting is an activity in which inflatable raft  is used to navigate the river. This is done on the white waster as froth comes and make the water  the appear  white .
The white water rafting expeditions in India are  done by professionals Indian teams having training in various countries . Rafting and other river running activities are done on Sutlej, Vyas and the Ganga rivers in India. Besides they are arranged in Zansnkar in  the Himalayas, Brahmputra and Lohit rivers. Out of these  Ganga is very suitable for both paddle  and oar  rafting.
Angling
Lots of tourists are fond of angling. They are seen enjoying the fishing as a sport with a fishing rod by the sides of Indian lakes or rivers.  For this one has to take the prior permission in India from the office of the district fisheries officer. Thus one can sport with Katla, rohu,trouts , Mahseer, Salmon and various other species of fish.
Prominent destinations for angling in India
Ramganga river in Corbett national Park Uttrakhand.
Kosi river uttrakhand
Vyas river, Parvati and Gadsa in Himachal Pradesh
Cauvery fishing camp near Mysore.
Camel & Jeep Safaris
Imagine the thrills on sitting on  the back of  a camel in the desert and recall the time of old caravans and the hardships of the ancient travel. In Rajasthan the district of Jaisalmer provides you the opportunity of experiencing the dark stary nights at the villages of SAM or Khuri. In the camel safari you enjoy the local culture and the area and post safari you can take part in the folk dances  Besides Jaisalmer, Jodhpur and Bikaner also provide you the options of camel safari. The best time to enjoy the safari is winters from October to March.
Suggested Tours
Similarly in SAM you can enjoy the jeep safari which is arranged by difficult companies. You are taken  in the extreme desert and you will be chilled watching the expertise of these who are deft handed in driving in the tracks.
Chambal River Safari
Chambal river is flowing from Kota Rajasthan to the parts of Madhya Pradesh and Uttar Pradesh and merges into the Yamuna river near Etawah Uttar Pradesh. The valley f the river have been the haunt of dacoits of close to Bah, fatehabad, Dholpur and Morena. Now these stories of dacoits are like fables and the area is free from dacoits.
This river provides an excellent opportunity to do safari and enjoy watching alligators, crocodile's fresh water dolphins and other equate species.
Read More Blogs: – 
Tiger Safari Adventure Tourism in India
India is a land where one  can see royal Bengal tigers in their natural habitats. There was a time when the number of these decreased much on account of illegal parching activities. Thus the project tiger was launched to stabilize the number of tigers.
In India you can spend month on tiger safari trails from North to South. The notable tiger parks are – Ranthambore National park, Jim Corbett National Park, Bandhavgarh National Park, Panna National Park, Sariska national Park, Kanha National Park. Besides these you can enjoy Periyar tiger safari near Thekkady in Idukki district of Kerala.
Elephant & Horse Safari
In the old times the elephants were used in the battles in India. During the Mughal are Akabar prepared the elephant armies like modern time tanks – elephants with iron shield. They were used during processions and in the time of hunting. During the hunting expedition the royalities used to sit on the elephants.
In the present time you can have the adventure of elephant safari in various wildlife sanctuaries in India. the land of Kerala is very much suited for this purpose.
Like the camel safaris horse safaris are getting popular in many destinations of Rajasthan, Punjab & Uttar Pradesh. You can enjoy riding the Kathiawari and Marwari horses. Shikarwadi and Aodhi are providing excellent opportunities for horses safari near Udaipur.
Trekking Activities
India is a paradise for the trekkers where you have plethora of options to undertake trekking expedition amid  different types of surrounding. Somewhere you are left to listen the notes of qurgling rivers, another place you find the cover of snow sheet, somewhere you see the sprawling maedows with scant shepherds. In India  Kullu- Manali area and lahaul & spiti of Himachal Pradesh and Leh Ladakh as well as Garhwal region of North Present excellent opportunity to the trekkers. Similarly Sikkim area can mesmerize you during your trekking expedition where you can see lots of flora and faunas.
Water Sports
Water sports like scuba diving and snorkeling full the heart of the adventure with pleasure. In India there are so many destinations to enjoy the water sports such as Goa, Lakshadeep, Andaman and Nicobar. The beaches of Goa and other destinations present the charms of jet sking, scuba diving, boating, Kayaking   etc.