If you are a nature lover and planning for a short trip to enjoy the beauty of nature what can be the other best option then Jim Corbett national park which is full of nature scrivener and comes in the few places of the world where you will get a chance to see the royal Bengal tigers with naked eyes.
Here you will also enjoy the other activities like bird watching, elephant safaris, Jeep safaris etc. This park was established in 1936 to protect the Bengal tiger and earlier this place known as Hailey national park (the Governor of united provinces). And later it was named Jim Corbett by the name of a British naturalist , hunter and well known author (Jim Corbett).In every year more than 70,000 tourists coming to visit this national park.
This park is spread over the area of 520 square kilometers covering mountains, river belts, grassland and lakes. The flagships species of this park is the tiger, Asian elephants and the great one-horned rhinoceros. Besides that here you will see more than 500 species of birds and more than 50 species of mammals.
Why Jim Corbett National park is so famous?
This place is a paradise for of nature lovers and wildlife activities. Here you can easily spot the royal Bengal tigers, one horn rhinoceros which is rare animals in India. This place is mostly visited by wildlife photographers from all around world and it's like a home for them as this park is having rich flora and fauna.
This is also a hot spot for the movie shootings in 2005 'Kaal' movie was plotted at the same park and the famous bollywood actor Vivek Oberoi was the lead actor.
In 2019 Bear Grylls shoot an episode of (Man vs Wild) with Prime Minister Narendra Modi in Jim Corbett national park and this episode was broadcast in 180 countries through the discovery channel which makes this national park very famous all around the world.
Suggested Tour Packages :-
How to reach Jim Corbett National Park?
Jim Corbett National Park is located in the state of Uttarakhand near Nainital city. This place is just 260 km from the capital city of India (Delhi) and the roads are very good up to the Jim Corbett Park. The road journey will take around 5 hours to reach Jim Corbett National park from Delhi which is the major halt of international tourists.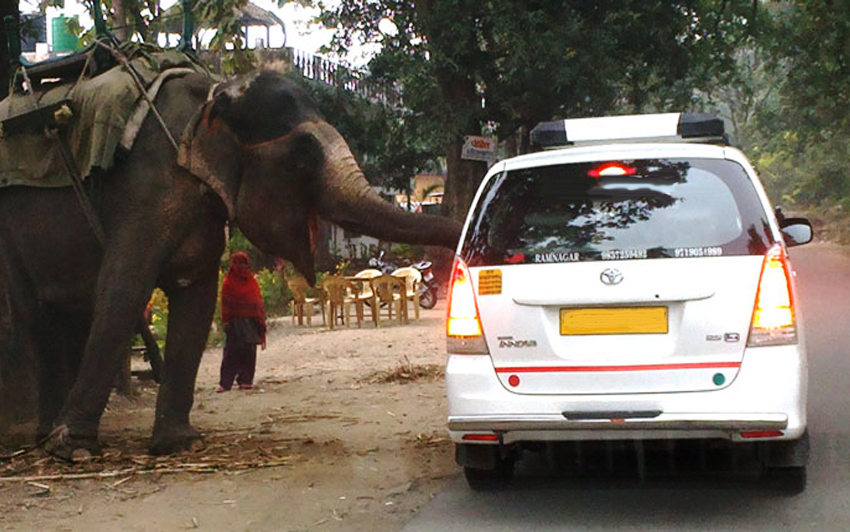 If you are traveling by train then the nearest railway station is Ram Nagar which is well connected with major cities such as Nainital, Delhi, and Bareilly. The distance of Ramnagar railway station to the national park is only 15 km. The nearest airport is in Dehradun city which is the capital of Uttarakhand state and is around 160 km far from Jim Corbett national park.
Safari at Jim Corbett National Park
 You will find the best available facilities inside the park with many options to enjoy the wildlife safari at Jim Corbett National Park. It will offer Jeep Safari, Canter safari and elephant safari as well on every gate of the sanctuary.
Jeep Safari:
To enjoy the best moment during the 3 hours safari in my opinion to go for a jeep safari it is the best option to spot the Bengal tigers.  It is a fast and convenient way to enjoy the game drive and discover the wilderness and varied species of flora & fauna. There are only 6 people allowed in the Jeep safari along with the naturalist guide. The best thing with jeep safari is that during spotting the tiger you will stop or taking breaks anywhere at any time which increases the chances of spotting the wild animals. The charges are fixed for a jeep safari whether you are one person or 6 people.
Read More Related blog:- Ranthambore National Park
Elephant Safari
Having fun on the back of the elephant is great fun for the tourists while enjoy the safari at Jim Corbett National Park. This is the second-best option to enjoy the game drive. The benefits of elephant ride is you will take clear pictures up to the long-distance because of the particular height of the elephant back and also the wildlife animals are little familiar with the elephant instead of jeep and canter safari which is manmade and make lot of noise. Maximum 4 people can sit all together on one elephant.

Canter Safari: The canter safari is the cheapest option to enjoy the safari at Jim Corbett national park. The capacity of one canter is between 16 to 20 people. The canter is the last option and by canter, the chances are spotting are always less as it s bit noisy and the drivers are always in hurry to complete the regular routes and they are not stopping on every point to cover the best photographs.
Jim Corbett Safari Timings, Zones, and Charges
There is only two safaris organized every day at Jim Corbett National Park one in the morning hours and one in the afternoon. The timings and charges of safari are different as per the choice of riding vehicle.
Jeep Safari- The morning timings are 5:30 am to 09:00 am and the afternoon safari will start at 1:30 pm to 5 pm. It covers zones like Bijrani, Sitabani, Durga Devi, Dhela, Sitabani, and Jhirna,
Indian- 4500/- per jeep 1 to 6 people
Foreigners 8000/- per jeep 1 to 6 people
Elephant Safari – The morning timings are 6:30 am to 10:00 am and the afternoon safari will start at 1:30 pm to 5 pm. It covers reserve forest area,
Indian- 3200/- maximum 4 people allowed in one elephant
Foreigners 3200/- maximum 4 people allowed in one elephant
Canter Safari – The morning timings are 6:00 am to 11:30 am and the afternoon safari will start at 12 pm to 5:30 pm. It covers the Dhikala zone.
Indian- 1600/- per person (maximum 16 people in one canter)
Foreigners 3000/- per person (maximum 16 people in one canter)
 How to book your safari at Jim Corbett National Park?
The best option to book your safari is the online process. It is always advisable to book your safari in advance through the help of travel agents, hotels or an Online booking website (www.onlinecorbettsafari.in)
Things required for online Booking at Jim Corbett Safari
ID Proof: Passport, Driving License, Pan Card, Adhar Card, etc.
Travelers have to fill an online form with all necessary details like full name, age, id numbers etc. The same id is to be present at the time of park entry.
Canter does not provide a pickup facility so the tourist have to reach up to the point to join the canter safari
Safari charges are non-refundable
Canters are only available at certain points at the Park like Ram Nagar or Dhangri Gate, But jeep safari and elephant safari can be hired from different places as well.
Best time to visit the Corbett National Park
The weather conditions are different according to the seasons in summers it will hot up to 45 degrees and in winters it goes down up to 6 degree. In monsoon it receives heavy rainfall as well. The best weather to enjoy the wildlife activities are between Octobers to March in Jim Corbett National Park. In summers the weather will be very dry and the animals are always hide in shades so it hard to spot them during summers.
Things to visit in Jim Corbett National Park
River Rafting– To enjoy the speedy boat ride at Kosi River is one of the best attractions for tourists at Jim Corbett National Park.
Suggested Tours

Corbett Waterfall– This place is only 25 km from Ramnagar. This is the best place for nature lovers, tourists enjoying for picnic and camping near these natural waterfalls.
Elephant ride- The best way to enjoy the safari and to take wonderful photographs of wild animals.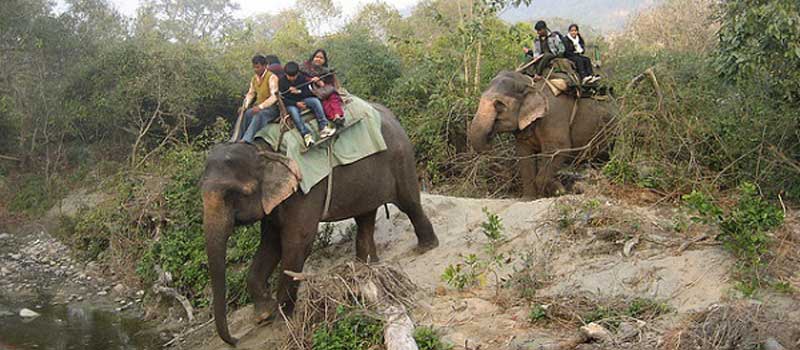 Jungle Safari- The best thing to enjoy here is to watch the royal Bengal tigers which can be found only in few places in the world.
Garjia Temple-Garjia Devi temple is one of the religious parts of this national park which is dedicated to the goddess Parvati, This temple is situated on a hill and an eye-catcher for every tourist. A large fair is conducted in the temple on Karthik Poornima.
Corbett museum- It is a heritage museum which is visited by both historians and nature lovers and It is located near Kaladhungi. The museum house many paintings, old maps and basic items used by the famous British hunter, author and naturalist Jim Corbett.
Birjani – Birjani is the best place to spot the tigers. The possibility of watching tigers are much here and you will find gypsy and naturalist at the same place
Durga Devi Zone-this zone is especially known for being the home to a large number of exotic birds, This place is worth visiting for bird watchers and also for the diverse animal species
Read More Blogs: – 
Angling (fishing in Corbett)- for the fishing activity Ram Ganga river and Kosi river is the best spot where you will find Mahaseer fish which is always found in a freshwater river. Here you will also find black Mahaseer and silver Mahaseer (Big Fishes)
Kalagarh Dam- The Kalagarh Dam is also known as Ram Ganga. This is dam is 12 meter high and 2065 feet long. This is the best place to spot the migratory birds and for serene view of mountains and dense forest.
Adventure activities Near Ram Nagar
Jim Corbett National Park allures the tourists for it's also known for the adventure activities. These activities include 8 obstacle course, 200 meter Zipline, Wall rappelling, trampoline human Gyro, sky cycling, Paragliding freego ride, etc. In the 8 obstacle course you encounter plank Bridge, Zig Zag Bridge, Balance Beam, Hanging tunnel, the Burma Bridge, Block Bridge etc.
Wall rappelling gives you the few of climbing rock walls and is fully guided. Similarly, zip ling in Corbett Park fills you with hills and romance. You have an amazing escape into the hills and you cross the valley on a taut rope at an elevation of 50 Ft. Human Gyro is a new activity in which 2 persons are placed inside the structure and it is moved by manual force. This causes seats to move in all directions and makes you feel you are defying gravity.
Most of these experiences are for 20 to 25 minutes and the activity locations are well connected with the road network. You can hire public transport from Ram Nagar to approach these places. These activities are performed under the guidance and with full security gear.
Best zone to spot Tigers at Jim Corbett National Park
Bijrani zone is the most visited site for spotting the Royal Bengal tigers at Jim Corbett national park. This is close to the Ramnagar and the first choice for wildlife photographers as well. The landscape of Bijrani Zone is surrounded by dense forest Open grasslands and river plains. Jeep safari along with naturalist is available at Bijrani zone at Jim Corbett Park.
Mostly asked questions regarding the Jim Corbett National Park
Q1. Which animals are found in Jim Corbett National Park?
A1-There are so many endangered species and birds found in Jim Corbett national park-like (barking, cheetal, sambhar, hogg, and chital) sloth bears, grey mongoose, elephants, pangolins, and throated martens. The special animal is the royal Bengal tiger found in this park.
Q2. How many tigers and elephants are found in Jim Corbett national park?
A2. This is the home of some special animal's mile the royal Bengal tiger and Asian elephants and one horn rhinoceros. This park is having around 164 royal Bengal tigers and more than 600 elephants.
Q3. What is the best time to visit Jim Corbett national park?
Though you can visit Jim Corbett national park any time of the year, the best time to visit the park is from October to February.
Q4. How many days are enough for Jim Corbett?
One night 2 days stay is enough to visit the Jim Corbett National Park.
Q5.Which safari is better to do (Morning or evening) at Jim Corbett National Park?
As the safaris and to spot the tigers are most of depend upon the luck but it is always better to go for the morning safari to see the fresh pug marks of tigers as after a night sleep most of the animals are coming out for sunbath and warm up.