Khajuraho is located in Chatarpur District in the state of Madhya Pradesh, India. This small city marks a big presence on the world map of tourism because of its great temple with a fusion of Hindu and Jain art. These temples are considered as one of the world heritage site by UNESCO. These incredible temples are built between 950 AD and 1050 AD during the Chandela Kingdom. Historians said earlier it was more than 80 temples built up to 12th century but in present around 25 temples are save. These temples are dedicated to both Hindu and Jain religion which describes the diversity of religions accepted by the Chandela rulers during that time. Chandela kingdom was one of the most powerful empires of central India in 10th century. These constructions and kingdom was later known as 'Bundelkhand'.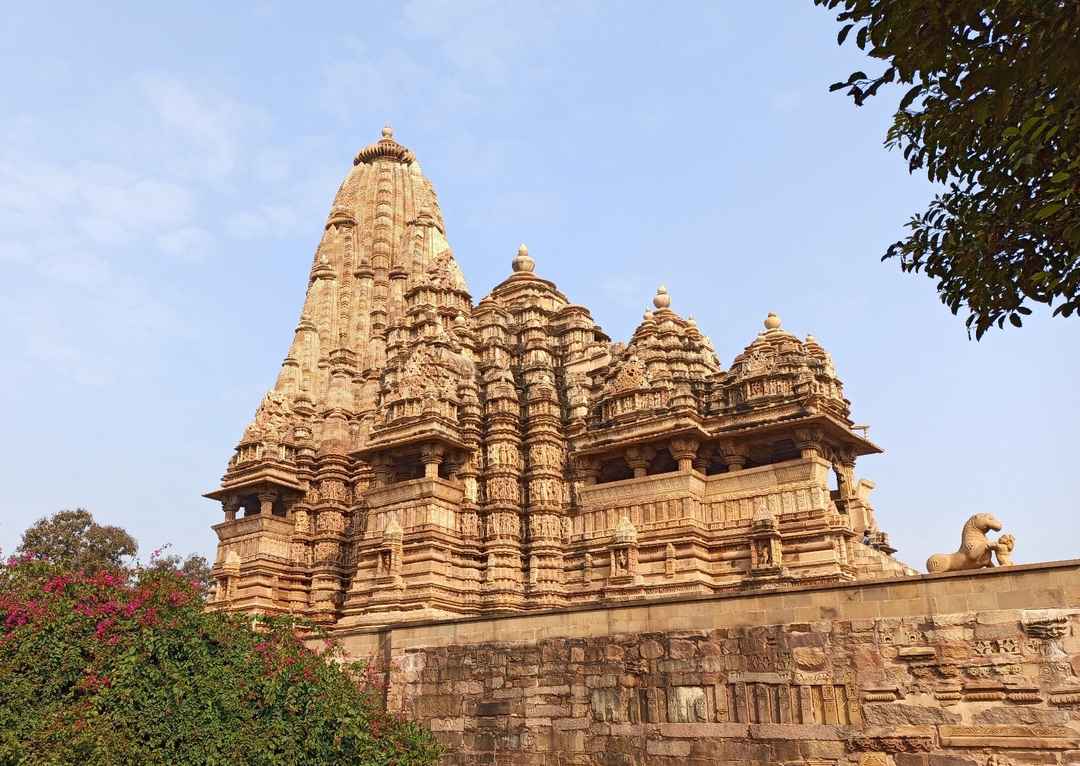 These temples are mostly famous for their erotic sculptures which attract millions of domestic and foreign tourists every year in Khajuraho. The art of these temples covers several aspects of human life from birth to death such as love, battle, marriage, sex, worship, etc. The main deities of these temples are Lord Vishnu, Lord sun, Lord Shiva and Jain Teerthankaras.  This is the most photogenic site of the world and some people told the 'Kamasutra' 'The erotic Sanskrit language book' was also belongs to the sculptures written on the Khajuraho temples in Sanskrit language.
Suggested Tour Plan :-
What is the most visit sites in Khajuraho?
In this blog we mention few most visited sites of Khajuraho which can quench the thrust of an art and culture lovers.
Khajuraho Tour Packages Cost
| | | |
| --- | --- | --- |
| Tour Packages Name |  Tour cost with Guide Charges |  Transportation & Hotel |
| Half-day Khajuraho Tour | INR 3500/- Up to 3 Persons | Sedan Car (Swift Dzire/Toyota Etios) |
| Full day Khajuraho Tour | INR 4000/- Up to 3 Persons | Sedan Car (Swift Dzire/Toyota Etios) |
| Two days Khajuraho Tour from Delhi |  INR 31999/- Up to 3 Persons | Sedan Car, Train Fare & Hotel |
| Two days Khajuraho Tour from Agra | INR 29999/- Up to 3 Persons | Sedan Car, Train Fare & Hotel |
| 3 days Khajuraho & Orchha tour from Delhi | INR 36900/-Up to 3 Persons | Sedan Car, Train Fare & Hotel |
| One day Orchha tour from Khajuraho | INR 7000/- Up to 3 Persons | Sedan Car (Swift Dzire/Toyota Etios) |
| 3 days Khajuraho tour from Varanasi |  INR 22300/- up to 3 Persons | Sedan Car(Swift Dzire/Toyota Etios) & Hotel |
Eastern and Western Group of Temples
If you are in Khazuraho the first thing to do which is always on the wish list of every tourist is the sightseeing of eastern and western group of temples which consist such huge temples like Kandhariya Mahadev Temple, Lakshman Temple, Vaman temple, Adinath temple, Chaturbhuj Temple, Duladevi temple, Sun temple etc. Here you will also visit the most famous thing of Khazuraho the erotic temples which is an eye catcher of every tourists. These temples are divided into two parts eastern and western which is having all major temples with having fusion of Hindu and Jain religion. These temples are open between 8 am to 6 pm except the Matangeshwar temple which opens at 10 am to 6 pm. The entry fee is INR 600 per person for foreigners and INR 40 for Indians. The entry fee covers the sightseeing both of the group of temples.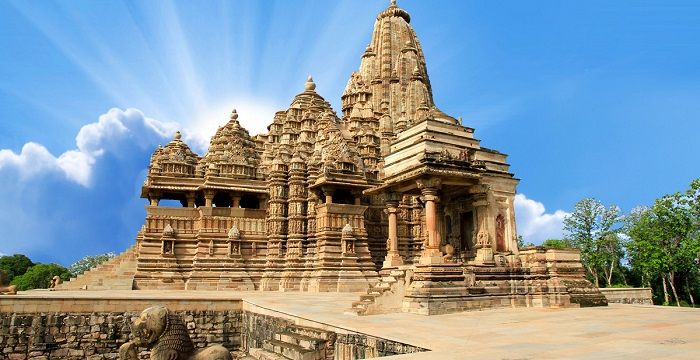 Enjoy wildlife activities at Panna National Park
Panna national park is located on the distance of 25 km from Khazuraho and here you will enjoy the best wildlife safari activities. This park is known as the 22nd tiger reserve of the country which is having more than 35 tigers in present. This park is home for royal Bengal tigers, chital, chinkara, nilgail, sambhar and sloth bear. This park is also home for more than 250 species of birds in which some are migratory birds like kingfisher. Goose, bar headed, honey buzzard, king vulture are few main bird species found in this park.  Here they will offer both jeep safari and canter safari and they fixed timings for safari one in the morning at 7 am and one in the afternoon at 2 pm. It is advisable to book these safaris in advance to avoid any hassle as the capacity of vehicles is limited.
Read More Related Blogs :- 
Suggested Tours :-
Enjoy the Sound & light show at Khajuraho Temples
This is the special event organized for tourist's everyday in the evening at western group of temples in Khazuraho. By this live show you will hear the facts of history with the help of colorful laser light show. It looks amazing to see these temples in lights and the sculptures leave a big impression on every visitor. This one hour show will take you back to the art of Chandela Kingdom which is full of art, culture and love. Here you will also hear the story of the construction of the world famous erotic temples. This show happens in two different languages English and Hindi. The entry fee is INR 200 for Indians and INR 500 for foreigners.
Raneh Falls- Enjoy Natural Waterfalls
Raneh fall is situated on the distance of 22 km from Khazuraho . The Raneh Fall canyon is the most visited excursion tour from Khazuraho which is famous for its natural waterfall located near Ken River.  These waterfalls created a 40 feet deep canyon with pure crystalline granite in various shades of colors ranging from pink to red and to grey.  It is close to the Panna National Park so some of the people enjoy the morning safaris at the parl and come afterwards to visit the Raneh Fall and sitting in the lap of nature enjoy trekking as well. Here you will also enjoy the riding of your own vehicle in the serene of forest and also hire a tour guide for information. The best time to visit Raneh fall is in winters when it is full of water.
Read More Related Blog :- Ranthambore National Park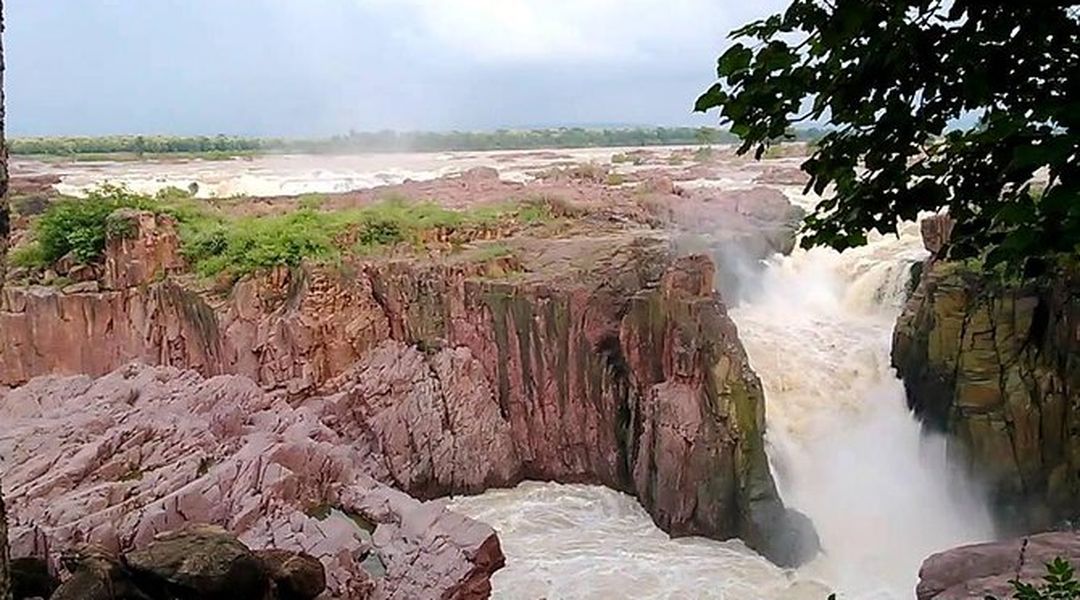 Visit the Pandav Fall
Pandav Falls are located on the distance of 35 km from Khazuraho and 14 km from Panna.  Pand Fall is comes under the best thing to do on Khazuraho as its located inside the Panna National Park. The falls cascade down from the height of 30 meter in to a heart shape pool and this is the most serenic waterfalls of Ken River. According to the mythology, the Pandava's (Characters of epic
Mahabharat) are believed to have spent a part of their exile period and they make beautiful caves and used the same waterfalls for having bath etc. On the foot hills of the falls there are some small ancient caves are located which is an extra ordinary attraction of every tourists. Winters and monsoon are the best times to visit this site.
Explore the Ajaigarh Fort
Ajaigarh fort is located on the distance of 80 km from Khazuraho in panna district. This fort is saddled on a top of a hill and one of among the top attraction of the region. This fort is bordered by beautiful Vindhaya hills and provides stunning views of Ken River. This fort making a remarkable job in Chandela's history and in present lots of tourist visited this site every year. This fort has two gates, two rock cut tanks and two temples inside. You have to climb 600 stairs to reach on the top of the fort and at the entrance you will see the wonderful sculpture carved into the rocks. Here you will also visit Rang Mahal, Navgarh temple and Jain temple. This fort has been taken care by the archeological survey of India and opens between sunrises to sunset.

An excursion tour of Mastani Mahal
This palace is situated in dhuleba region between khazuraho and orchha road. Dhuleba is a kind of place which is famous for the historical monuments constructed by Maharaja Chhatrasal and his family which reflects the glorious pas of his kingdom. Dhuleba is famous for so many fresh water bodies and also surrounded by lush green forest. The Mastani Mahal was constructed by maharaja Chaatrasal in 1969 AD to giving honour to a bea beautiful dancer of his court 'Mastani Bai' Later she became the wife of Bajirao Pehshwa who was a Brahmin from birth and a great warrior in Maratha kingdom. Here you will also visit the Dhubela museum connected to the wall of Mastani Mahal and it is the first museum of Independent India having old sculptures, paintings, household Utensil, arms etc.
Read More Blog :- Get To Know Before Visiting Taj Mahal
Take a tour of Kalinjar Fort
This fort is famous between the tourists as this you will visit here some temples which is dating back to 5th century. As per the legends this is the same place where Lord Shiva came after consuming the poison comes from the churning of the ocean so its name called 'Kaal' means Time and 'Jar' means destruction. Here you will visit the beautiful rock cut sculptures of various gods and goddess and this is the best place for the devotees of Lord Shiva for meditation. This fort is located in Banda district in Uttar Pradesh which is around 100 km from Khazuraho and 35 km from Panna district.
Khajuraho Tour Guide Charges
Khajuraho Local tour guide charges @ 1800 INR
No. of  Person
English Speaking Tour Guide
Foreign Languages Tour Guide
01 – 05 Persons
Half Day:- INR 1800/-

Full-Day:- INR 2200/-

 Half Day:- INR 2400/-

Full-Day:- INR 3000/-

06 – 14 Persons
Half Day:- INR 2200/-

Full-Day:- INR 2850/-

Half Day:- INR 2800/-

Full-Day:- INR 3650/-

15- 40 Persons
Half Day:- INR 2900/-

Full-Day:- INR 3800/-

Half Day:- INR 3600/-

Full-Day:- INR 4800/-
Visit the Diamond Mines at Panna
Panna is the most famous city of Madhya Pradesh because of the biggest diamond mining centre in India. If you are in Khajuraho you will book this tour with the help of renowned travel agents and you will get a chance to see the biggest diamond houses of India. These mines are spread over the area of 80 km starting from Paharikhera to Majhgawan. Live watching how the marble been picked from the mines is a lifetime experience for tourists. Also enjoy the visit of Brahaspati Kund waterfalls located near diamond mines and sometimes the local fares are also organized over here.
Enjoy the spectacular view of Beni Sagar Dam
Beni Sagar dam is one of the most beautiful points to visit in Khajuraho for nature lovers. It is also one of the most visited picnic spot for tourists built over the Khuddar River The dam is popular amongst locals and tourists as it offers splendid scenery and serene atmosphere. The best time to visit this place is early morning when you will take the beautiful pictures of rising sun. This dam is also attracts tourist for water sports activities. There are no charges applied here for tourists here and this is only 6 km far from the Khajuraho city.