The Ranthambore national park is famous all around the world for its Tiger reserve, India is the best place to enjoy the wildlife activities and here you get to see the chance one of the best tiger safaris in the world and Ranthambore is one of them. This national park is located in Sawai Madhopur district of Rajasthan. Earlier it was known as the hunting grounds of the emperors and kings of Jaipur which is only 125 km far from Ranthambore. This park is the major attraction for wild life lovers and wildlife photographers and here you will get to see the largest number of wild tigers in all over the India.
How to reach Ranthambore National park?
This tiger reserve is situated on the best location and easily accessible from all major cities of India like Delhi, Jaipur, Mumbai and Chennai. This is also come close to the golden triangle circuit which covers Delhi, Agra and Jaipur along with Ranthambore. The nearest airport to reach Ranthambore is Jaipur which is located on the distance of  120 km and you will get direct taxi to reach Ranthambore it will only take 2 and half hour drive to reach by road from Jaipur. The nearest railway station to reach Ranthambore national park is Sawai Madhopur  which is located on the distance of 15 km only and you will get taxis or buses on sharing basis or private to reach Ranthambore national Park.
How to book your Tiger safari?
The best way to book your tiger safari is the online booking system which you can book in advance with the help of travel agents or any other mediator or also you will book the same direct from the website of national park. The second option to book a tiger safari is you will reach directly on the booking counters of the tiger reserve minimum before one hour on the day of travel and can purchase your tickets directly from these counters. But this option is little risky as the tickets of the national park is always depend on subject to availability basis and it will always full during the peak season and you will miss the chance to watch live  tigers. If you are purchasing the tickets online you need to report before the safari timings to collect your tickets for tiger safari and do not forget to bring you original photo identity whether it is online or direct booking you need to show this at the time of check-in.
Ranthambore Tour Packages cost
| | | |
| --- | --- | --- |
| Tour Name | Tour Cost without Entry Fees |  Cab & Budget Hotel |
| One Day Ranthambore  Tour from Jaipur | INR 16999/- Up to 3 Persons |  Sedan Car (Swift Dzire/Toyota Etios) |
| 2 days Ranthambore tour from Jaipur | INR 29700/- Up to 3 Persons | Sedan Car (Swift Dzire/Toyota Etios) |
| 2 days Ranthambore tour from Agra | INR 37700/- Up to 3 Persons | Sedan Car (Swift Dzire/Toyota Etios) |
| 3 days Ranthambore tour from Delhi | INR 47200/- Up to 3 Persons | Sedan Car (Swift Dzire/Toyota Etios) |
| 4 days Ranthambore & Jaipur tour from Delhi | INR 51400/- Up to 3 persons | Sedan Car (Swift Dzire/Toyota Etios) |
Suggested Tour Packages :-
What is best Gypsy or Canter to visit tiger safari?
A Gypsy is a small 6 seater 4 wheel drive vehicle whereas a Canter is a larger vehicle like a mini truck having sitting capacity of 16 to20 people in one vehicle. The choice of booking Canter or Gypsy is always differentiate according the comfort and budget. In my opinion the best way to spot tigers is to book a gypsy which is little more expensive in compare to the canter but surely more comfortable and more reliable to spot the tigers. The canter safari is not so cool because the drivers are not so informative and always in hurry to complete the regular tour , the sound of canter is also high which can disturb the wild animals and always a less possibility to get close view of wild animals.
The naturalist guides can also answer easily to your question during your safari in a gypsy as they have only 6 members with him whereas canter safari is always filled with around 20 people which will talk and make noise as well some time which can disturb the sightseeing of tigers. In gypsy you have also the option to take more breaks where the possibility is more for spotting tigers instead of that canter are only taking stops on regular points. By the gypsy you will also get best angles for photography and can easily travel with big cameras and accessories.
What to see in Ranthambore National Park?
Ranthambore National park is a major wildlife tourist attraction for wildlife photographers and nature lovers from all over the world. This national park is spread over the area of 140 square miles and having the incredible jungle landscape. This tiger reserve is especially famous for the Bengal tigers but you will also some wildlife animals here like bears. Leopards, sambal, mongoose, hares, wild boars and monkeys. As per the latest counting in 2020 there are 71 tigers present in Ranthambore national park which is the largest number of tigers all over the India.
Read more blogs :-
Best Zones to Spot Tigers
The park is spread in a big area so its divided in to 10 different zones by the national park authorities. As you aware the wildlife activities is always depend upon the luck factor. But as per my travel experience the best part of this tiger reserve to spot the tigers are between zone 1 to 3 where the possibility of watching tigers are much as they will take you to the more deep are of the forest in these zones. Between the zones 4 to 6 the chances are good to spot the tigers but the opportunities are not so much from this zone. Zone 7 to 10 is having not so much to visit but can give a best feeling of beautiful landscape of forest and you may get chance to visit leopards, wild boars and we can't say never to see tigers as well depend on the luck.
Best time to visit Ranthambore National Park
Between March to July you will exhausted from the hot weather where the temperature is more than 45 degree in the afternoon and in the morning is around 30 to 35 degree
During the monsoon weather the park is totally closed for the visitors from July to September
Winters are the most favorable time to explore the rich flora and fauna present inside the park. When the night temperature goes underneath 10°C, The winter starts here in November till February,
The best time to spot tigers are between October to February.
Suggested plan :-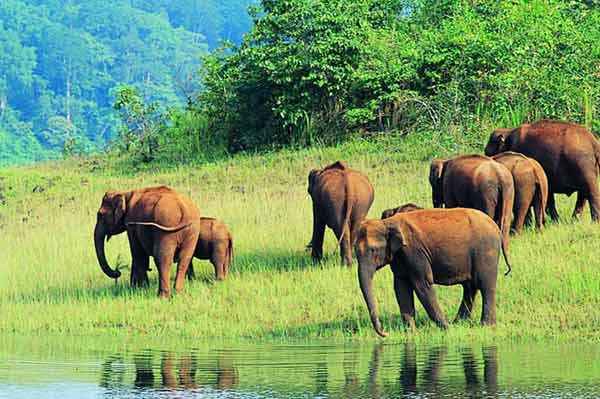 Ranthambore Safari Charges
The safari charges are different for domestic and international tourists. The chart of prices are mentioned under
Foreigner Nation –   Canter charges-1700 per person including tax
Jypsy Charges-2100 per person including tax
Indian Nation –      Canter charges-800 per person including tax
Jypsy Charges-1300 per person including tax
Ranthambore Tiger Safari Timings
There are two safaris organized at Ranthambore national park on daily basis one in the morning and one in the afternoon. The morning safari will be start at 7 am in the morning and the afternoon safari will be start at 2 pm. You have to report before 30 minutes to collect your tickets at the counters and to get in to your vehicle which is available on the entry gates.
Read more blog:- Get To Know Before Visiting Taj Mahal
Must visit the Ranthambore Fort
If you are in Ranthambore what can be the other best option to visit the magnificent 10th century fort located in near the entry gate of tiger reserve. This fort is about 700 feet high and built by the Hindu king Hameer who was a great believer of Lord Ganesha. This fort consist with group of ancient Hindu and Jain temples , hunting pavilions, 7 big doors to be reach on to the top of the fort, crocodile lakes, Cenotaphs and best locations to see the panoramic view of national park. There is also a very famous temple of lord Ganesha inside the fort where still people coming to pay homage to lord Ganesha and offering their first season crops. This is the best place to visit during your stay at Ranthambore. Here you will also get the best lemon soda to quench the thirst of your neck. This fort will be open from sunrise to sunset.